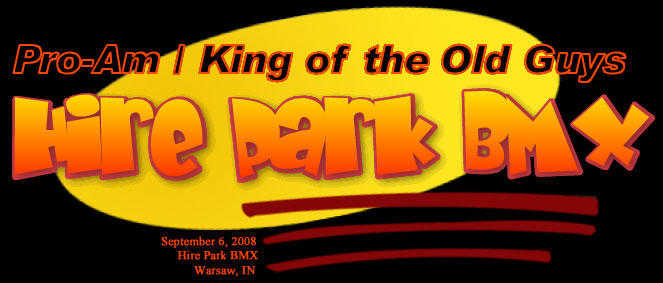 Every year our local track, Hire Park BMX runs an awesome 'feature race' that includes a Pro-Am with a $1500 purse and a King of the Old Guys, 'braggin rights' race. Add in a big time product raffle and a free Pork BBQ meal and you have a winning promo race. This year's Pro Am was won by Matt Kelty who upset Jeff Upshaw, who's won this race every year since he was 16! Look out next year, when Jeff will be out to take back his crown. Congrats go out to Track Director, Dan Rumple and his crew of volunteers for putting on a GREAT show. Good racing, check out the pix!
Pro-Am Results (Men) - 1 Matt Kelty 2 Jeff Upshaw 3 Scott McMahon 4 Javier Larrea 5 Brian Mayo 6 Micah Vanhorn 7 Brian Strieby 8 Vince Potter
Pro Am Results (Women) - 1 Krystal Kalogris 2 Rachel Smith 3 Allie Dragroo 4 Mariah Rumple 5 Lindsey Lewis 6 Kayla Norton 7 Martha Strieby
King of the Old Guys Finalists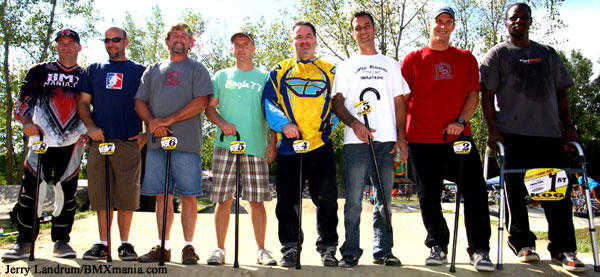 (Pictured From Left) 8 Jeff Kohler 7 Tim Crane 6 Rich Coles 5 Rick Henderson 4 Doug Shader 3 John Sabatini 2 Dan Hurley 1 Vince Potter
Pro-Am / KOG Photo Gallery
If you're interested in enlargements of any of these photos, please CLICK HERE!
---