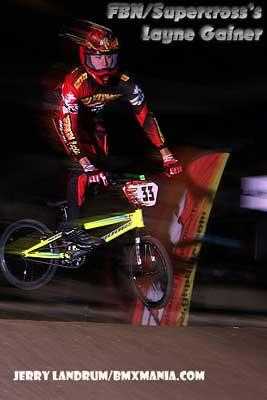 FBN Plastics made their 2013 Factory Team debut at the USABMX Bluegrass (A.K.A. the logistical nightmare nationals) National in Louisville, KY. With one of the biggest blizzards in New England history bearing down on the region, we escaped just in time on Thursday, and conveniently arrived back home just as the storm had pulled out to sea on Monday and power had been restored.
First off we need to give props where props are due, and Riderz Ready did an outstanding job pulling together a last minute uniform change with jerseys and plates done in time and "on-track" for Louisville. Thanks again Mark!
For 2013 FBN had new bikes and new colors to show off, FBN/Supercross made a strong impression over the course of the weekend. Our crew, albeit shorthanded with three last minute rider cancellations, was led by Layne Gainer, who made three of four mains in the crazy stacked 17/18 classes, with two deuces in 24" class. It was hard to miss Layne on the track with his new neon yellow 2013 Supercross Blur frame. Layne is the perfect example both on and off the track for all our younger riders to learn from this season. Welcome back Layne!
New to the crew for 2013 is Nate Caron (11x & cru), who was rocking the new FBN colors for the first time and made his way into two mains over the weekend. With over 15 main event wins in 2012 we all know Nate will be working hard over the next few weeks to get his Supercross frames to the top of podium at his next national event. Cam Mason (11x) rocked his Matte blue Blur frame with white Speedline headset into Saturday's main event. While Cam's sister Maddy showed off her new Fly Kinetic pants and helmet in the 7 girl's main event both days. You can find a great picture of Maddy on Fly Racing's BMX facebook page, as she is the "cover girl" for the "Bluegrass National" photo album. Welcome back Cam and Maddy!
Another new rider to the team for 2013 is Tyler Bailey (7x & Cru), who made all 4 of his main events with 2 podium finishes. Tyler is all heart and gives 110% in every lap he races. We look forward to watching him progress over the course of the 2013 season.
TM Bob "Moose" Delamare (46 cru), and GM London Wilmot (41x) each snowmaned a main event in Louisville. While Brianna Delamare came up just short in the 15-16 girls class semi both day's that class seems to be the new "stacked" lap to watch at nationals.
Lone FBN Devo team rider Justin Wilmot, yet a second jersey design by Riderz Ready for the Louisville event, made more progression with numerous moto and qualifier wins both days. Day two though ended in his 10I semi on the first jump, but "I didn't back down' he said. Not satisfied in the least bit with his two main event finish's over the weekend, Justin looks to get "back to work" training for his next national in Atlanta, GA in early April.
ODI grips, ITS tires, Thomson stems & seat posts, Alienation rims, and KMC chains provided our team riders in Louisville the advantage they needed to be at the top of their game. While Finishline cleaner/lubes where needed OFTEN in the "hazy" indoor conditions that went on long into Saturday's event, and of course PowerBar kept us fueled up and ready to perform all weekend long!
Special thanks to Mark Roberts, Bill Ryan and Ray Husdon for helping us get everything in place for our 2013 debut. We REALLY appreciate it!
For more team pictures from the Bluegrass nationals, news, and just plain funny stuff check out our Facebook page, just search "FBN/Supercross" and "like" us. We hope you do!
FBN Plastics (www.fbnplastics.com) custom plastic fabricators. Supercross (www.supercrossbmx.com) makers of the ultimate Bicycle Motocross racing frames.
Co-Sponsors: Alienation (www.alienationbmx.com), BJD (www.bobjdesigns.com), Delta/Aztec (www.deltacycles.com), Finish Line (www.finishlineusa.com), FLY (www.flyracingbmx.com), KMC (www.kmcchain.com), ODI (www.odigrips.com), PowerBar (www.powerbar.com), Riderz Ready (www.riderzready.com), Speedline (www.speedlineparts.com) and Thomson (www.lhthomson.com).
FBN/Supercross is a division of Bizzarro BMX, Inc