---
Interview With Eric Rupe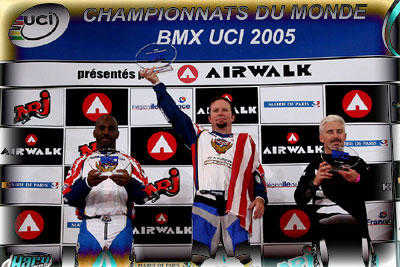 2005 UCI BMX Worlds/Paris, France

BMX Mania - Eric. I couldn't help but notice this year, that in the 40-44 Cruiser class at the UCI BMX Worlds in Paris, France, that there was a bit different vibe in the competition. Know anything about that?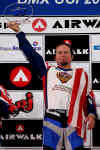 Big Daddy - I'm guessing that the other riders were a little "extra excited" cause they knew I was racing it and I wasn't traveling all the way to Paris to just "play around"
BMX Mania - So, what led you to race the 40-44 class, when it has been your usual routine to race the Vet Pro and Vet Masters classes in the U.S.A.?
Big Daddy - The UCI gave the okay to let US Vet Pro guys race in their "age group" for the cruiser classes, so I figured why not?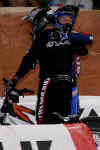 It's been about 15 years since I have raced a full gate of guys my own age. I thought it might be fun to see just where I stand against guys my own age. Now I know. LOL
BMX Mania - OK, let's drift back a few years. This isn't the first time that you've raced at this particular venue, is it? Who, What, When and Where?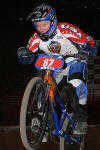 Big Daddy - I first raced in the Bercy back in 1984. The place was crazy loud and the spectators where TOTALLY into it. I also went back to race there again in 1986. Same deal, it's just an AWESOME PLACE TO RACE!!
BMX Mania - What did you think of the differences, then and now?
Big Daddy - Actually, it was pretty much the same. The fans were great, the city was cool. I do remember that the tracks back then weren't so hot. This years track was a REALLY good "race" track. Nothing crazy, just a good 'ol race track that was pretty fair. Other than those stupid lines out of the gate and down the hill. How ya supposed to win from lane 8 when you can't cut over for the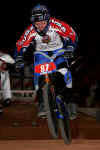 first 25 feet?
BMX Mania - The Europeans are famous for making the Worlds a BIG SHOW, did you feel that was the case this year?
Big Daddy - Let me just put it to you this way, THAT WAS THE MOST EXCITING, HYPED UP, LOUD, INTENSE BMX RACE EVENT I HAVE EVER BEEN TO. PERIOD!
BMX Mania - What was your favorite part of the excitement?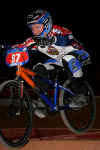 Big Daddy - I liked how "into it" the crown got for every class. I'm guessing that they didn't know most of the riders, if any, yet they were making all kinds of noise and went nuts every time there was a close battle going on. Whether it was for first or for 6th, the crowd was into it. VERY COOL. In all the years I've been racing (31) I've never been to a more exciting race.
BMX Mania - I couldn't help but notice that you got some pretty good props from the European crowd. In fact, as an illustration of that, I was shooting photos in the infield, and one of the French Dads in his 30's whose son was racing, got around the security and

snuck out on the infield to shoot photos of you when you raced one of your motos. I was talking to him and he was like, "Hey, Eric was my favorite pro of all time back in the day, when I was racing. I grew up reading about that guy. I'm not missing an opportunity to see him race and I wanted to get some photos of him, this is fantastic, I thought I'd never get to see him race again!" I thought that was pretty cool, do you have any other examples of that kind of feedback from your time in Paris? (Don't be too modest, we know you're not bragging, it's just the way it was!)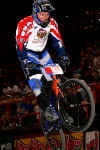 Big Daddy - Actually, yes, I had a few encounters kinda like that. I was stopped in the lobby of my hotel by a guy who had been waiting for over an hour to have me sign his jersey. He was from Holland. I raced in Holland in 1984 and he had me sign his plate back then when he was just a kid. He was just as stoked to have my autograph now. Very nice feeling. Another time was at the race venue (Bercy) and this dad came up to me to have me sign his kids autograph book. As I was signing, he was telling his kids that when he was young, he had "Mr. Rupe" sign an autograph in his BMX magazine. It was really cool to see how many people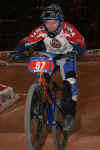 remembered me and were still thrilled to meet me again. It's good to be me. LOL
BMX Mania - I heard a "little bit more than a rumor" floating around that there just 'might' be Elite Master class next year. If so, are you interested in attending and going for the glory?
Big Daddy - You know it. If they have that class, count me in... that is, unless they let me race my age class in cruiser again. Perhaps both? We'll see.
BMX Mania - One last question. Was it a pretty good feeling when you were standing up there on the podium with your World #1?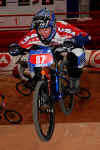 Big Daddy - It was awesome. If I could share that feeling with each and every one of you, I would. Can't really be explained, only experienced. REALLY COOL!!!!
BMX Mania - OK, Mr. Big Daddy, thanks for the 411 on the UCI BMX Worlds and your big win in the 40-44 Cruiser class.
Big Daddy - Thank You Jerry
Big Daddy - Thanks also to Mongoose/ Hyundai, Kenda, Sram, Sun Ringle, Easton, Ogio, O'Neal, ATi, Oakley, and as ALWAYS, my Lord and Savior, JESUS CHRIST. He continues to bless me every day!!!!
---