---
december 2008
Today's BMX Racing News - Wednesday, December 31, 2008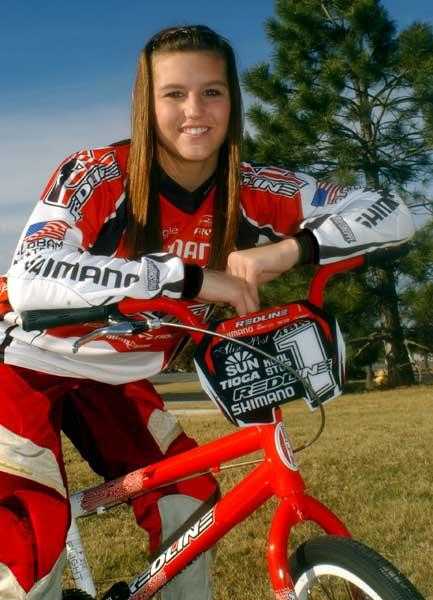 REDLINE PROUDLY WELCOMES ALISE POST TO THE TEAM
REDLINE BICYCLES is pleased to announce the addition of Minnesota's ALISE POST; the 2-time ABA National No.1 Pro Women title holder and a 2012 U.S. Olympic hopeful. Hailing from St. Cloud, Minnesota, the soon-to-be 18 year old completes the "new generation" Team Redline – joining Texan DENZEL STEIN as their one-two punch in the ABA Pro ranks. Both riders will be joining 6-time Vet Pro Champion JASON CARNE$, and given full support to chase down the No.1 titles as needed.
A racer since the young age of 8, Alise holds a total of six ABA National Championships - 4 as an Amateur and two as a Professional. She is also the only female to ever receive BMXer magazine's Golden Crank trophy for "Rookie Pro of the Year" (2007).
As an amateur, Post tallied up numerous No.1 plates in the ABA and UCi - including ten NAG (Age Group) No.1's and seven ABA World Championships. Without a doubt, she will add a few more No.1's to Redline "Door of Fame" on their race trailer.
Whether on a BMX bike, off a gymnastics vault, or with a pole vault – Alise has no fear of catchin' air and hittin' high speeds. When not dominating the BMX scene, she can be found doing the same in gymanastics (she is a 3-time MSHSL State Champion in Vault, 7-time MSHSL All State Athlete, 2-time MSHSL Top Five Elite Gymnast Award Recipient and 7-time USAG State Champion), or ruling in track 'n field (where she is 6-time All State Athlete and 12-time All-Conference Athlete).
Even more amazing is the fact that she's balanced these three sports while still maintaining a 4.0 GPA. In 2009, she will be graduating high school and has recently been checking out Universities in Minnesota and California.
After flirting with the Post family for nearly a year, REDLINE was pleased to hand her a contract at the ABA Grands in November – where she signed the 2-year agreement on Sunday night following the main events.
"We are psyched to get Alise Post on a Redline Flight bike," commented Redline marketing manager Craig "gOrk" Barrette. "For years, she has looked up to Redline rider Kim Hayashi as a role model; so it's almost destiny that she now replaces Lil' Kim on our Redline roster. We'll ensure that she gets to all of the ABA, NBL and UCi events in order to be in every title-contention, and I firmly believe she'll have a good shot at the *Triple Crown."
Alise will be making her REDLINE debut at the ABA Silver Dollar Nationals in Reno, NV on January 9-11.
REDLINE & ALISE ARE PROUDLY SPONSORED BY:
SHIMANO * SUN RIMS * TIOGA TIRES * KOOLSTOP BRAKESHOES * SKULL CANDY HEADPHONES
* The Triple Crown for BMX is all three major Championships – 1] UCi's World Championships - decided in July (in Australia), 2] NBL No.1 Elite Woman title – decided in September (in Louisville, KY), and 3] the ABA No.1 Pro Women title – decided in November (in Tulsa, OK).
---
Prokop kidnapped by UFO. Again!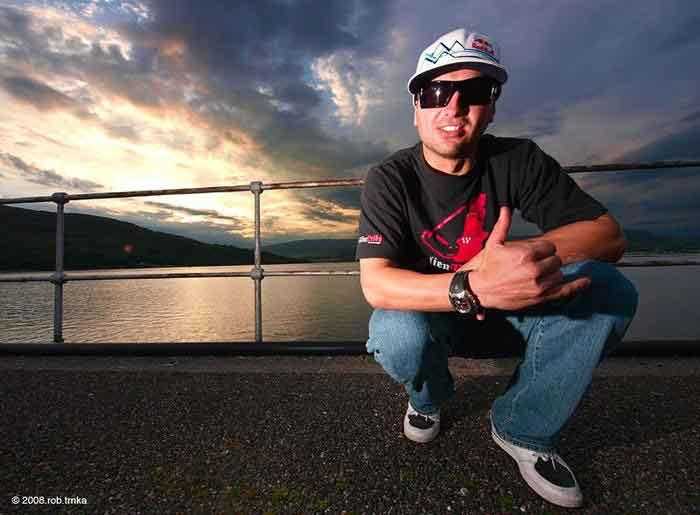 It was back in the end of Prokop's year 2006 when Extra-Terrestrial spaceship full of amazing stuff landed in the Schladming airbase to pick-up the very best fourcross rider available here on the globe. No men in black were there ready for action, so aliens had quite time to make Prokop an offer he couldn't refuse. Deal was done and last two years Michal Prokop was working hard for those ETs based in Italy. Using UFO products, Prokop the almost alien, was taking another inter-galactic winnings day by day. He even brought that UFO trade mark to the most prestigious sports event here, the Olympic Games in Beijing!

Those aliens keep their word and they worked hard to incorporate various new cool Prokop signature products into their space product line. Now, the UFO technology is available also for you, terrestrials! How about Prokop Air Knee-Shin Guards to protect your vulnerable body?! Put Prokop Bandage over the guards to get an unbeatable combo.

The Olympic season is over. Prokop is going back to the fourcross racing to catch third rainbow jersey and third World Cup title captured in the meantime by speedy Spanish fly. Also that Yeti kangaroo appears to have a fancy for some gold. And there are many others… Well, Prokop needs some serious help and his friends are back…

Prokop was kidnapped by UFO. Again! Just heard at UFO headquarters... they will keep Mr. Prokop for another two years!!! - NASA spokesman told us nothing more than "no comment"… but then he continued… "All I can do for you is to provide you with a translation of just recorded and decrypted message coming from somewhere in cosmos…" Mr. Simone Consoloni, director of UFO Plast MTB and BMX departments: "We are happy to announce that Michal Prokop: two times Fourcross World Champion, two times Fourcross World Cup Winner and runner-up in the UCI BMX Supercross World Cup, chooses UFO Plast to be his partner for race wear and body protectors for another two years! This cooperation is definitely great success for all of us. It is undoubtedly one of the main achievements for UFO Plast, and we expect this signing to really help us. Michal is one of the strongest, fastest, smoothest and highly motivated guys both on gravity mountain bike or the BMX scene - a real Pro rider. Our cooperation won't be just about product and financial support. We will develop and test together new ranges of pants, shorts, gloves and body protection. Michal, being so focused on all the smallest details of his equipment is the perfect partner for this".

We were lucky enough to locate Michal Prokop at his top secret training facility in the Russian Baikonur Cosmodrome. He said…"To continue being an ambassador of such a great group of friends that I found in UFO Plast, it makes me really proud and satisfied. I am bit of a fanatic when choosing my race wear and all I can say after two years of riding UFO gear is just… go ahead to pick some UFO stuff! It all looks sweet as well as it works. You will see me riding new Lightning shorts combined with Prokop Air Knee-Shin guards at fourcross World Cups and brand new made in Italy Wanted pants when BMX comes to my schedule. UFO Airbase are the gloves of my choice. Black & white, that's my style for 2009. Hopefully, the rest of the field will exclusively see the only alien on my back, while aliens can get many opportunities to smile from the top of podium…"

About UFO Plast - It all started in 1977 when Vito Consoloni, a young energetic workman full of great resolutions cherishing a secret dream, decided to set up his own business, thus establishing UFO Plast together with two more people. He was not short of desire to work or wish to encounter obstacles; first of all he was motivated by his great passion for sport, which even before activated his mind. Inside the 120-square-metre garage, this hothouse of dreams soon began to yield fruit to end up with substantial profits, official recognition of its high quality products and several motocross and enduro victories. However, even he would have never been able to imagine that his modest company only with three employees could become one day the greatest world reality in the market with accessories for all-terrain vehicles. UFO Plast assumed the first position in production of plastics for motorcycles, protective elements, and sportswear in the third millennium.

Nowadays, the company still retains the industrial philosophy which inspired its founders 30 years ago, but it applies these same principles to new contents and products. The headquarters now spread over surface of 8.000 square meters and are characterized by a modern and eye-catching architectural design, while the futuristic technological features make it possible to deal with orders in real time. Five warehouses, two product shops, a solid sector of research and development, and eighty employees allow UFO Plast to produce its 3,000 products, which they supply every year to thousands of sale places located in the entire world. Searching for shapes, selection of materials and diligence focused on quality represent three conditions thanks to which UFO Plast trademark managed to break through during the time with permanently growing success.

And at the end – sport – the final goal, the fulfillment of which is substantiated by many titles achieved in world championships in motocross and enduro – dreamt-off important winnings, behind which there is the soul of UFO Plast trademark, the first real supporter of this beautiful sport. Learn more about UFO Plast products at www.ufoplast.com

About Michal Prokop - Czech fourcross and BMX pro rider Michal Prokop managed to step out of shadow of sports giants even before the flames went up over the Beijing. With his two World Champion rainbow jerseys, two World Cup titles and 10 World Cup wins in his pocket, Michal Prokop for sure already belongs to prestigious club of real heroes of gravity mountain biking history. The life on pedals is his hobby and livelihood as well. The King of the Czech cycling of 2006 and the Author factory rider acquired all titles on his mountain bike and he even defended them again.

Michal brought himself to the attention of sports public particularly thanks to his dominant position in mountain bike fourcross. This guy belongs among the very few exceptional sportsmen, in the case of whom the one of us may afford to consider any other placing except win in the top world competition as something surprising. Unlike most of his other competitors MP devotes himself equally to two related, but still different disciplines! Moreover, in 2006, just a few months after his severe injury, Prokop initiated the Czech national team of the track world championship on oval…Learn more about Michal Prokop at www.ProkopRider.net

Michal Prokop's interests in business negotiations are represented by the sports management company Polis.Riders. The affiliated company Polis.Media is always ready to assist media professionals. For any business information, press information, and any supplementing information we are fully at your disposal on below stated contacts.

Contact person: Zdenek Pol - prokop@polis.cz
---
Today's BMX Racing News - Tuesday, December 30, 2008
NBL CHRISTMAS CLASSIC ELITE RESULTS POSTED

Christmas Classic / President's Cup - Lexington, VA
President's Cup - December 27, 2008
Elite Open - 1 CJ McGuire 2 Harrison Britt 3 Allen Currier 4 Dan Smith 5 Tim Sullivan 6 Leroy Moses 7 Louis Taylor 8 Tyler Faoro
Christmas Classic Day One - December 28, 2008
Elite Open - 1 Sergio Salazar 2 Tyler Faoro 3 Matt Kelty 4 Tim Dinger 5 Will Greathouse 6 CJ McGuire 7 Dan Smith 8 Phil Delizia
Elite Women - 1 Kayla Gaddis 2 Liz Passwaters 3 Donna Snow 4 Kyla Reed
Christmas Classic Day Two - December 29, 2008
Elite Open - 1 Sergio Salazar 2 Matt Kelty 3 Jason Sherrill 4 Harrison Britt 5 Steven Weimar 6 Will Greathouse 7 Gavin Lubbe 8 Joey Albright
Elite Women - 1 Liz Passwaters 2 Donna Snow 3 Kyle Reed 4 Kayla Gaddis
---
---
Today's BMX Racing News - Sunday/Monday, December 28/29, 2008
Dutch BMX Team Is Rockin' The NL Track National Championships!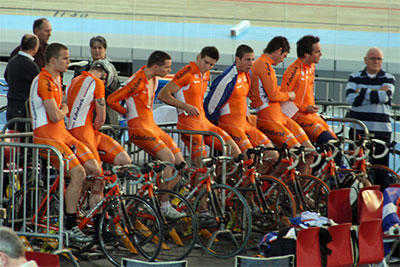 Saturday the National championships for Track cycling started in Holland.
Believe it or not, but the National BMX team of Bas de Bever entered the race.
Several guy's entered the sprint and Sunday they had to try and qualify into the top 12.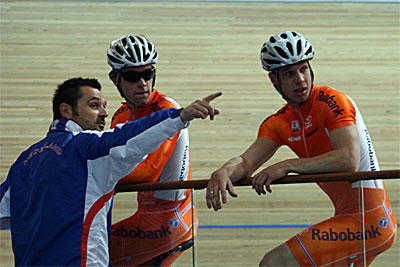 It was great to see how the BMX guys were doing, it's been only 6 weeks that they are riding on the Velodrome.
Roy van den Berg and Ivo van der Putten both made the cut!
Pretty impressive!
Willy Kanis (UCI BMX Elite Women's World Champion in '05 and '06) was racing too.
She recently won the Track World Cup in Australia and today she showed how strong she is in the 500 meters.
She won with a lead of over 4 seconds on the number two!!
This Tuesday, Ivo and Roy will be racing the sprint.....Go BIG ORANGE BMX MACHINE!
Photos and text from AnnekeBeerten.Com, thanks, Anneke!
---
Today's BMX Racing News - Thursday/FRIDAY, December 26/27, 2008
JERRY MANIA SICK CALL AT BMX MANIA!
Web Person, Jerry had his partial knee replacement surgery, Monday, and all went VERY well.
However, the recovery has been a bit of a trial and Mr. Mania's not crankin' out the updates at the rate at which he had hoped.
So, if you can hang in there with us, we'll be back online here this weekend, hopefully with a cool report from the NBL's President's Cup/Christmas Classic.......Hopefully!
We just wanted to keep you informed on what's going on.
Thanks to all who have sent Get Well Wishes to Jerry Mania since the surgery, it's much appreciated and Blessings to you and yours for a Happy BMXin' New Year!
---
Today's BMX Racing News - Wednesday, December 24, 2008
BMXUNDERGROUND.COM To Rock the NBL Christmas Classic
Merry Christmas everyone.....

Check out the site from the 26th - 29th for coverage from the NBL's Christmas Classic at Lexington, Virginia.

Plenty of pictures and some commentary on what appears to be one of the best tracks in years.

Later, Nicholas Rauch - Owner/Webmaster - bmxunderground.com
---
Today's BMX Racing News - Tuesday, December 23, 2008
Kim Hayashi Redline Jersey Contest Winner Announced!
Jersey Winner - Erin Moore
From - Fayetteville, Arkansas
Home Track - Speedy's BMX
WANNA WIN AN AUTOGRAPHED Kim HAYASHI JERSEY?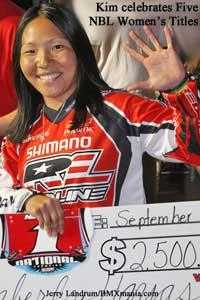 As Kim Hayashi was walking thru the parking lot at the ABA Grands, we ran over, knocked her down and told her that we'd make her listen to our stories of EVERY ABA Grands at which we raced cruiser unless she signed and gave us her jersey! With a threat like that ANYONE would give in!
So we asked, do you "Wanna win it?"
EASY!
Participants were asked to send in an email to BMX Mania and to include thrir NAME, MAILING ADDRESS, and HOME TRACK Tuesday at noon, and we did a blind draw from the 57 entrants to come up with one winner and were supposed to announce it here by 1:00 AM, but it came four hours late due to the webmaster being drugged up from surgery, sorry!
Thanks to everyone who entered the contest, and Erin Moore takes the BIG prize. Congrats, Erin!
---
COSTA RICAN BMX ACTION: TEAM REDLINE RACE REPORT

Greetings from Costa Rica! Here the skies are finally clearing to give way to our summer. It has rained a lot this year. Recently, our two sponsored riders got 1st and 2nd in Elite here at the years end and I got first in cruiser on my MTB bike.

We also just returned from Guatemala where we raced in the Central American Championship against riders from all the other countries in Central America as well as Mexico. And my two sponsored riders got 1st (Oscar Solís who is only 16X) and 2nd (Daniel Morales) in the extra tough Junior class! There was good level in Guatemala, the top Guatemalan rider Hugo Martinez races AA Pro in th U.S and the Guatemalan Juniors race in Elite against him in their National races so there was good level. Also 1 Junior and 1 Elite of the Guatemalan riders actually reside in California and race in expert class there and only went down to Guatemala for the race. I went on my 20" bike and had it tough against AA Hugo Martinez and a couple of Mexicans who race A Pro in the U.S as well as a bunch of other good riders from Guatemala and the rest of the countries. Still managed to get to the main both days but could only get a 7th overall. Another Costa Rican Elite got 5th and Costa Rica also had a 2nd in 5-6Xpert and cruiser.



Attached is a Costa Rican newspaper appearance of Oscar Solis (showing you his RL jersey) with his big 1st place trophy and Daniel Morales (wearing a RL hoody over his jersey) with the second biggest trophy. The other two riders are Guatemalan 3rd and 4th places they are all not podium organized but you can see by th size of their trophys. The headline reads: BMX shines at Central American Championship. They also got appearances in the Guatemalan paper and TV

Well you can definitely add that to your stats! Central American Junior Champion on REDLINE! That's the kid who had his bike stolen... Remember? He´s flying on his new Flight frame thanks! I built it up for him from there...

There are videos of the comp in youtube: http://www.youtube.com/watch?v=zfG1ZnXguBU&feature=related Oscar hits the gate on the first moto you see... But he finishes STRONG!
Regards, Sebastian Chavez Murray/Team Redline Costa Rica
---
New MBK BMX Web Site Online!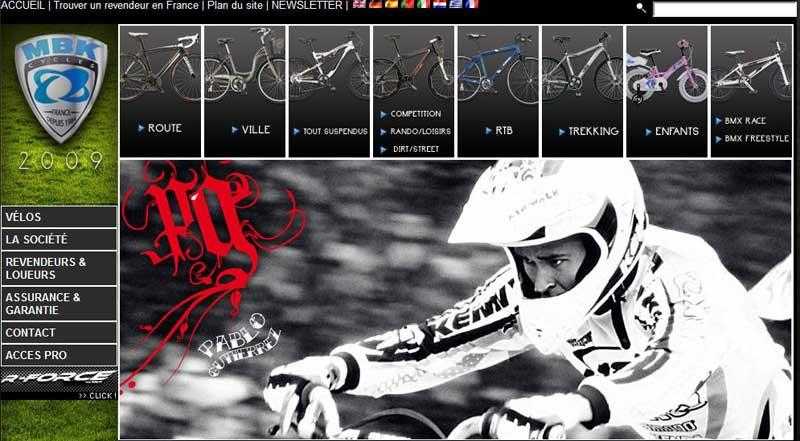 Our new www.mbk-cycles.com website is online with all our new 2009 BMX range.
You could find new pages and information like an interview about Pablo Gutierrez speaking about his new Pro model BMX carbon frame with a short video and explanation about our new category R-Force dedicated for racing!
BMX4ERVER…Denis Labigang / Marketing Manager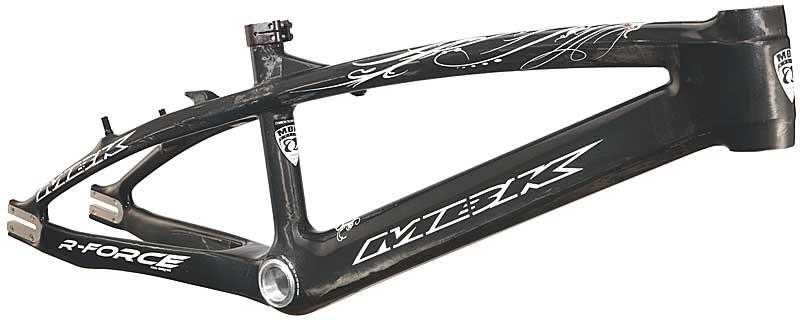 ---
Today's BMX Racing News - Monday, December 22, 2008
REDLINE THANKS KIM HAYASHI FOR 9 YEARS OF AMAZING SERVICE
On December 31st of 2008, REDLINE and 9-year team veteran KIM HAYASHI will part ways as her contract expires. And before we announce who Kim's replacement will be - we'd first like to celebrate Lil' Kim's nearly-a-decade long dominance on the BMX cicruit, while representing the red, white and black of Redline.

During her time with Redline, Krashin' Kim was able to rack up two ABA No.1 Girl Cruiser titles, one UCi World Championship in Jr. Elite and five consecutive NBL No.1 Elite Women championships. When you look at the "Door of Fame" in the Redline trailer and take count, Kim's name is on there more than any other rider in Redline history. (11 total - including NAG No.1's).

Hayashi came to Redline from the Gordy's Bike Shop team and was chosen for the "new millenium" Redline squad due to her superior jumping skills and future Pro potential. During the win-filled mid-2000's, Kim and her Redline bike helped the company score Podium sweeps and set numerous BMX records - including the only 5-consecutive NBL No.1 Elite Women title. She took her Redline to a Jr. World Champ title; earning the honor of wearing the rainbow stripes. And when not out front winning, Kim was often times involved in some of the most spectacular crashes the sport has seen during the past decade. If Kim wasn't winning, you can bet that she'd be crashing while going for a victory-making move. It's a reputation that not only gave her an e-mail address and nickname of KrashinKim, but along with her incredible power in such a petitie (4' 10") package, it earned her the respect of all Pro Women she has ever raced against.
Despite her short physical stature, anybody who has seen Kim in shorts can attest to her leg strength.
During her time on Redline, Kim was the reason behind creating the popular Expert Xl size of frame. In 2005, she rode a 1-off, purple Flight frame with the slightly longer front end. This frame would be added to the production line for 2006 as the Proline Expert LE, and then made in to a Flight Expert XL model in 2007.

While riding for Redline Bicycles, Kim has juggled a full schedule of activities outside of BMX - from graduating highschool with an amazing 4.8 GPA, playing highschool softball, to attending ASU and chasing her Batchelor's degree. By 2006, she was the USA's top Olympic pick, and had set her goal for a Medal of any color. Unfortunately a lot can happen in two years and those frequent crashes soon got the best of her in the qualifying season for the Olympic Games - forcing her out of contention with an injured shoulder that will be operated on soon.
Redline would like to thank Kim for her service and dedication these past 9 years, and wishes her the best of luck in her future - whether it be going for Olympic qualification in 2012 , racing part-time for the Gordy's team, or going on to become an Orthodontist. We know first hand that whatever Miss.Hayashi sets her sights on, she will give it more than 100% and blasts toward completion of that goal as if a World title were on the line. That is something that the sport of BMX Racing, along with riding for team Redline, has taught her. "Always give it your all."
For a complete photographic summary of KIM HAYASHI's tenure with REDLINE - click here.
REDLINE BICYCLES
www.redlinebicycles.com
-----------------------------------
PROUDLY SPONSORED BY:
SHIMANO * SUN RIMS * TIOGA TIRES * KOOLSTOP BRAKESHOES * SKULL CANDY HEADPHONES
---
Where's Maris?
| | | | |
| --- | --- | --- | --- |
| | | | |
| Maris flyin' IN to the picture. | Maris, Standin' Tall! | It's warm in the south of France and Maris heats it up a little more! | Maris flyin' OUT of the picture! |
How bout a little update on Free Agent's new signing of Olympic Champion, Maris Strombergs?
OK, we got that right here for ya!
Maris is currently in the South of France on a training camp.
Loves his new Free Agent bike and very motivated to start his US campaign next month .
He actually said he is more motivated to come to the States to race than he was before the Olympics!
Straight from Mr. Dale Holmes / Free Agent Team Manager

---
Hot Stuff Happenin' In Oregon Indoor BMX!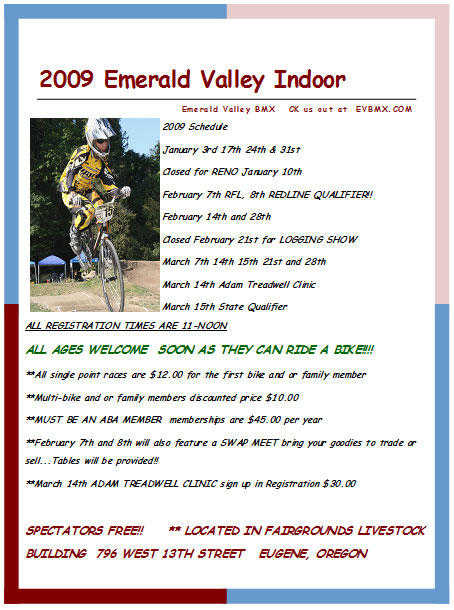 ---
Kelley Kelley's Holeshot.....A Big BMX Hit Around The World!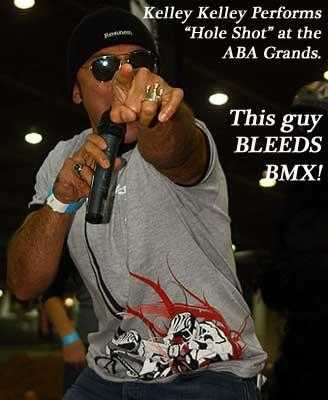 From the BMXin' Music Master, Kelley Kelley......My new single "HOLESHOT" is something to be shared and is AVAILABLE for download on iTunes and amazon.com
I'm trying to wake up the world and let people know what BMX is all about!!! That's why I wrote "HOLESHOT".
So do BMX a big favor and write a review about "HOLESHOT" when you go to download it.
Leave your myspace URL or your BMX Track's web address so those who don't know how BMXicans get down will hear about it and know where to find you around the WORLD.
"HOLESHOT" is in every iTUNES store in every country that has internet.
Speak your mind and BE HEARD!!!!!
Search keyword: holeshot
Also be on the look out for the FULL LENGTH CD "RIDE or DIE" Spring 09'
Thanks again for supporting independent music and making living the dream real!!!
All the best, spread the word.
Kelley Kelley/747
---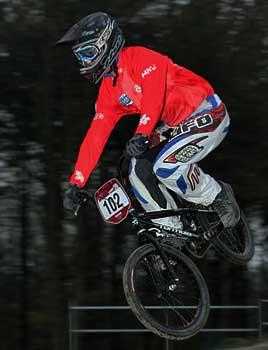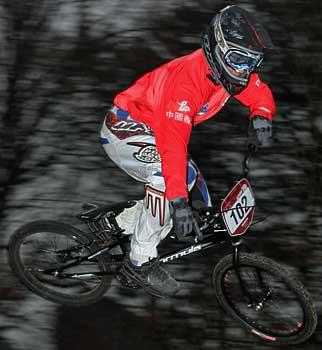 STEVEN WONG IS THE NEW ASIAN CHAMPION BMX
After winning the national Chinese BMX title, Steven Wong, riding for Hong Kong is now also the new Asian champion, the second year in a row and his third Asian title of his career, two times in Elite men and one time in junior men in 2006.
The Asian championships was held in Indonesia, a country which is also for a few years now involved in BMX.
Also Alex Hunter from Hong Kong was in the main finale but he missed his start and gets 8, in the Chinese championships Alex got second behind Steven.
There is not much time to recover now because the Euro rounds are already starting beginning off April 2009 and Steven wants to go for a good result also in the European championships 2009, especially round 9 & 10 in his home town on his home track at the JOEL SMETS BMX CIRCUIT in Dessel Belgium on 30/31 may 2009.
Steven is also a proud member of the organizing club BMX 2000 DESSEL. www.bmx2000.be
Frank Smets - BMX head coach Hong Kong cycling association - BMX coach Hong Kong sports institute
---
Jerry Mania Out for The Count
Not that it's earth shaking news or anything, but Mr. Mania, Jerry Landrum will be on the Injured Reserve list for a couple weeks.
I've been battling a pretty severe knee injury that I picked up along the way in some BMX infield, crawling around trying not to let Afro Bob knock me off the side of a jump or something, I don't know.

Anywho, I got my knee scoped in June to solve the constant pain and it didn't "take", so I got mad at my first doc, pouted and went to a second doc who told me I had a pretty severe knee "grindage" going on on interior side of my right knee (see xray at left) and the he could fix it easy with a Biomet Oxford partial knee replacement.
SO, Monday, at O Dark Thirty, I'm off to the hospital to get a Knew Knee.
This one ought to work well, so Look Out, I'll be scampering around the infield before you know it, bringing you BMX Race Coverage like you like it, good pix, fast facts, rapid results and BMX BMX BMX......We love our crazy little sport, don't we?
Not TOTALLY sure how fast this is all going to heal up, so I may or may not be able to make it to UCI Guthrie or NBL AZ, but don't worry, I'll be back on the gas as soon as the doc allows. (Maybe BEFORE, who knows? Ha Ha Ha!)
Just as a little "thank you" since I'm going to be all drugged up for a couple days and won't make much sense unless I lay things out ahead of time, here's a little Christmas Wish for you.
May your 2009 BMX Racing Season be a happy one filled with wins, good tracks and fun times at the track with your friends!
And, thanks for visiting BMX Mania, it's an honor to serve the crazy BMXers who make our sport THE BEST EVER!!!!
Today's BMX Racing News - Saturday/Sunday, December 20/21, 2008
---
Today's BMX Racing News - Friday, December 19, 2008
BMX MANIA PHOTO OF THE DAY!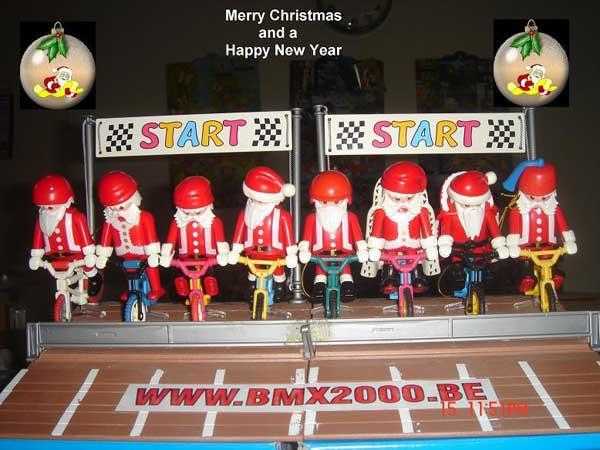 Today's Photo Of The Day comes from 12 year old, Carrera Neefs, who is a member of BMX 2000 DESSEL in Belgium. According to Frank Smets, Club President, she made it up to send to family friends. Seems that Carrera wants to spread the BMX Word, not a bad idea, we'd say.
Carrera is an active BMXer, racing on a local, national and European level.
Frank continued, "She wanted to promote with this, the Rounds 9 & 10 of the Euro BMX Championships that will be hosted at BMX 2000 in Dessel, May 30/31 2009 on the JOEL SMETS BMX CIRCUIT. If anyone wants more info, they can check out our web site at www.bmx2000.be." Frank Smets - President BMX 2000 DESSEL, Belgium - Head Coach / BMX Hong Kong cycling association and BMX Coach of the Hong Kong Sports Institute.
BMX Mania Sez.....Thanks Carrera and Frank, we're sure that with awesome BMXers like this running the Euro Rounds in May, they'll not only be MERRY, but they'll be HAPPY as well!
Merry BMXin' Christmas and a RADical New Year!!!!!
---
---
IMPORTANT NEWS FOR 2009' SEASON FROM BMX ITALIA!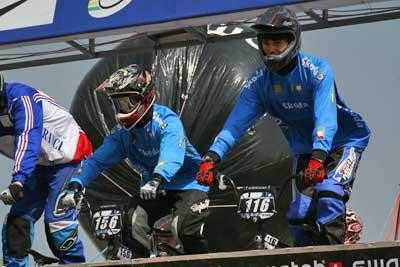 BMX Italia, the new reality in the BMX Italian world, continues in its effort to create a great group of athletes that publicizes this sport and at the same time promotes the brands it represents …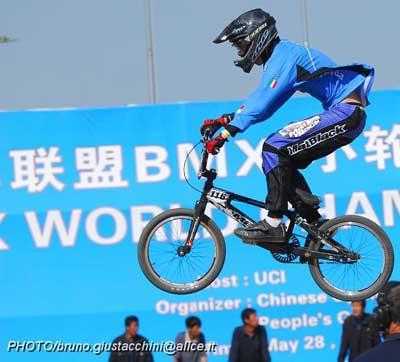 With a such a great goal, we couldn't help but notice a rider that, with his 2008 season's results and with the big and steady progress that he's shown, is a great rider who can continue bringing Italian BMX to the TOP of the very TOUGH European BMX Scene.
Who're we talking about? ..... None other than Roberto Cristofoli who, after a period of negotiation, has accepted our proposal to give him the technical material and support for the year 2009.
Sergio Moretti the BMX Italia's patron commented: "... To put Roberto in a team that would welcome him in the best way, allow him to integrate himself quickly in a positive and stimulating team, and let him express himself since the first commitments of 2009.
We want also Cristofoli in our Lombard Team "BMX Ciclistica Olgiatese"; where we have also 2 other riders who publicize the BMX ITALIA: Vella Loris and Mirko Vicentini ... "
"... For us, executives and athletes of BMX Olgiatese, it's certainly a great incentive to see an initiative so ambitious in our track, ..." says Paolo Ossuzzio, the President of Ciclistica Olgiatese "... we are aware of what we have to face but we have to deal with these premises and the programs that we have on agenda, we will certainly grasp this chance to reach the goals we have "
Best wishes to the BMX Italian world for a great 2009. - www.bmxolgiatecomasco.it
---
Today's BMX Racing News - Thursday, December 18, 2008

TIOGA AND GHP TEAM UP FOR 2009
GHP Factory Team will be racing exclusively on Tioga tires for the 2009 season.

Los Angeles, CA – Tioga is proud to announce a partnership with GHP for the 2009 race season. The deal will provide the GHP Factory Team the opportunity to race on Tioga's new racing tire the Power Block, the lightest and most efficient racing tires ever produced by Tioga.
"Greg Hill is a legend of the sport, his company and its products are an excellent reflection of his commitment to BMX racing" said Kai Cheng, Tioga's Marketing Manager. "An opportunity to partner up with such an esteem company at a time when Tioga is poised to release its newest racing tire was simply too good to pass up" concluded Cheng.
The GHP Team, with its newly acquired legend in his own right Randy Stumpfhauser, fresh from winning the NBL's 2008 # 1 Pro title, will make it's 2009 racing debut at the ABA Silver Dollar Nationals in Reno, NV January 11-13 aboard his new GHP racing frame, rolling, of course, on Tioga tires.
"Were all very excited to begin this new relationship with Tioga, the leader in BMX tires for over 30 plus years" said Greg Hill.
About Tioga:
A design driven bicycle components company focusing on function with style. In over 30 years in the cycling industry, Tioga has created numerous industry advancing components from the Comp-III BMX racing tire and the T-Bone stem to the standardization of the 1-1/8" steering system. Tioga's new generation of components are not only functionally designed to accommodate athletes with serious skills, but also styled to reflect their commitment to the sport.
---
---
Today's BMX Racing News - Wednesday, December 17, 2008
NBL CHRISTMAS CLASSIC AND PRESIDENT'S CUP HEAD TO HISTORIC LEXINGTON, VA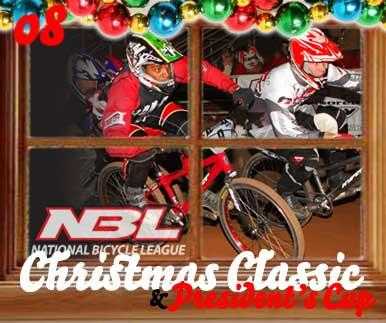 The historic City of Lexington, Virginia is bracing itself for a busy holiday season this year. More than 2,000 BMXer's will be racing their way into the Virginia Horse Center for the annual NBL BMX Christmas Classic and President's Cup. This year's event includes two National Race events where the top National amateurs will be competing head-to-head for points and awards. Many of the current National Champions will be attending to defend their titles and vie for exciting awards and prizes.

The three-day long Christmas event will take place at the Virginia Horse Center from December 27-29, 2008 and kicks off on Saturday, December 27th with the 24th Annual President's Cup - The state-vs-state competition, where Michigan will try to defend their 2007 title against top-ranked Florida, Illinois, Ohio and more than 20 other competitive states. The event is open to all rookie, novice, expert, girl, cruiser, and pro NBL riders who have earned a state ranking of #1-#15 within their state. Special Silver Cups will be awarded to all riders who make their respected main events. And speaking of Presidents, Ken Masters, who was recently named as the new NBL President, previously served as the Michigan State Commissioner and is excited to be a part of this great race. "It's a one-of-a-kind event and it always adds a new level of comradery and friendly competition between the states. It's my favorite race of the year and we are looking forward to our new venue in Lexington this year," said Masters.

This will serve as Master's first President's Cup, taking over the reins from Bob Tedesco. Ken will attend the 'Classic' and have to gracefully watch his home state defend the President's Cup title against a tough field. The race will be Bob Tedesco's last race as Managing Director of the NBL and the change in leadership promises to inject new energy into the 35-year old league. "We are looking forward to a great Christmas with everyone and we're excited about our plans for 2009 and beyond. With several new programs and plans in the works, we will continue to the tradition of hosting the best races and offering a wide variety of programs for all of our members," said an enthusiastic Masters. "It is a true honor to follow in the footsteps of one of America's legendary BMX founders, Mr. Bob Tedesco, he nostalgically adds.

The showcase event, the NBL Christmas Classic, takes the stage on Sunday, December 28th and Monday, December 29th and features full-blown National amateur racing. Riders, both male and female, from the age of four all the way up to 65 will be competing for valuable National series points and spectacular trophies and awards. As an extra Christmas bonus, UGP (Underground Products) will award prizes to the winners of the Open classes both days as part of the '09 UGP Open Championship Series.

Check out all of the high-flyin' BMX racing action at the Virginia Horse Center and watch the newest Olympic sport. Local attractions include the Historic Bridge, Stonewall Jackson House, Hunter's Raid Civil War Trail and the quirky Foamhenge. Visit their local website for more details at www.lexingtonvirginia.com. To find out more information about the race event including schedules and times, visit the NBL website at www.nbl.org.

The NBL Christmas Classic is proudly sponsored by BAWLS Guarana (www.bawls.com), Intense BMX (www.intensebmx.com), Kenda Tires (www.kendausa.com), UGP (www.undergroundproducts.com), Standard Byke (www.standardbyke.com), Sinz Racing (www.sinz-racing.com), THE Industries (www.bmxthe.com) and Hotshoppe Designs (www.hotshoppedesign.com) in association with GO211 (www.go211.com) and Camp Woodward (www.campwoodward.com).

About the National Bicycle League - The National Bicycle League (NBL) sanctions exciting local, state, and national levels of BMX (Bicycle Motocross) racing across the country and in Puerto Rico. With more than 30,000 members and more than 150 BMX race tracks, the NBL is the largest not-for-profit BMX racing association in America. NBL sanctions racing in a growing number of states across the country offering programs for all levels and ages of riders, both male and female. The NBL National Series is the premier National BMX series in America and comes to a thrilling end on Labor Day weekend of each year with the legendary NBL Grand National.
---
FMF Factory Team ends era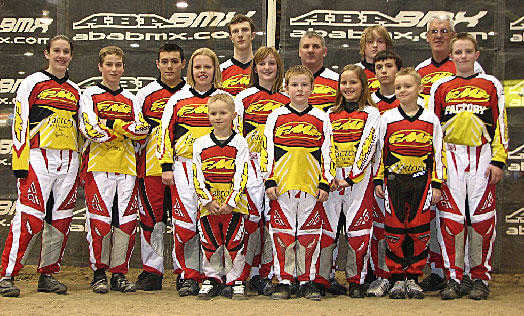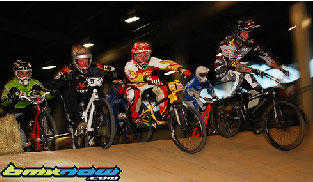 With FMF ending it's name in BMX last June the factory team went into the ABA Grands knowing it was the last time the team would be the factory representative for the FMF BMX name. Danny Bushnell and the Kemco Group spent the last 5 years building up the team and 2008 was the year they looked the best. With the addition of the Lain and Kelsey VanOgle, David Archibald and Jordan and Dylan Wilson the team was looking strong.
Going into the Grands, David Archibald was finishing his best year ever as the top Cruiser rider in the country. He had the points lead and after the motos were posted he had the rider count. All that was needed was the win. He made it through qualifying and into the main in good shape. Then in the main he shot out of the gate and down the first straight like we have seen all year. He came out of the first corner looking good leading the pack. Then on the first double down the second straight it happened. Dave came up just a little short and Shawn Deprete rode it perfectly getting better backside and gaining the lead. Dave tried all he could but he could get it back. We are still very proud of Dave and wish him all the luck in the future. He will be leaving and going to GHP next year. They are getting a great guy.
With FMF not making any more BMX product we go hooked up with Hyper and the team was seen on the new frames here. One of the first to get the new frames and take off on it was Lain VanOgle. Since getting on his Hyper Lain took off and pulled up in the standings on both cruiser and class. His performance at the Grands was none to be ashamed of. This guy can ride a bike and is going to give you his best all the time. He came through big time for us with a 1st in Cruiser and 2nd in Class. Of course no-one outdoes the younger VanOgle known as Kelsey. She talked
like she was nervous but when the gate dropped she shot out like a bullet to only let the competition see the back of her. She won both her class and cruiser races to remain the #1 girl in the 10 year old class. The VanOgles will be leaving us and going back to the Redman team. We wish them both the best and I'm very happy that I had them on my team this past year.
Josh Klatman has been riding on fire all year. He's had some bad luck and didn't show in the standings as good as he is. If you ever watch this kid ride and train you see one thing. He is out there to go fast. He doesn't do that fancy jumps or style but just goes fast. He started the weekend with some bad luck struggling in the gate and not getting out good then in his Cruiser main for the Grands came unclipped out of the gate. Then in his 17-18 expert class he finally got the race that has always been in him. He shot out of the gate like we always see at home and he never looked back. He had an awesome race in one of the toughest classes out there and came home with that big 1st place trophy.
We've had the Mechielsen family with us since we got going with FMF and both have always been great assets for us. Drew Mechielsen came out strong with a win the the tough 11 girls class at the ROC but then in the main at the Grands she came around the first corner wide and got stuck in the pro section. She opted NOT to jump it and couldn't get back on the amateur side in good shape. We all felt for her as she had similar bad luck last year. She is still a champion in our eyes and will come back strong we are sure. In the 11 -13 girl cruiser class she pulled off a 5th in the ROC and missed making the main for the Grands. With this class being a 3 year spread it is awesome that she pulled off what she did. Hayden Mechielsen is another rider that took off after getting his Hyper frames. When getting the new frames we realized that he had grown out of the FMF's that he had been riding. He was riding real hard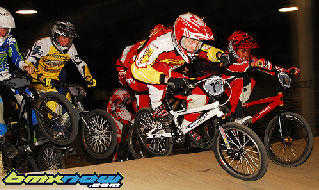 all weekend and looked awesome. He brought home a couple 4th place ROC finishes and in the Grands pulled a 2nd place finish in the 11-12 open.
Danny Bushnell the team manager came into the Grands having one of his best years ever. All was looking good for him but both the ROC and Grands saw similar events happen. After getting the lead in both races he made mistakes and Don Hill was able to get by him. So he came home with a couple 2nd place finishes. With the 2nd place though he still held onto the #1 NAG title.
In the 56 and over Cruiser class the Suspender Man (Rich Mundel) pulled off the win he has been going after for years. He got the snap he needed and pulled off the biggest win of his racing career.
The Gissmeyer boys, Chance and Wyatt, were also there but had some tough luck. Chance started off good at the ROC with a 2nd in 7-8 open but had bad luck the rest of the weekend. Wyatt pulled out a 7th in his 6 and under open in the Grands main. Both riders worked hard and we expect to see them back up in the mains soon.
Cassie Bushnell was there in the Girl Pro class and riding hard but missed out of her mains. She is in the last couple weeks of College and was often seen in the stands with her computer doing school work. It's a tough job trying to get through school and keep up with training for BMX but she has done great and we're proud of her.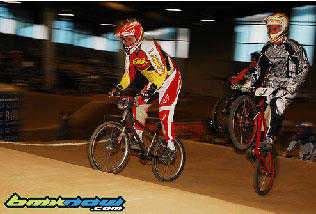 Also her sister Brittany Bushnell was there racing the 21-25 girl cruisers. She had a tough time as her class just didn't show up. With only 4 girls there and they were all from the top 5 in the nation it was tough competition. She was pushing hard but just couldn't quite make it to the main event. She still will finish the year as NAG #5 and we are proud of her. She has been getting faster every year.
Another rider we picked up during the year was Kyle Leiber out of Chico, California. He proved to be a good pickup during the year but this weekend just couldn't quite pull it all together. He rode well but just missed making it to the mains. He is a good rider and will be seen in a lot of mains in the future.
Team wise it was the best a team has done that I have been with at the Grands. We had 2 team sheets and one had 458 points and the other had 432. Had we done things a little different it would have been even better but we are happy with what we did. We ended up #7 at the Grands and #8 for the year in the tough Factory division.
It's been a tough year with losing our sponsor in June. The Bike Master and Danny Bushnell kept the team going and next year we will be back in the Bike Shop division probably as The Bike Master or Dan's old team Puget Sound BMX.
We would like to thank FMF BMX and the Kemco group for sponsoring the team these past 5 years. I would also like to thank Fly Racing, The Bike Master and P&J Machine Shop for the sponsorship that has carried this team. Also Thank You to www.bmxnow.com for the great pictures.
---
---
Today's BMX Racing News - Tuesday, December 16, 2008
---
fly/Future Pro Challenge Race Report Page Posted!
For the 5th year Steelwheels BMX in Hobart Indiana was the host for the FLY Future Pro Challenge. Sunday December 14th will be a date that will go down in history for the 43 riders that were able to make the trip to Northwest Indiana for the race.
This event was started 5 years ago as kind of a local NAG5 Challenge. Heck, it's even named after the old, old Friday night race the ABA used to put on at the Grands years ago. But now it's grown into a "must race" for most of the Midwest's top amateurs. I've always thought of it as the Indy 500 or the Superbowl of local short track BMX racing, but with the greatest sport in the world being in the Olympics this past summer for the first time in history and last year's winner of the Future Pro Challenge Dominique Daniels having a shot at the games in 2012. Just for fun…Let's imagine this is the Midwest Olympics.
Why not?
For the complete story, click here to check out the BMX Mania Race Report Page.
---
---
Today's BMX Racing News - Monday, December 15, 2008
Boys & Girls Future Pro Challenge Won By Tommy Zula and Savannah Lahr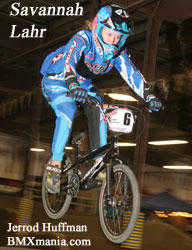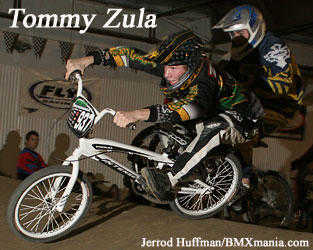 Steel Wheels Indoor BMX - December 14, 2008
Boy's Future Pro Challenge - 1st Tommy Zula 2nd Jonathan Rapp 3rd Patrick Parker 4th Gregg Seal 5th Ben Kohls 6th Garrett Jones 7th Brandon Brown 8th Brent Jones
Girl's Future Pro Challenge - 1st Savannah Lahr 2nd Erin Moore 3rd Allie Dragoo 4th Heather Bruchman 5th Joni Brown 6th Kayla Norton 7th Shelby Goodwin 8th Crystal Kalogris
Coming, Tuesday from BMX Mania, a COMPLETE ROCKIN' Race Report Page from YOUR source for BMX Racing News.....BMX Mania Dot Com!
---
Fausto Endara Free Agent World Team takes a win in Colombia

Recently in Medellin, Colombia; Fausto Endara raced the "Campeonato Internacional de las Luces", having a great weekend of racing and great results.

On day 1, Fausto got the 5th place on Elite Men, and on Day 2 Fausto got the 1st place on Elite Men.

This race had the best riders of Colombia, Ecuador and the US with two riders including Fausto's, Free Agent Team Mate, Kyle Bennett.

Day 1 Results - Elite Men ..... 1. Kyle Bennett 2. Carlos Oquendo 3. Sergio Salazar 4. Augusto Castro 5. Fausto Endara 6. Jonathan Villa 7. Cesar Acevedo 8. Andres Jimenez

Day 2 Results - Elite Men ..... 1. Fausto Endara 2. Sergio Salazar 3. Augusto Castro 4. Jonathan Villa 5. Carlos Oquendo 6. John Muñoz 7 Kyle Bennett 8. Emilio Falla

Overall Results - Elite Men (Points motos, semis and mains of both days) .....

1. Sergio Salazar 2. Augusto Castro 3. Carlos Oquendo 4. Kyle Bennett 5. Fausto Endara 6. Jonathan Villa 7. John Muñoz 8. Andres Jimenez
---
---
Today's BMX Racing News - Friday, December 12, 2008

---
Today's BMX Racing News - Thursday, December 11, 2008
Underground Products (UGP) and NBL renew partnership for 2009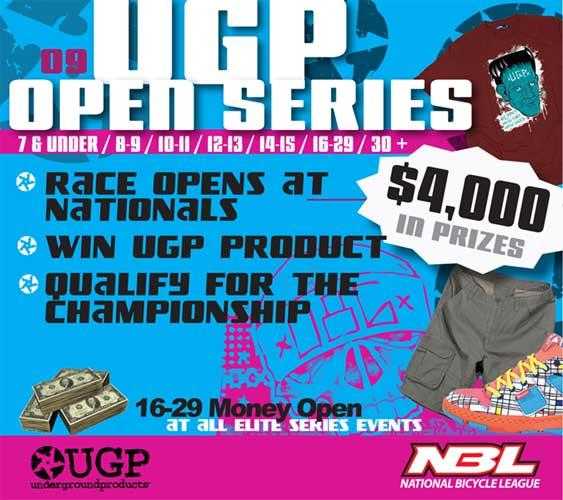 Hilliard, Ohio, Dec. 11, 2008 – The National Bicycle League (NBL) is excited to renew their partnership with Underground Products (UGP) for the 2009 season. The two have joined forces to bring you the 2nd Annual UGP Open Series that will culminate with the UGP Open Championship at the NBL BMX Grand National on Labor Day weekend.
As an official co-sponsor of the NBL, UGP will receive extensive promotion at National Series events including signage, a display booth and prize draws at all of the Elite series events. As the 'official apparel sponsor' of the Series, UGP will exclusively provide clothing for NBL staff. To end the season on a high note, UGP will then award number plates for the National, Regional and LEAP racing programs.
"BMX has always had an 'underground' type of culture so the UGP brand fits in very well," says Kevin O'Brien. "They have deep roots in the sport so our partnership works on many levels – A great year is ahead". And a great year indeed – UGP will award more than $4,000 in prizes through the Open series and even more through various other programs.
A wide range of UGP clothing including t-shirts, pants, shorts and backpacks will be awarded through the Open classes at Elite National events and all qualified riders will get the chance to race the UGP Open Championship at the NBL Grand National. As a holiday bonus, all Open class winners at the NBL Christmas Classic will receive UGP presents. The first full UGP prize event will be the Coyote Nationals in Goodyear, Arizona, January 17 &18.
"Our partnership with the NBL is in-line with UGP's mission to aggressively elevate the brand's presence nationally among core BMX racing and freestyle enthusiasts and drive sales," says Wann Chong, UGP Managing Director. "We've seen a huge boost in the demand for UGP this past year and 2009 is shaping up to be an even better one as we continue to expand our product line."
To view UGP's ever-expanding product line and learn more about Underground Products, visit www.undergroundproducts.com. To see details about the UGP Open Series, visit www.nbl.org and check out upcoming issues of BMX Today Magazine.
About Underground Products
Underground Products (UGP) was launched in 1986 in Orlando, Florida. The brand has a full roster of BMX, Wakeboarding and Wakeskating athletes that travel the world doing what they love, but also developing and designing the UGP product. UGP's innovative modern infusion of retro styling mixed with an element of raw sarcasm genuinely portrays the authentic underground street attitude that originally inspired the brand. The distinctive flavor of UGP's "question everything" approach to mainstream idealism is evident in everything they make, which ranges from technical core-related products and limited editions to an extensive array of lifestyle apparel for guys and girls. www.undergroundproducts.com
About the National Bicycle League
Since 1974, The National Bicycle League (NBL) has been organizing local, state, and national levels of BMX (Bicycle Motocross) racing. With more than 30,000 active members and more than 150 BMX race tracks throughout the US and Puerto Rico, NBL is the largest not-for-profit BMX racing association in the world. NBL sanctions tracks in a growing number of states across the country offering programs for all levels and ages of riders, both male and female. The NBL National Series is the premier National BMX series in America and comes to a thrilling end on Labor Day weekend of each year with the legendary NBL Grand National. Learn more about the exciting world of NBL BMX at www.nbl.org. Media contact: Kevin O'Brien 614-777-1625.
---
ProkopRider.net is back!

It took some time but now the ProkopRider.net is back and way better and stronger than ever before. Every single race result since 2000, full 2009 schedule, tons of pics and videos, wallpapers, screensavers, various documents... just anything you could need is available at www.ProkopRider.net.
This is the only place in the virtual World where you need to go for any info concerning Mr. Michal Prokop... Also, there is brand new secured download section for media professionals and sponsors. Do you need hi-res images and your deadline is just round the corner? No problem! Come to ProkopRider.net, see what's available, log in, make your selection, indicate what you want to do with the pics and confirm. Once you get an approval you can start downloading. Simple and faster than sending huge files here and there.
Please excuse us if our English won't be always perfect. Yet it should be better to understand than our native Czech language... nebo se snad pleteme?:)
Don't forget to check the links to Michal's sponsor web sites to find lots of quality and cool stuff.
Big thanks go to Red Bull for making this whole project possible to happen.
Jan Mocnak and his team have our biggest respect for his 100% professional work and never ending patience.
Thanks to Rob Trnka for his amazing photos.
And last but not the least... Thanks to all of you for being so loyal to ProkopRider.net. Enjoy!
About Michal Prokop: Czech fourcross and BMX pro rider Michal Prokop managed to step out of shadow of sports giants even before the flames went up over the Beijing. With his two World Champion rainbow jerseys, two World Cup titles and 10 World Cup wins in his pocket, Michal Prokop for sure already belongs to prestigious club of real heroes of gravity mountain biking history.
The life on pedals is his hobby and livelihood as well. The King of the Czech cycling of 2006 and the Author factory rider acquired all titles on his mountain bike and he even defended them again. Michal brought himself to the attention of sports public particularly thanks to his dominant position in mountain bike fourcross.
This guy belongs among the very few exceptional sportsmen, in the case of whom the one of us may afford to consider any other placing except win in the top world competition as something surprising. Unlike most of his other competitors MP devotes himself equally to two related, but still different disciplines! Moreover, in 2006, just a few months after his severe injury, Prokop initiated the Czech national team of the track world championship on oval…
Michal Prokop's interests in business negotiations are represented by the sports management company Polis.Riders.
The affiliated company Polis.Media is always ready to assist media professionals.
For any business information, press information, and any supplementing information we are fully at your disposal on below stated contacts.
Contact person: Zdenek Pol / prokop@polis.cz
---
8th Annual Midwest Oldschool BMX Show
Saturday February 21st. 2009
Lake County Fair Grounds
889 Court Street
Crown Point, In. 46307
~~ OPEN TO THE PUBLIC ~~
$1.00 Donation to view the show.

YOUR HELP IS NEEDED. WE ARE LOOKING FOR SHOW SPONSORS & donations for the raffle table.
Hosted by the Freedom Bmx Track , Funds raised from this show will go to help build a pavilion at the track.
We are working on the Flat Landers out of Chicago to do a show for us again this year, and its in the works for z 107.1 radio station to do live broadcasting from the show.

We have two bikes to raffle off at the show, and a bunch of goodies for the raffle table.
The redline bike was donated by J&M Signs and Banners from Crown Point .
The Torker Mountain bike was donated by Beverley Bike shop of Illinois.
Vintage BMX donated some t-shirts.
Stiles Industries donated a bunch of Transit Race Videos.
Sun Bru donated a bunch of T-shirts.
Willinois donated a buch of different retro stuff ...
ABA bmx donated Goody bags...
Tickets are $5.00 each or 3 tickets for $10.00.
You can pay-pal arn02@msn.com please put your info in the memo, winner doesnt need to be present to win we will ship it to you. We will also mail your tickets to you.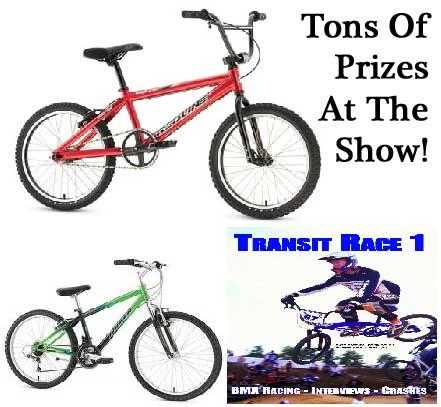 Tons more info available from Ed Nowdomski at www.freedombmx.net
---
---
Today's BMX Racing News - Wednesday, December 10, 2008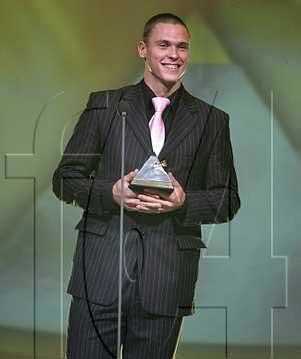 Maris Strombergs Wins "Athlete Of The Year" Award In Latvia
UniversityOfBMX.Com owner and operator and 'Granddaddy of European BMX', Gerrit Does has informed us that BMX Olympic Gold Medalist, Maris Strombergs has been awarded the highest athletic award in Latvia, the Latvian Athlete Of The Year Award.
According to Gerrit, this comes directly from recently re-elected chairman (for a second period of 4 years) of the Latvian Olympic Committee, Mr. Aldons Vrublevskis, who was instrumental in starting BMX in his country, together with Mr. Janis Silins. With Mr. Vrublevskis as head of the Olympic Committee and Maris as 2008 Athlete Of The Year, BMX is getting quite the publicity boost in this Eastern European country.
While many people might think that Latvia is a newcomer to the BMX scene, Mr. Vrublevskis did comment that way back in 1987 he and Mr. Janis Silins met with Gerrit Does to launch the sport in Latvia, and that many top riders in Europe and the world now come from Latvia. This has all lead to Maris's big win in Beijing and all of this outstanding BMX notoriety speaks highly of the rise of BMX as one of the top sports in Latvia.
According to Gerrit, "I am so proud of Latvian BMX and honored to have been a small part in the development of the sport in Latvia. The fact that Maris wins this prestigious prize, is a first for BMX in Europe. CONGRATULATIONS to Maris and Latvian BMX."
Maris was awarded the "Latvian Athlete Of The Year" award just this past Saturday in a big ceremony that was broadcast on Latvian National TV.
Mr. Vrublevskis commented how great it is that Maris was awarded as "the best Latvian athlete of the year and also as the most popular athlete in Latvia in 2008. This is the first, but I hope not the last year when a BMX cyclist is the best athlete of the year. This event is twice joyful to me, because it is connected directly with our common long hope for Olympic Games. It happened! GERRIT, WE TOGETHER WITH YOU, WE DID IT!!! Merry Christmas and Happy New Year."
Maris takes on a second hard task in BMX when he moves to California to race based out of the United States and takes on the American BMX Scene, a far removed and established racing environment to Latvia and Europe. Expect to see Maris showcasing his Latvian BMX Skills at ABA & NBL Nationals and North American UCI Points races all across America along with defending his 2008 UCI Elite Men's World Title in Adelaide, Australia in July of 2009.
Pretty exciting stuff for Latvian BMX......Pretty exciting stuff for BMX!
---
---
Today's BMX Racing News - Tuesday, December 9, 2008

Racing for Lou Gehrig's Disease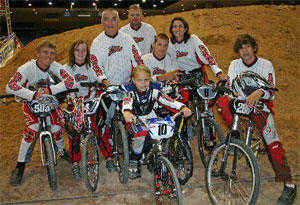 Sycamore BMX Raceway and Team Inseino Racing have joined together to assist Lindsay Seino, at senior a Santa Susana High School with her Senior Project.
Lindsay has chosen to raise money for the ALS Association by joining with Sycamore BMX Raceway on Sunday, December 14, 2008 for a BMX 4 ALS fundraising race.
The race will be an ABA Double Points Race for Sycamore BMX Raceway and a Fundraising event.
The reason Lindsay has chosen to help this charity is that Lindsay`s Uncle Wayne lost his battle with this disease two years ago at the age of 39.
Wayne loved the sport of BMX as a teen and signed his own son up with the ABA as soon as he could ride a bike.

Silent Auction! Raffle Prizes!
When: Sunday, Dec. 14,2008 Signups: 10 am-12 noon Racing starts: ASAP
Where: Sycamore BMX Raceway, 1692 Sycamore Dr., Simi Valley, Ca 93065
Phone: 805-583-BMX7 Pick up pledge sheets at the track and collect donations for a great cause! Prize rewards to top 3 fundraisers.
If you are unable to attend the event and would like to make a donation go to Teaminseino.com and click on BMX 4 ALS.
---
Today's BMX Racing News - Monday, December 8, 2008
---
Today's BMX Racing News - Saturday/Sunday, December 6/7, 2008
Johnny Rocket's Blastin' off!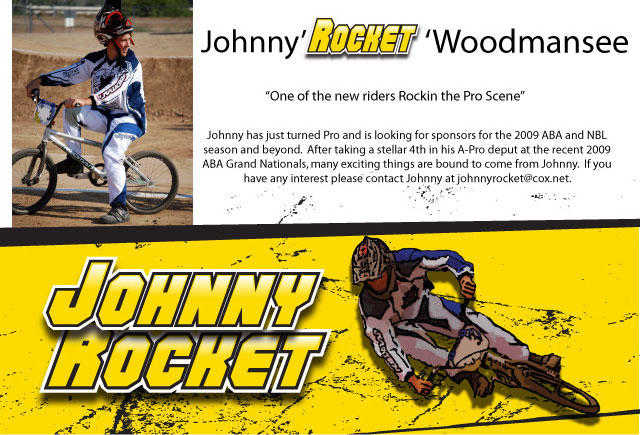 ---
---
Today's BMX Racing News - Friday, December 5, 2008
---
Tommaso Giustacchini signs with ONE/Kenda
ONE KENDA press release
ONE Bicycles
is proud to announce that Italian
Tommaso Giustacchini
has signed with
ONE
/
Kenda
.
Tommaso is the reigning European Champion and will defend his title in 14 year old boys in 2009 in Denmark.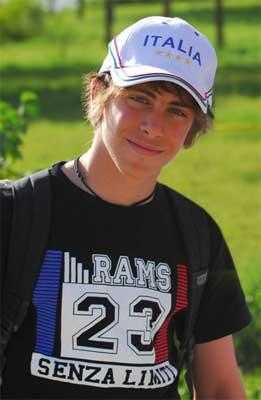 Tommaso's main goal is winning the youth Olympic Games in Singapore in 2010.
To see Tommaso win the European title click here on Boys 13: BMX-Videos.com
ONE KENDA is sponsored by:
Pinch Gear, BOMBSHELL, KMC, SHIMANO, SNAP, BOLLÉ, THE Industries, WLM DESIGN, UFO, THOMSON, ODI, KENDA, NIKE
---
UK BMXers.....Win stuff for christmas at oldskoolukbmx.com!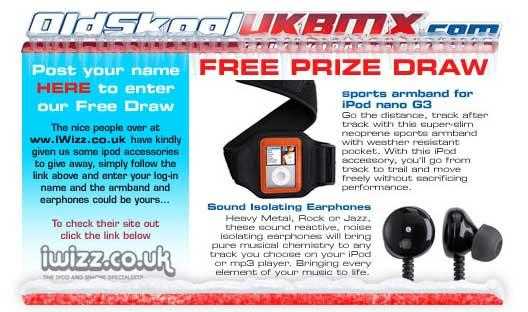 To win a Sports armband for your IPOD nano and sound isolating earphones all you have to do is post just your name, Winner will be pick at random at the start of January

Please visit the kind people over at iwizz.co.uk for donating us this great prize

Open to UK members only! Sorry guys.
---
ALL STAR MIDWEST CLINIC

Rider Clinic At Crossroads BMX
3602 East Michigan St
Indianapolis, IN 46202
Saturday December 6th
Hosted By: 2 of Excalibur's Finest & Also Special Guest
Weston Pope & Logan Collins
Cost - $25 w/ Goodie Bag
Registration: 1:30 - 2:30
Clinic Starts: 3 till 5
---
Today's BMX Racing News - Thursday, December 4, 2008
---
---
SE Racing signs "the Fresno Bulldog", Austin Hiatt for 2009 Season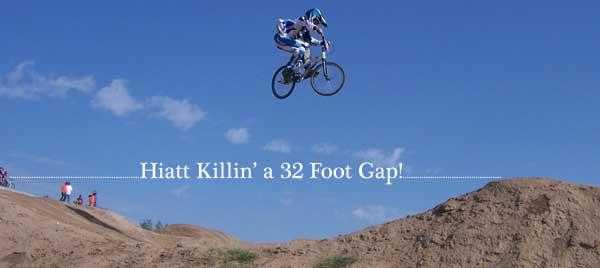 Fresno, CA. has seen MANY great racers in its day and now one more has stepped up and joined forces with SE Racing. Our newest ripper trains with our resident Vet Pro Dave Bittner and AA Power house Randy Stumpfhauser, his name is Austin Hiatt.
Austin has been racing since 2000 and currently races in the 14x class. His local tracks range from Woodward FBX to Hanford (A track his mother operates). Austin just returned from the ABA Grands, nabbing two 4th places finishes & secured 2 N.A.G. Plates for the year. He raced the NBL Grands taking a 2nd. In 2007 he was NAG 5 on in both class and cruiser. NICE!!!!!!!!!!!!
Welcome to the program Austin!

For more information, contact - Todd Lyons/SE Brand Manager - (215) 824-3854
---
GO211 WEEKLIES TO FEATURE ABA GRAND NATIONALS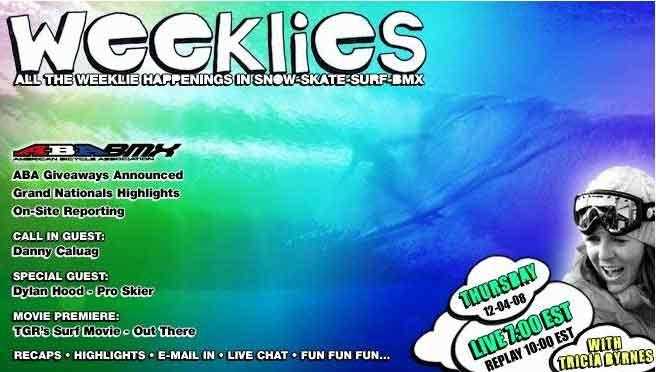 Boston, MA (December 2, 2008) - Go211.com ( www.go211.com ), the premier action sports social networking and online video share site, announced that this week's live webshow series, "Go211 Weeklies", will feature a live interview with pro skier Dylan Hood, as well as in-depth coverage of the ABA Grand Nationals. This week's webshow airs Thursday, December 4th at 7pm EST/4pm PST, with a replay at 10pm EST/7pm PST at www.go211.com/weeklies.
Hosted by Pro Snowboarder Tricia Byrnes, "Go211 Weeklies" covers all the weekly happenings in Surf, Skate, Snow, and BMX, along with special guest appearances and idle chatter about what's new, what's hot, and what's what in the action sports community. Go211 members can be a part of the webshow by e-mailing in local happenings from their neck of the woods. Highlight recaps from this week's show include:
· ABA Grand Nationals in-depth coverage
· 2008 Vans Triple Crown of Surfing – Reef Hawaiian Pro
· Back Yard Bang (Snow)
· Special guest pro skier Dylan Hood
· Call-in guest pro BMXer Danny Caluag
· ABA Contest Give-a-ways
· Screening of Teton Gravity Research's surfing film "Out There"
Born and raised in Marblehead, Massachusetts , Dylan Hood is one of skiing's youngest and most promising talents. Having recently begun to appear in some of TGR's biggest ski movies, Dylan can currently be seen in "Under the Influence", a film about the people, places and moments that define riding.
Shot on 16mm and HiDef, "Out There" is the story of endangered surf locations around the world through the eyes and travels of today's most progressive surfers. Among the world-renowned surfers in the film taking on some of the heaviest swells surfed last year are Go211 Pro Team Riders Ian Walsh and Nate Yeomans, along with Shane Dorian, John John Florence, Jamie O Brien, and Jordy Smith.
For more information, please visit www.go211.com .
About Go211.com - Go211.com is the leading community and video site for lifestyle sports created by and for action sports athletes and enthusiasts. Go211.com is home to the exclusive live webcasts of the BGOS, including the Burton US Open. It's the place to hang with the Pros and friends to get behind-the-scenes video, blogs, photos, webcasts and podcasts from featured contributors along with other action sports fans. Go211.com offers a broad range of exclusive content submitted directly from the athletes. The current Go211 Pro Team roster includes Danny Davis, Kevin Pearce, Hannah Teter, Kelly Clark, Keir Dillon, Keegan Valaika, Danny Kass, Jamie Anderson, Jeremy Jones, Luke Mitrani, Lindsey Jacobellis, Donny Robinson, CJ Hobgood, Christian Hosoi, Holly Beck, Sarah Burke and Mike Losness, among others.
---
---
ABA Grands Featured On Tulsa's News On 6/KOTV

The ABA Grand Nationals were the subject of some cool network TV coverage on Tulsa's, KOTV.
The news spot featured interviews with the ABA's, John David; Hyper's, Donny Robinson; GT's, Mike Day and Reno Racing's, Deonte Woodward.
Click on the TV link below to check out the cool report on a great race!
---
Today's BMX Racing News - Wednesday, December 3, 2008
Today's BMX Racing News - Tuesday, December 2, 2008
SILVER DOLLAR NATIONALS

RENO JAN 9-11

SO CAL NATIONALS

LAKE PERRIS CA FEB 6-8

WINTER NATIONALS

PHOENIX AZ MAR 6-8

SUPER NATIONALS

DESOTO TX MARCH 20-22

RENO PLAZA (FORMER HOLIDAY INN))

5 BLOCKS TO THE TRACK

TWO DOUBLE BEDS

$57.00 A NIGHT

RESTAURANT, INDOOR POOL, CASINO

GRAND SIERRA RESORT (FORMER HILTON)

2 MILES TO THE TRACK

TWO QUEEN BEDS

$69.00 A NIGHT

MANY RESTAURANTS, BARS

CASINO, GAME ROOMS

THEATRE

HOLIDAY INN EXPRESS

TWO QUEEN BEDS

$97.00 A NIGHT

OUT DOOR POOL

FREE BREAKFAST BAR

BEST WESTERN BELL

TWO QUEEN BEDS

$89.00 PER NIGHT

8 MILES FROM THE TRACK

OUT DOOR POOL

FREE CONT. BREAKFAST

MICROWAVE & FRIG IN ROOM

MCM GRANDE HOTEL AND FUN DOME

TWO QUEEN BEDS $99.00 A NIGHT

SUITE ROOM $250.00 A NIGHT

1 MILE FROM THE TRACK

INDOOR POOL FUN DOME

GAME ROOM

FREE HOT BREAKFAST

RESTAURANT, BAR
US NATIONALS

BAKERSFIELD CA MAY 1-3

SUMMER NATIONALS

ROSEVILLE CA JULY 3-5

BLACK JACK NATIONALS

RENO NV SEPT 4-6

BEST WESTERN HILL HOUSE

2 MILES FROM THE TRACK

2 QUEEN BEDS ONLY $85.00 A NIGHT

FREE CONTINENTAL BREAKFAST

OUTDOOR POOL

IN ROOM COFFEE AND REFRIGERATOR

BEST WESTERN ROSEVILLE

TWO QUEEN BEDS $95.00 PER NIGHT

2 MILES FROM THE TRACK

OUTDOOR POOL

FREE CONTINENTAL BREAKFAST

RENO PLAZA

(FORMER HOLIDAY INN)

5 BLOCKS TO THE TRACK

TWO DOUBLE BEDS

$70.00 A NIGHT

RESTAURANT, INDOOR POOL, CASINO

GRAND SIERRA RESORT

(FORMER HILTON)

2 MILES TO THE TRACK

TWO QUEEN BEDS

$79.00 A NIGHT

MANY RESTAURANTS, BARS

CASINO, GAME ROOMS, THEATER
---
Morphine Industries' Factory Team
Posts First and Second at
NBL Thanksgiving Classic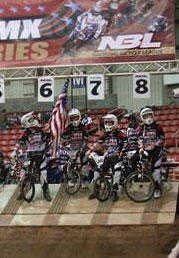 Morphine Industries took part of the factory team to Morristown this past weekend to throw down some rubber at the NBL Thanksgiving Nationals in Great Smoky Mtn. Expo Center.
The track was tight and fast as expected in Morristown which proved to be a great venue for the team. When the dust settled the team racked up a first place finish on Saturday and a second place finish on Sunday.
Super X, Tyler Faoro, spent all weekend battling and from lane 7 and 8, racking up the holeshots. On Saturday he got submarined in the last turn going down to finish with a 7th in the main. Sunday, he got tangled up in the first and second turn to settle for a 7th.
Doran "Sure Thing" Bradshaw (30–34 Cr) did what he does, WIN, racking up 1st both days. Richie Dey (9X) sweep his motos and main with 1st on Saturday and a 2nd on Sunday.
Jonathan Reeves got back on the track after a 5 month recovery and took 4th in the main on Saturday and 2nd on Sunday.
In the stacked 11X, Noah Reeves made it through semis to finish 3rd on Saturday and 5th on Sunday.
Talbott Cross came up shy in both days missing the main in one of the toughest classes in racing -17-18X.
Morphine Industries would like to thank its Factory Team Sponsors; Staats Motocross Bicycles (www.staatsbikes.com), Alienation (www.alienationbmx.com), Fly Racing (www.flyracingbmx.com), Lost Energy Drink (www.lostenterprises.com), Sinz Racing (www.sinz-racing.com), Rennen (www.rennendesigngroup.com)
---