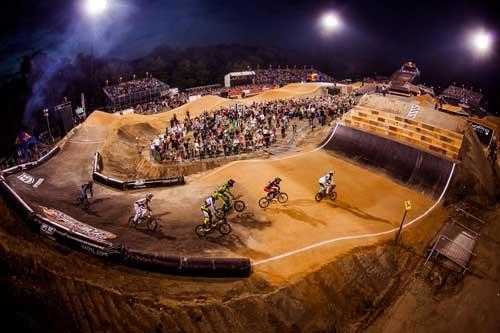 And yet another step of BMX Race Evolution – The 2013 edition of Red Bull R.Evolution, the most innovative BMX Race event of the year, took centre stage at Mellowpark in Berlin today. In the hotly contested final it was Connor Fields (USA) who took top honours with Renato Rezende (BRA) und Vincent Pelluard (FRA) coming in second and third.

Desmond Tessemaker (NED) left the crowd deeply impressed with his spectacular tricks and was crowned 55DSL Rebel of the Day. The race track, which was packed with dramatic obstacles, had been specifically re-designed with this event in mind and will serve as a venue for one of next year's official UCI Supercross World Cup races.

BERLIN (GERMANY) – The concept of Red Bull R.Evolution is unique – already last year the innovative event inspired the international BMX scene, and the 2013 edition presented itself as an even more refined version focusing more on Race in its original sense. Boasting the biggest BMX Race track jump of all times (16 metres), the fastest start ramp speed (70 kilometres per hour), the highest step up in BMX Supercross (9 metres), and various materials such as dirt, wood, metal and paving stones being used for the very first time - the Red Bull R.Evolution track was a unique record setting course. At a sold out venue, the 2013 edition wrote yet another chapter in BMX Race history.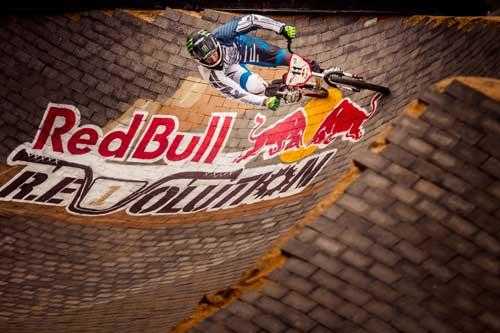 The enthusiastic crowd at Mellowpark experienced it first-hand - (R)Evolution has not simply continued over the weekend, it is truly well under way! "This is fantastic, today's race was just so much fun! It was an incredible event, absolutely amazing. The track and all the fans who came here were unique. Winning at an event like this is even greater," said contest winner Connor Fields.
36 athletes from eleven different countries took part in the race. Among them - 30 of the UCI World Ranking's best riders as well as several Olympic athletes. With leading stars such as last year's winner Twan van Gendt (NED), Connor Fields (USA), currently third in the World Ranking, and World Championship bronze medal winner Luis Brethauer (GER), it was clearly the BMX elite who had descended upon the German capital for Red Bull R.Evolution.
Every single run was met by enthusiastic fan applause rewarding the riders who relentlessly pulled off tricks such as Backflips and 360s on the gigantic ramps. During the final, the atmosphere reached its climax when the six athletes who had made it to the last round let the breathtaking scene push them even further.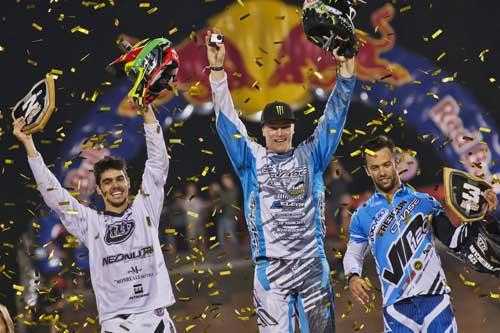 A crash early on involving Twan van Gendt (NED), Joris Daudet (FRA) and Carlos Alberto Ramirez Yepez (COL) set the course for Connor Fields (USA) who took the lead and crossed the finish line 0.633 seconds ahead of Renato Rezende (BRA) and Vincent Pelluard (FRA) who took second and third places respectively. "I am so happy. I really love this track with its huge jumps," said the Brazilian.
Frenchman Pelluard was also extremely excited. "I was lucky that I wasn't involved in the crash during the final. The atmosphere and the track here are amazing. I hope to come back to Mellowpark next year."
This year's edition also crowned a brand new king: For the 55DSL Rebel of the Day Award, the audience voted for the most rebellious rider of the event. 22-year-old Desmond Tessemaker convinced the crowd with his dramatic Backflip during the LCQ round, crowning himself official 55DSL Rebel of the Day. "It's great to be today's 55DSL Rebel of the Day," said the Dutchman. "Today, I was really up to something and everything went well, the Backflip on the major kicker in particular."
The track will remain in Berlin's Mellowpark also after the event and serve as a venue for an official UCI Supercross World Cup race next year.

For further information visit www.redbull.de/revolution
Photos - Red bull content pool ..... David Ulrich & Daniel Grund