Pure action and adrenaline at Europe's most innovative BMX race . Red Bull R.Evolution in Berlin combines race and freestyle elements for the first time. Dutchman Twan van Gendt grabs victory at the brand new Berlin Mellowpark track.

Berlin (GER)- 24.08.2012 – The Race-Evolution has succeeded: Berlin's Mellowpark on Friday evening became the stage for the most innovative BMX race of the year with Dutchman Twan van Gendt snatching victory ahead of Americans Corben Sharrah and Mike Day in a tightly fought finale of the Red Bull R.Evolution. Flawless backflips from Nate Berkheimer and crowd favourite Desmond Tessemaker turned on the heat among the 5,000 spectators at the Mellowpark with Luis Brethauer going to the quarter final for Germany's best performance of the evening.
The tailor-made track will remain at the Mellowpark making it the biggest and most versatile BMX training spot in Germany.
A BMX race that also combines breath-taking freestyle tricks: that had never been seen before on European soil! Red Bull managed to ignite the domestic and international BMX scene with exactly such a brand new event concept. The basic idea

is pure riding fun, to break away from regulations and strict rules, back to the BMX origins.
"The riders are on fire and are totally relaxed. I just find it fantastic to experience this kind of development," said BMX legend Bob Haro (USA), considered the founder of BMX sports and a rider who also left his mark on the race and freestyle scene.
So it was no real surprise that Red Bull R.Evolution attracted the very best BMX riders to the German capital. Some 48 riders from 13 countries made the trip, among them 32 of the best riders on the UCI world rankings and eight fresh from competing in London.
Big name riders such as Mike Day (USA), Kris Fox (USA), Luis Brethauer (GER) and the London bronze medalist Carlos Oquendo (COL) made sure of an extra portion of adrenaline in front of a sell-out 5,000 crowd.

Mellowpark was ready to explode when the phrase 'Riders ready - watch the gate' was heard for the last time on Friday with Twan van Gendt, Corben Sharrah, Mike Day, Simon Duchene, Luke Madill, Zabala Oquendo, Sylvain Andre and Darryn Goodwin poised for victory. While early rounds were more relaxed, riders now battled it out for a top spot. Despite this being the final, Darryn Goodwin tried to make up for lost ground following an early crash with a spectacular frontflip on the final jump that pulled the fans off their seats.
"It was just unbelievable, to take part in the first Red Bull R.Evolution and then go and win it", said a beaming Twan van Gendt just after champagne-drenched podium celebrations. "I hope there are many more such races in the future", said the 20-year-old.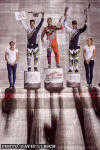 Tom Ritzenthaler and his EliteTrax-Crew came together with the Mellowpark to create this unique Super-Cross track. After the 10 meter high starting tower riders were put through a 450m long hell with S-sections, Doubles and Trick Jumps.
"Even for the pro racers this was a hugely demanding track. The riders had to get used it in the beginning – it was even bigger than London – but then they were really hot and excited to race it", said Germany's national BMX team coach Florian Ludewig. "And the best thing is the track at the Mellowpark will remain which makes it a perfect training spot for German riders."
Germany's Luis Brethauer was eliminated in the quarter-finals despite having held on to fourth place at the start. A Hang Up knocked the wind out of his sails, allowing his rivals to pass. "I am confident we will catch up until Rio 2016. I want to race for a medal there and that is my training target", said the 19-year-old BMX professional from Reutlingen.
The added bonus at Red Bull R.Evolution was the judging of the freestyle tricks. While tricks are not part of a normal BMX race, they are welcomed at Red Bull R.Evolution.

"You could see how much fun everyone had on the track", said second-placed Mike Day. Crowd favorites Desmond Tessemaker (NED) and American Kris Fox may have not been among the leaders but showed Backflips over the second Double with an enormous length of 13 meters. Fox casually sprinkled his rides with No Handers and Nac-Nacs. "If BMX-Race was like that before, I would have never stopped" he said, excited about Red Bull R.Evolution. ..... www.redbull.de/revolution
Final results:

1

148

van GENDT Twan

NED

45.881

2

24

SHARRAH Corben

USA

46.710

3

365

DAY Mike

USA

47.111

4

157

DUCHENE Simon

FRA

47.997

5

17

MADILL Luke

AUS

49.612

6

566

OQUENDO Carlos

COL

50.194

7

39

ANDRE Sylvain

FRA

DNF

8

25

GOODWIN Darryn

AUS

DNF