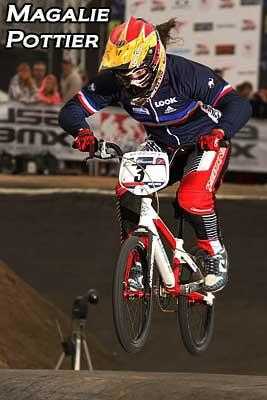 Well, the guys did pretty well also. But it was Magalie Pottier of France and Alise Post of the US who stood atop the winner's podium for Redline and their respective countries following Saturday and Sunday's main events. Saturday's Supercross event saw nearly 50 of the top women riders from around the world line up for the season opener. Magalie won all of her opening rounds and Alise led most of her early heats as well. But in the final, it was Magalie who fought off multiple charges from the competition to win her first World Cup victory. Alise finished fourth in the final as the second highest placed US rider.
Sunday's racing stayed on the big track for the USA Cycling National Championships. Featuring only the best US riders, it was each Olympic Team prospect's chance to show their stuff in true head to head competition. Like Saturday, reigning 2011 National Champion Alise Post was dominant in the early rounds, but at the end of the day she rode away from the field to win the final in a commanding fashion.
In Friday's time trial event, both girls rode well but just missed the podium. Magalie Pottier missed third place by 4/100th of a second and after qualifying in second, Alise Post finished in 6th place approximately 8/10th of a second off of winner Caroline Buchanan's time.
In the men's time trial it was Canada's Tory Nyhaug who led the charge for Redline finishing in fourth place just missing the podium by just over 1/10th of a second. Australian Sam Willoughby finished a strong sixth place just 4/100th of a second behind Tory.
As with the women, Saturday was the main event for the approximately 150 riders who travelled from around the globe to earn World Cup points and spots on their respective Olympic teams. There were no easy groupings or motos all day long. Each heat was raced all the way to the finish line with multiple photo finishes throughout the day. The level of competition is simply through the roof. Despite the fact that Redline stars like Denzel Stein and Ramon Van der Beizen were eliminated in the semi's, Redline had three of its riders in the final including Sam Willoughby, Tory Nyhaug and Hollands Twan Van Gent. The final was a great race with race fans both holding their breath as well as cheering at the top of their lungs. In the end our man Sam took a close 2nd place, Tory Nyhaug took 5th and Twan Van Gent took 6th . A super-fantastic start to a most important Supercross season for our Redline riders.
To round out the weekend, Denzel Stein turned in a rock solid performance in the USA Cycling Championships. Denzel consistently finished in 2nd and 3rd place in the opening rounds and at the end of the day took a well deserved 6th place in the final.
To wrap up the Elite riders, a special shout-out goes out to Redline Rider Jelle Van Gorkam of Holland who went down hard in the Semi's and had to be airlifted to the hospital. Jelle suffered a punctured lung as well as some other internal injuries. All of his Redline family wish him a speedy recovery and hope to see him back on the track soon.
One hundred yards away from the Supercross track, the BMX world was busy and at work with the So Cal Nationals and USA Cycling Collegiate Nationals. As usual, Redline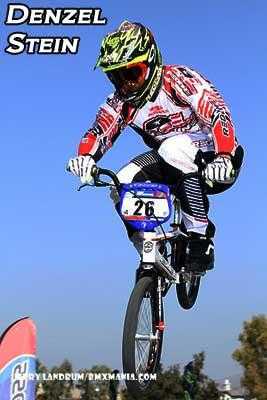 had a strong contingent of riders competing including AM#1 Josh Klatman, A-Pro Elliot McGrath as well as Redline Regional Development Team riders from Florida based Redline/M1, Texas based ORP, and California based Redline/Bike Alley and Redline/Challenge.
Friday's racing got off to a great start with AM#1 Josh Klatman winning the Mens 19-27 Expert race and Stile Industries/Redline rider Elliott McGrath winning the A-Pro race. Zaithyel Soakandar of Redline/M1 also started the weekend off right with a 2nd in class and a 1st in Open in the 14 expert class.
Saturday was USA Cycling BMX Championships where Redline/Bike Alley rider Jordan Nopens took a silver medal in 15 girls while Redline Challenge rider Dahvin Childs took a bronze medal in 11 Expert class.
Sunday was the final day of the So Cal National and saw Zaithyel Soakandar of Redline/M1 win both the class and open events in 14 Expert as well as AJ Saldivar of Redline Challenge winning the 10 Expert class.
And no Redline race report would be complete without at least one paragraph about the 'tip of the Redline spear' Jason Carnes. As always the Redline compound was stocked with food and drinks for the riders, trainers for their warm-ups and all the gear our riders could ever require. Race fans had the chance to see all of the latest Redline race bikes on display and ask questions and get autographs. And in-between Jason keeping all that going, he was out doing us proud on the race track winning yet another USA Cycling National Champions jersey.
Redline riders are now off to their next events – Jason Carnes is in full Redline Flight School mode doing a number of clinics in California and the Western US, our Elite riders are off to Randaberg, Norway, for the next UCI Supercross, and we hope to see many of you at Redmond, Oregon, or Phoenix, Arizona later this month.
Text – Redline
Photos – Gork, Jerry Landrum