April 2009
Today's BMX Racing News
..... Thursday - April 30, 2009
Free Agent BMX Pre-NBL National Clinic May 15, 2009
Lead by 4-time UCI World Champion Dale Holmes and NBL Elite National #2 and Olympian Cristian Becerine!

World and Olympic Champion Maris Strombergs will be on hand to sign Autographs and present Clinic Rider Of The Day Prize!

WHEN - May 15, 2009 11:00am to 2:00pm
WHERE - N. Friant City, Fresno, CA 93720
HOW - $30 Pre Sign-Up with track operator Ryan Garcia ryan.garcia@fresno.gov or email Dale
or
$35 on the morning of the clinic

Work on your jumps, gates, turns. Improve your race strategy.
Don't miss this chance to work on your BMX skills with some of the world's top pros!
---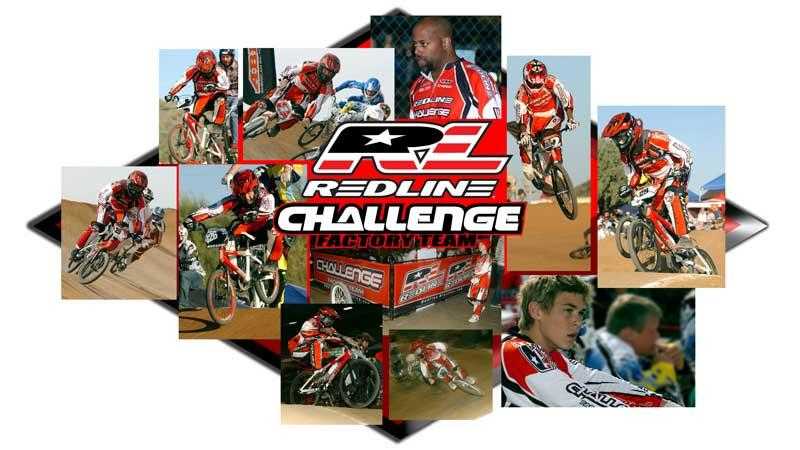 REDLINE-CHALLENGE CREW TAKES FACTORY TEAM WINS IN OREGON
It didn't take the newly formed REDLINE-CHALLENGE Team long to show their strength; taking the Factory Team wins both days at ABA's Great Northwest nationals.

Now in their 21st year of existence, the CHALLENGE TEAM, based out of Northern California, has teamed up with REDLINE Bicycles for 2009 and beyond. This new Factory combo combines thee longest lasting "privateer family" teams with the original BMX brand - which is bound to make it a force to be rekoned with. Up against the tenacious teams such as Redman~Rockstar and Tangent~Bawls, the REDLINE-CHALLENGE team scored their first two Factory wins of the season.
At the GNW Natls, everything came togther for the Am squad - who for the first time was able to use cross-over Factory Redline rider DAKOTA "The Robot" SENGER, on their sheet. His finishes, combined with Challenge's ALEX "The Axeman" JONES, made for some Redline domination in 13x and 13 cruiser. On Saturday, Jones scored the impressive win with a nice move in the first turn, with Senger rounding out the 3rd spot. On day two, Senger put it all together in 13cruiser, taking the victory and backing it up with a 2nd in class, while Jones remained in the hunt and rounded out his weekend with a 4th.
DAKOTA "The Iceman" ISENBERG was also on the jammy in his new 17-18 Expert ranks, and seems to have adjusted to the bigger/older 18x's with 4th place scores both days. In 28-35x, it was all RASHEEN HICKS - aka "The Machine," with wire-to-wire wins both days ahead of NW legend and X-up King Pee Wee Lee. And up in 36-40x, CHRIS WESTBROOK found himself in the mains both days and up against some tough comp.
Meanwhile, even though he's not rostered with Redline~Challenge, TORY NYHAUG was looking incredibly quick in 16x and X-Open, scoring three wins out of four mains; and one detour to the backside of the berm.

All in all, Redline riders and 2009 FLIGHT bikes were seen out front often, proving that it is still the lightest and most affordable bike on the BMX race scene.
GREAT NORTHWEST NATIONAL

S

- Day

1
GREAT NORTHWEST NATIONAL

S - Day

2

Finish

Team Name

Points

Finish

Team Name

Points

1
Redline

~

Challenge
214
1
REDLINE

~

CHALLENGE
199
2
Redman Rockstar
207
2
Redman Rockstar

196

3
Linder Staats
176
3
Tangent / Bawls

159

4
Tangent / Bawls
154
4
Linder / Staats

152

5

Belair Factory / Monster / Fly

133
5
Belair Factory / Monster / Fly

87
Redline is Proudly Sponsored by: SHIMANO, SUN RIMS, KOOLSTOP brakeshoes, TIOGA tires and SKULL CANDY headphones
Challenge is Proudly supported by: H2-ULTRA WATER, PRO CLEAN II, TANGENT, FLY, FSA, LDC and HOT SHOPPE
The REDLINE~CHALLENGE team consists of: SHELBY WREN, DUSTY HAMMOND, RASHEEN HICKS, MICKENZIE KIBBE, ALEX JONES, DAKOTAH ISENBERG, CHRIS WESTBROOK, TOMMY BELEW, HEATHER ALRED, MELVIN SHAD RICK, DUSTIN MILES, DENYAN DIAKUM ~ together with FACTORY REDLINE crossover ams DAKOTA SENGER & GEORGE GOODALL.

---
Haro Bikes U.K. Factory BMX TeamS & Riders,

rip it up at the National Championships

Rounds 1 & 2, Derby

11

th & 12th April 2009

What a weekend! For the first time in good for years Haro are back in the BMX race scene.

With two strong teams and the Haro race pit in attendance it was set to be a success.

453 riders went through the gate on each day!

Tibbs Cycle Store / Haro Bikes Factory Race Team

Supported by Kenda Tyres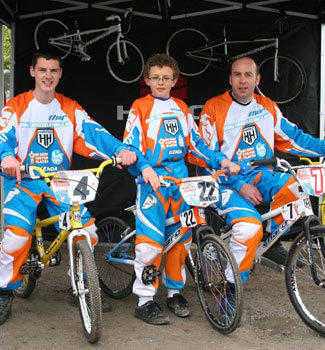 Left to right Dan Pullen, Owen Baxter, Phil Beer

Results

Owen Baxter, 11/12 yr boys, Round 1 finished 7th-B, Round 2 finished 6th-1st in 12 and under cruiser on Saturday and 1st again on Sunday

Dan Pullen, 13/14 yr boys, Round 1 finished 2nd, Round 2 finished 3rd

Phil Beer, 45+ Cruiser, Round 1 finished 2nd, Round 2 finished 2nd

Derby BMX Club / Haro Bikes Factory Race Team

Supported by Kenda Tyres and Tangent Products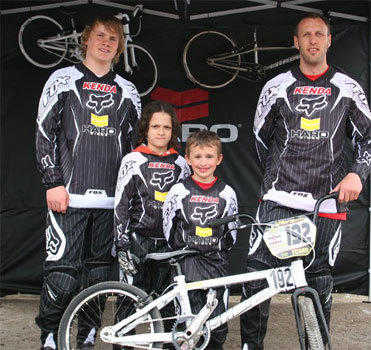 Left to right Jack Bloor, Raven Sumpton, Owen Poulter, Ryan Yearsley

Results

Owen Poulter, 9 yr boys, Round 1 finished 4

th-B, Round 2 finished 5th-B

Raven Sumpton, 11/12 yr boys, Round 1 didn't make the finals, Round 2 didn't make the finals

Jack Bloor (Already on British Cycling Talent Team), 15/16 yr male, Round 1 finished 8th, Round 2 finished 2

nd-B

Ryan Yearsley, 19+ Male, Round 1 finished 1st-B, Round 2 finished 8

th

SMITH SIGNS FOR HARO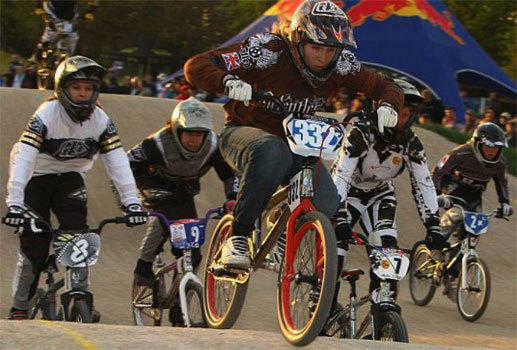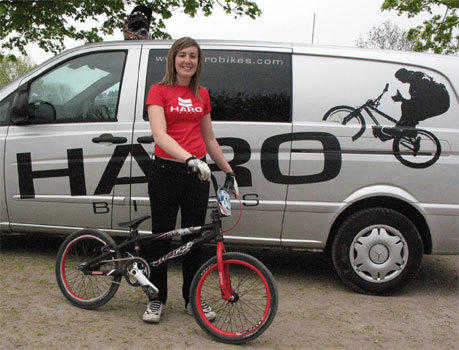 Lauren winning at the weekend Lauren on her new ride this week (2009 Haro Bikes Team Issue).

After Lauren's success at the weekend we approached her to ride the rest of the season as part of the "Derby BMX Club / Haro Bikes Factory Team" and Lauren agreed. We welcome Lauren to the team and wish her all the best for 2009.

Results -

Lauren Smith, Junior Female, Round 1 finished 2nd, Round 2 finished 1st

A few more pics from the weekends racing

Haro Bikes / Moore Large Pit Area

Owen Poulter in the gate - above

Dan Pullen out in front

Thanks to Neil, Gary and Joe P for helping out on the Haro Pit Area and Steve P for taking all the photos.

More information and full race report can be found on http://www.britishcycling.org.uk/web/site/BC/bmx/EventReports2009/20090411_bmx_ns_r1_r2_derby.asp

Roll on Rounds 3 & 4 at Burnham!! - Cheers Adam
---

ABA BMX updates ABABMXPhotos.com through Cajun Nationals-online race image archive
April 29, 2007 - Gilbert, AZ
The American Bicycle Association has been in the business of BMX racing since 1977. That's 32 years of BMX history in the making. We've decided to make all the years of ABA BMX race photos available online through www.ababmxphotos.com. This is a very long work in progress and the older archives take a lot more time to work on. Basically if we were to have every single photo uploaded on the site we would have over 400,000 photos to look at. So as you can see, we have our work cut out for us for sure. As of now we have every photo uploaded on our www.ababmxphoos.com through the 2004 - 2009 seasons, with some older events sprinkled for some added ABA BMX history. Our goal is to have every picture from every ABA BMX National Series event uploaded on this site.
ABA CEO, BA Anderson stated "Many of the photos we shoot at each national event are never used in publication or seen by the public. To say that we have an abundance of photos is an understatement. From a historical perspective, the amount of photos and slides in the archives is priceless."
Editor/Photographer Dan Mooney stated " If you have never seen your picture in the BMXer magazine, you should be able to find yourself on www.ababmxphotos.com. I do my best to try and capture everybody at the events.". Dan shoots between 400 and 1500 shots per event!
We are hosting the web site with the existing archival images already in a digital format, shot by BMXer editor/photographer Dan Mooney and past ABA photographers, and we will work from there. Once a month or so we will be adding vintage photos, so check back often. www.ababmxphotos.com was created for your enjoyment and all the images you see on this site are now available for purchase.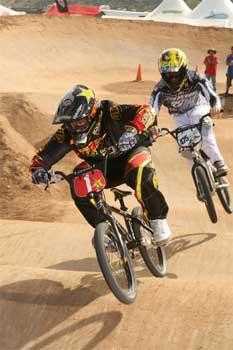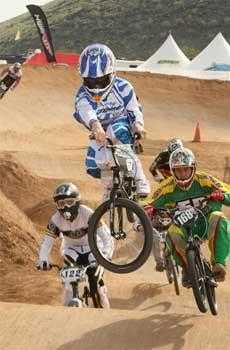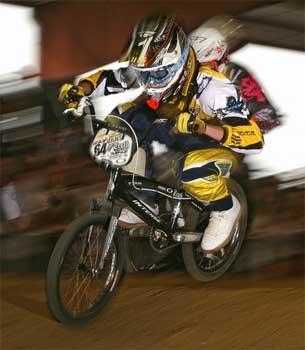 ---
MBK's Arnaud Dubois Scores In Rounds 3 & 4 of the Euro Rounds
After the 3rd and 4th European round in Klatovy (CZ) Arnaud Dubois MBK team stay 2nd place of current raking.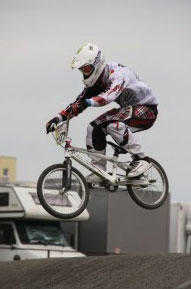 He took on his MBK R-FORCE MX540 carbon the 4th place Saturday in the main and crash Sunday in semi.
Next two rounds this week end in the Italy
Thanks partners: Shimano - Pro - Kenda - Kenny - Alex Rims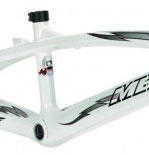 Ranking:
1 131 121 VAN DER BIEZEN Nederland 35 (2° ) 35 (2° ) 26 (8° ) 35 (2° )
2 120 105 NHLAPO Sifiso South Africa 23 (7° 1/2) 20 (5° 1/4) 39 (1° ) 38 (1° )
2 120 137 DUBOIS Arnaud Belgium 39 (1° ) 29 (5° ) 30 (4° ) 22 (8° 1/2)
4 119 15 SCHERPEN Martijn Nederland 22 (8° ) 39 (1° ) 28 (6° ) 30 (4° )
5 109 327 VAN DER HEIJDEN Jordy Nederland 19 (6° 1/4) 23 (6° 1/2) 35 (2° ) 32 (3° )
6 94 154 TREIMANIS Edzus Latvia 31 (3° ) 29 (3° ) 13 (8° 1/8) 21 (6° 1/2)
7 86 666 VAN DER PUTTEN Ivo Nederland 16 (5° 1/8) 22 (5° 1/2) 20 (8° ½) 28 (5° )
8 85 6 HAMON Thomas France 21 (8° 1/2) 25 (7° ) 18 (5° 1/4) 21 (7° 1/2)
9 84 72 VAN DEN WILDENBERG Nederland 18 (6° 1/4) 18 (7° 1/2) 23 (6° 1/2) 25 (6° )
10 83 259 VAN DEN BERG Roy Nederland 25 (5° 1/2) 22 (5° 1/2) 15 (5° 1/8) 21 (8° 1/2)
---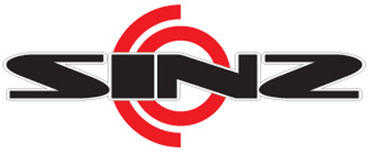 SINZ Stealth Limited Edition White Alloy Fork

SINZ is proud to announce the arrival of the Limited Edition White Alloy Stealth Fork, the most technologically advanced Pro Alloy fork for BMX racing. Our Pro R & D team developed and refined the Stealth Fork from the ground up for over a year to make sure we can bring you the best fork in BMX and it has been a huge success with riders placing 2nd and 3rd at the Olympics and the last ABA and NBL #1 Pro are running SINZ Stealth Forks. The Limited Edition White fork is offered in just 1 size: 20" 1 1/8th". This Fork is constructed with a 4130 Chromolly Steer Tube with custom Alloy legs fitted, Cnc'd drop outs, and fork crown.
The Stealth Aluminum Fork weight for the 20" – 32 oz
The Limited Edition White SINZ Stealth Alloy Pro Fork has a suggested retail of only $169.99. The forks are in stock now and can be found at better bike shops world wide.
For more information on the full line of SINZ Racing Components, please visit www.SINZ-Racing.com.
SINZ has a full product line for riders of an affordable line of high quality BMX race products. SINZ offers products in a wide variety of sizes and colors. SINZ is proud to support the NBL National Series and sponsor Pro Riders Randy Stumpfhauser, Danny Caluag, David Herman, Khalen Young, Donny Robinson, Mike Day, Jill Kintner, Cristian Becerine, Tyler Brown, Jason Rodgers, Derek Betcher, Todd Perry, The Intense BMX/Bawls Guarana Pro Team, The Intense/Phantom/Ontrac Race Team, and many more.
---
Today's BMX Racing News ..... Wednesday - April 29, 2009
J&R BICYCLES

PRESENTS

THE PRE-FLORIDA

CHAMPIONSHIP

CLINIC

Don't wait till the last minute to learn the Championship track. Sarasota BMX and J&R Bicycles is proud to announce a professional clinic along with all day practice....for less than normal clinics.

Riders will have the chance to learn from two of the best teachers known to BMX, A PRO Benny Wright and Masters Geoff Ssengoba. (along with other J&R team riders).

Pre-Championship Clinic Information:

Saturday May 9th - Registration 11:00am to Noon

Pre-registration price - $15.00 - call 1-800-455-9353

Registration day of - $20.00

Sarasota Pre-Championship Practice info:

Saturday May 9th - 4pm to 9pm. Cost: $5.00

Sunday May 10th - 10am to 4pm. Cost: $10.00

J&R Bicycles will also be on site to get our bikes race ready for the event - you will not want to miss out.

Get prepared for the biggest race in Florida!
---
Nichole Callisto Featured on W. Australian
TV at BMX Australia National Championships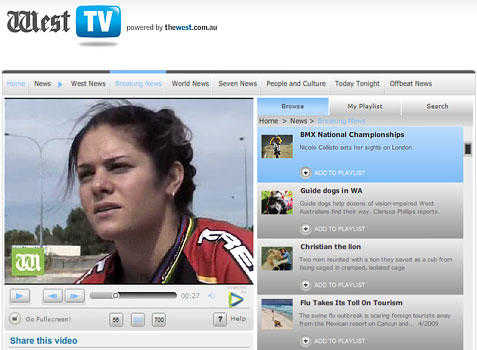 BMX Australia is launching it's annual BMX National Championships in Perth, W.A. this week at the West Australia State Equestrian Centre.
Australia's, well known Olympic Finalist and Free Agent Elite Women's racer, Nichole Callisto turned in a pretty nice interview with Perth media outlet, 'West TV'.
Nichole was joined in the interview by GHP Factory rider, Lauren Reynolds for a nice bit of TV Time.
Click here or on the video link above to check out Nichole and Lauren's story. If you can't see the report listed, just enter 'BMX' in to the search bar to the right and it'll pop right up for you.
The Aussie Finals begin Thursday with final rounds of 20" Practice and the Probikx & Champbikx series Moto's & Finals.
Remaining schedule for the rest of the week include.....
*Friday/Younger Challenge Classes, Moto's, Opening Ceremony and Younger Challenge Class Finals.
*Saturday/24'' Cruiser Practise, 20" 14-16 Challenge Classes, Championship Classes & 30+ Masters competition and Finals.
*Sunday/All Cruisers warm up, 3 moto's, Finals and Presentations.
---
Factory Felt/SC Action Sports NBL Freedom National Race report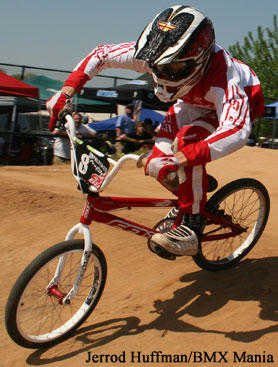 Woodbridge VA is known for its super fast track and hot weather. When we arrived on Friday night I had my reservations on the conditions of the track. Heavy rains had washed away parts of the second straight and it looked like getting this race in would take a miracle. A miracle came in the form of some super volunteers and some back breaking work to reform the stepup into the second turn. Saturday morning I went to look at the incredible job these special people did on the track to get it ready for racing. The new jump was soft but the practice session and a huge roller finally did the trick.
Saturdays racing was as hot as the 95 degree weather was scorching! The Factory Felt/SC Action Sports team kept cool under their pit tents and were hydrated thanks to Josette Tesar and Mady Perez.
First up was Jeremy Thompson 35X who was doing battle with Shaun "Hollywood" Deprete. Deprete took the win. In 35 cruiser Thompson again took a second behind Deprete. Ben Kubalak 17-18X came in from MN and was flying all weekend! He just couldn't get by Zula and took seconds both days.
Dylan Perez 15X had his hands full with Banser and Posey all weekend taking a third on Day#1 and almost pulled off the upset of the weekend leading the pack into the last turn on Day#2 until he fumbled and fell back to third. Dalton Simons 14X was in a small but talented group and pulled a second on Day#1 and a win on Day#2.
Cole Tesar 12X/Cr was completely on fire all weekend dominating both bikes and doubled doubled for the weekend. Cameron Moore 11X/Cr was exciting the crowd with his aerial displays over the second and third straight doubles taking wins on his twenty both days and followed his teammate Tesar on cruiser for a second place finish. Coleman Habib 10X battled all weekend and finished with two second place finishes for the weekend.
Not only are the Felt girls the most attractive young ladies on the track but they can also ride their butts off! Carley Veeder 16G walked away with the win on Saturday and then raced up on Sunday to hit the wall in the first corner taking her out of the race.
Felicia Stancil 13G/Cr took her just built Felt Sector ProX to the finish for a double double. Taylor Williams 12G was not to be denied this weekend and showed what training will do for you with a powerful win on both days.
All in all it was a great weekend of racing and the Factory Felt/SC Action Sports team did very well scoring an 89 on day one for second place and an 88 on day two for the win.
We would like to thank our sponsors Alan Foster at FeltBMX.com, Scott Cranmer at SC Action Sports, Alex Rims, Ray Hudson Flyracing, Gus at Profile racing, and our newest sponsor Pete at THE Sinz.
Carlos Perez/Team Manager Factory Felt/SC Action Sports
---
ActionBMX.Net Blowout Sale On Intense Race Frames!
1 - Podium Pro frame white ($200) 2009
1 - Podium Expert XL frame white ($200) 2009
1 - Sabot Expert XL complete black ($269) 2009
1 - Sabot 24" frame flat black ($125) 2008
6899 Forthun Road
Baxter, MN 56425
---
Today's BMX Racing News
..... Tuesday - April 28, 2009

European Championship round 3 and 4 - ONE/Kenda
ONE KENDA press release
Round 3 and 4 of the European Championship series for Junior and Elite Men and women in
Klatovy, Czech Republic were held on a new track and for once there was no rain.
ONE/Kenda's Arturs Matisons was not permitted to race yet by his doctor.
If all goes well, we will see Arturs next week in Italy for round 5 and 6 of the European
Championship.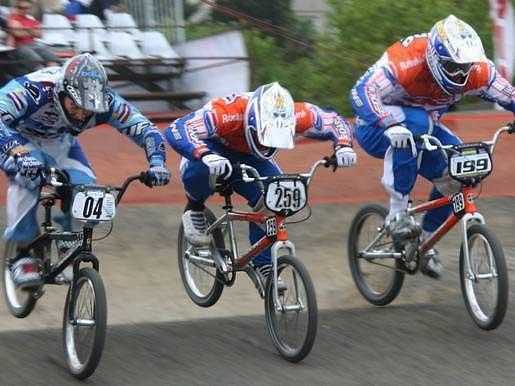 European Champion Tommaso Giustacchini from Italy was doing great all weekend but didn't
get further then a 6th place in round 3.
Toms Skujins from Latvia is improving every race in his 1st year in Elite Men.
In round 4 he just missed the main with a 5th place in the semi.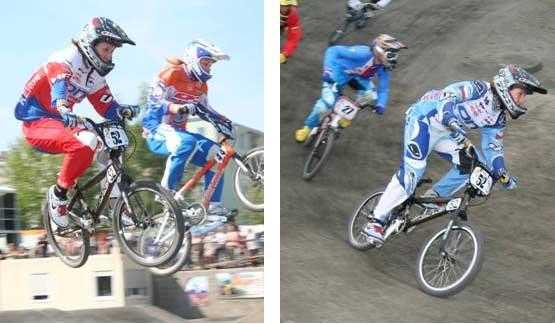 Aneta Hladikova from Czech Republic is doing very well after she got back from the US.
Aneta missed the podium by 1 spot and got 4th in round 3. In round 4 she hit the gate but still managed to move up to a 5th.
Aneta is now in 3rd place in the general ranking.
Results:
Saturday round 3:
6th Tommaso Giustacchini, Boys 14
4th Aneta Hladikova, Elite Women
Sunday round 4:
5th Aneta Hladikova, Elite Women
Check for the videos here: BMX-VIDEOS.COM
Next rounds of the European Championship in Italy on May 2 and 3.
ONE KENDA is sponsored by:
KENDA, PINCH GEAR, KMC, SHIMANO, BOLLÉ, THE Industries, SINZ, WLM DESIGN, UFO, THOMSON, ODI, NIKE,
PRO GOLD
---
Face-lift for BMX tracks at UCI World Cycling Centre
The BMX tracks at the World Cycling Centre (WCC) in Aigle, Switzerland, have been renovated and modified to optimize training conditions for visiting athletes.
The main track, which was renovated a year ago in order to resemble that of the Olympic Games in Beijing, has been resurfaced for the new season, with changes to a jump in the first straight.
The UCI's BMX Coordinator Johan Lindström explains that the track will continually evolve to meet the demands of athletes. One of the reasons for the latest change is the ever-improving level of the female athletes training at the WCC.
The UCI's BMX Track Builder, Tom Ritzenthaler, also carried out significant work on the WCC's second training track. This smaller, technical, pump track boasts a starting ramp of a similar difficulty to those of the European Championships.
Johan Lindström explains: "This two-man track is ideal to practice gate starts and to learn to be agile and quick with the bike on small jumps".
The Word Cycling Centre's BMX training facilities are constantly in high demand from National Federations. Last year, 39 training camps were carried out by 18 National Federations, some of them returning as many as five times.
In the last week, teams from France, New Zealand and Great Britain have trained at the WCC to prepare for the first round of the UCI BMX Supercross in Copenhagen, Denmark on May 8th and 9th.
The Manager of the British team, Keith Reynolds, is enthusiastic about the changes.
"We trained here on several occasions last year and in 2007, and it's good to have some new technical challenges. We really like coming to Aigle and the riders are very happy with the track."
---
American Bicycle Association and USA Cycling Announce UCI BMX Supercross World Cup Event
by ABA Staff

Gilbert, Arizona- April 8, 2009— The American Bicycle Association and USA Cycling are proud to announce the North American round of the UCI BMX Supercross World Cup presented by Swatch to be held September 18-20, 2009 at the US Olympic Training Center in Chula Vista, CA. This event will be held in conjunction with the American Bicycle Associations U.S. Open Amateur National event on a newly constructed ABA BMX track on the grounds of the US Olympic Training Center.
"This is a very exciting event for the ABA and the entire BMX industry to be involved with" stated BA Anderson, ABA's Chief Executive Officer . He added that "Holding an Amateur event in conjunction with the UCI BMX Supercross World Cup will only fuel the Olympic dreams of US amateur riders, which will help insure the continued success of future US BMX Olympians."
The ABA is constructing one of the most challenging amateur BMX tracks ever seen on the grounds of the Chula Vista training center to host ABA's US Open National Event. The Amateur facility will remain a permanent ABA sanctioned facility running local BMX events and continuing to grow the sport in the southern California region. This facility will also provide the USOC and USA Cycling with the tools necessary to further develop future Olympians and continued improvement of the junior riders.
Tracy Lamb, USOTC Director stated "When the USOC built the Olympic replica track our goal was to host an International competition, now with the ABA's help we have realized that goal." Tracy went on to add "The function of our facility is to provide athletes with the proper training facilities for their sport. Working with the ABA to develop an amateur component for our facility will allow us to focus development efforts at a much younger age".
The ABA, after hosting several successful UCI Continental events and 2 USAC BMX National Championships, is offering what will become one of the most prestigious Elite and Amateur events to ever be held for the sport of BMX. Elite riders will compete on one of the only permanent Olympic style BMX tracks in the world located at the US Olympic Training Center in Chula Vista, CA. This is the same facility that hosted the 2008 BMX Olympic trials and where Team USA BMX athletes trained for Beijing. The event will feature over 100 of the best male and female Elite riders and past Olympians from all over the world.
USA Cycling's CEO Steve Johnson said "The USOC has been a tremendous partner, helping with much needed infrastructure to continue developing our USA BMX athletes. The addition of this event will give the US riders the home track advantage in earning coveted UCI points." Steve went on to add "the newly developed amateur ABA track will also add a location to host development camps for future junior elite riders."
Johan Lindstrom, UCI BMX Sports Coordinator stated "The UCI is excited to bring the UCI BMX Supercross World Cup to Chula Vista. With the magnificent facility that the US Olympic training centre is offering, the ABA being an experienced event organizer and the support from USA Cycling there's no doubt that the event will be a great success".
"The San Diego Sports Commission is proud to be partnering with UCI, ABA, and the Olympic Training Center to host this event. BMX has a rich history in San Diego and there is no better place to have a world-class BMX event" Alan Kidd- President, San Diego Sports Commission .
"Having the UCI BMX Supercross World Cup in San Diego is exciting to say the least. Having the Hilton San Diego Mission Valley as the host Hotel is an honor. We look forward to all the fun and excitement and success the week has to bring". – Gordon Luster, General Manager, Hilton San Diego Mission Valley
---
European BMX Elite Men Championship Standings after Rounds 3&4 in Klatovy, Czech Republic

Place

Points

Name

Country

1

131

Raymon van der Biezen
Nederland
2
120
Sifiso Nhlapo
South Africa
3
120
Arnaud Dubois
Belgium
4
119
Martijn Scherpen
Nederland
5
109
Jordy vad der heijden
Nederland
6
94
Edzus Treimanis
Latvia
7
86
Ivo van der Putten
Nederland
8
85
Thomas Hamon
France
9
84
Rob van den Wildenberg
Nederland
10
83
Roy van den Berg
Nederland
---
Today's BMX Racing News
..... Monday - April 27, 2009
SKIZO doubles up with at rounds 3 & 4 of the European Champs in CZE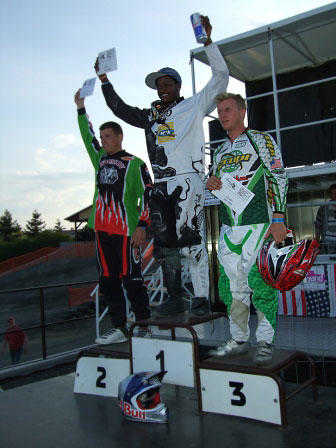 This weekend was rounds 3 & 4 of the European champs which were held in Klatovy, CZE. After the first two rounds not going as planned for a lot of the big names in last years championship all the big guns where ready to take the top step of the podium this weekend.
The track in Klatovy has a long first straight which suits Sifiso with the amount of power and speed he is able to generate to the first turn, the rest of the track is very technical and on the long side so the racing was going be tough this weekend with 3 motos, 1/8, quarters, semi and then the final.
Tough aggressive racing was the order of the day in Klatovy with good weather and racing conditions for Round 3 being held on Saturday the 25th April. Gates where packed with local Czech riders in the moto's looking to fill the 8 available spots in the finals.
Skizo needing good results from these two rounds after not making the final in rounds 1 & 2 he knew what he had to do,
Skizo said," after Zwolle where the track was damp and we weren't really feeling it I sort of had some bad luck, it was good as it gave me time to re-group and focus for these two rounds the last two weeks."
Sifiso blasted through his motos and then came the 1/8ths, Skizo and one of the local Czech rider had to wait anxiously for the results of a photo finish. Sifiso ended up fourth and progressed to the quarters with last lane choice, the MTN rider was unmatched for pace with the long first straight and took the win in both quarters and the semi final. In the final Skizo had second lane choice which was perfect, the gate dropped and that was that....Skizo rode himself to his first win of the 2009 season......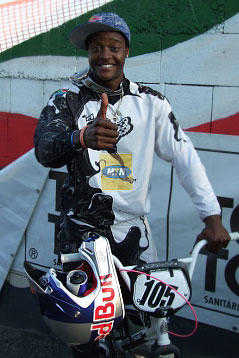 An elated Sifiso says, "its all coming together now, I need to thank all the people involved and especially MTN for the track they have built at home, training on a world class track at home and monitoring my improvements on the SRM has made me able to come into the racing fast and prepared for this season, lets keep our fingers crossed that tomorrow goes as well as today, I needed these points and should be around 4th in the championship now."
Round 4 – Sunday 26th April
With weather that was not as warm as yesterday, overcast and cool Skizo turned up the heat in the final which had 5 Dutch riders looking like an orange freight train.
Skizo commented, "I knew today was going to be hard, i did quite a long recovery ride last night and climbed into an ice bath last night....today wasn't just going to be about the fastest guy out there but about riding smart, nothing a Redbull cant fix…..."
Skizo won all his motos and his one-eighth, riding smart and conserving energy during his quarter and semi finals with still impressive 2nd places he was now ready for the final. With the long first straight that Skizo could now use to his advantage, when the gate dropped he repeated yesterdays performance and raced to another 1st place.
Skizo commented after the race, "that final was orange, I'm glad I could throw a little MTN yellow in there, I'm just really happy with this weekends results and now look forward to do the same next weekend in Italy. Thanks again to all my sponsors that make this possible MTN, Redbull, Fox, Intense, Oakley, Shimano and all the other support from home..."
Check out Sifiso racing on www.bmx-videos.com website and watch Skizo in action, the 1/8 from Saturday is a nail biter...
Round 3 Results
Round 4 Results

1. Sifiso Nhlapo RSA

2. Raymon van der Biezen NED

3. Jordy van der Heijden NED

4. Martijn Scherpen NED

5. Ivo van der Putten NED

6. Rob van den Wildenberg NED

7. Damien Godet FRA

8. Manuel De Vecchi ITA

1. Sifiso Nhlapo RSA

2. Jordy van der Heijden NED

3. Tyler Brown USA

4. Arnoud Dubois BEL

5. Lukas Tamme CZE

6. Martijn Scherpen NED

7. Vincent Pelluard FRA

8. Raymon van der Biezen NED
Photos: Courtesy of Hans Petter Dalen
---
BMX MANIA RACE REPORT PAGE WITh jrod!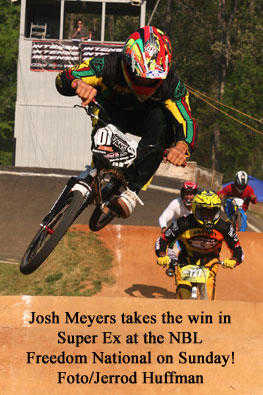 eLITE wOMEN/pITTS - mASTERS/dINGER - SUPER eX/Meyers
CHECK OUT THE COMPLETE OFFICIAL PRO RESULTS ON THE bmx mANIA rACE rEPORT pAGE!
---
UK's Fastlane Mag Issue 2 Is On The Streets!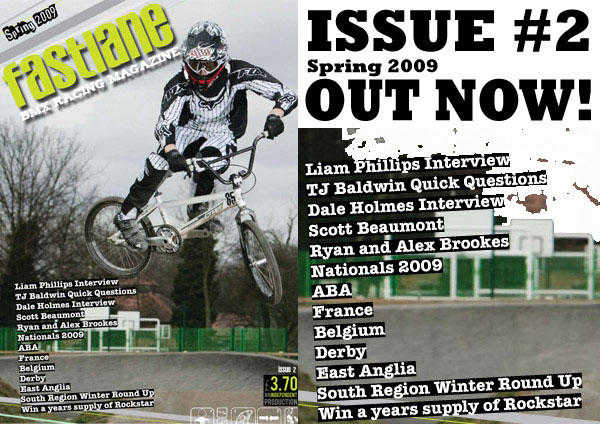 Do you LOVE BMX Mags, like we do? If you do, you'll want to ck out the United Kingdom's, FastlaneBMX.
It's a hot looking BMX RACING ONLY mag that's available at several different outlets in England AND
awailable ONLINE for all the rest of us! Check it all out at www.fastlanebmxmag.com .
---
Today's BMX Racing News ..... Sunday - April 26, 2009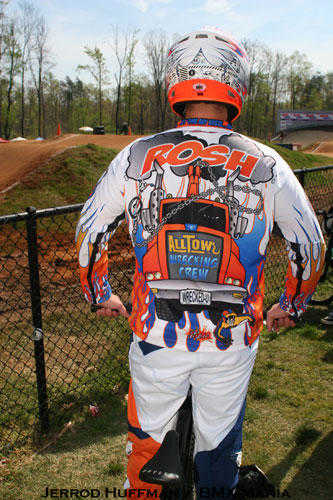 Garrett Rosh spotted at the NBL Freedom National,
sportin' some New Sponsor Threads for his sponsor,
All Town Wrecking....Nice Job, Garrett!
BMX MANIA RACE REPORT PAGE WITh jrod!
eLITE wOMEN/pITTS - mASTERS/dINGER - SUPER eX/pOPE
CHECK OUT THE COMPLETE OFFICIAL PRO RESULTS ON THE bmx mANIA rACE rEPORT pAGE!
---
Today's BMX Racing News ..... Friday - April 24, 2009
King of the Empire Pro/Am series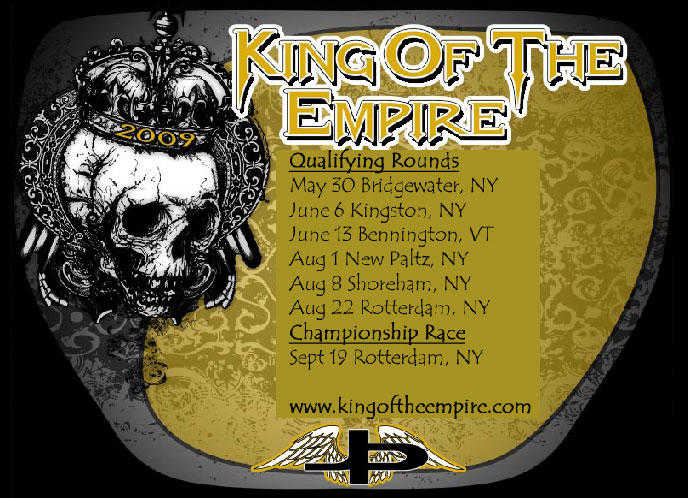 Avent/Bombshell, Felt, Rennen Design Group, Intense BMX, SE Racing, Answer/Anarchy, Profile, Free Agent, Hyper, Sun Rims, Ciari, Alex Rims, ODI, Addison, Johnson Plates & Fly Racing
We are hoping to have some of the events covered by Crazy Al Cayne and posted on www.crazyalcayne.tv
A couple changes for this year:
To encourage Rookies and Novices to participate and improve their skills. They have reduced registration. Rookies are $10 and Novices are $15. Pros, experts and cruisers are still $20.
There will now be a "B" main. It will be called the "BMX Underground No Bull B Main". There will need to be a total of 12 registered riders in the days event to have the b-main. The 4 riders no making the A-main will be put into the B-main. The winner will get $20 (no points). It's being sponsored by www.bmxunderground.com
---
Introducing BC Bicycle Components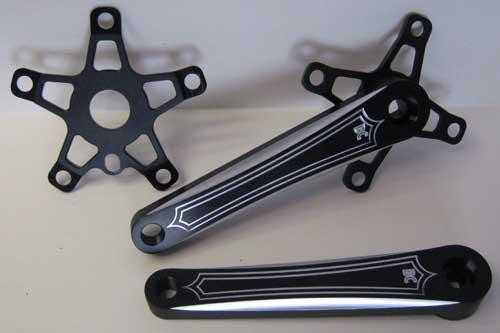 Check it out. There is a new line of Bicycle Components coming to a track near you. Introducing BC Bicycle Components.
We are a new company focused on providing good quality 100% USA Made Bicycle Components at prices everyone can afford. These aren't your cheap Taiwan made parts, but machined locally in Reno, NV.
Here is a little taste of more components to come. These are a set of cranks, made out of 7075 aluminum. It has a bolt on spider that is available in either a 4 Bolt or 5 Bolt style, and is available in Black, Blue, Red, Or polished.
Cost on these beauties? How About $99.95. Available in 135MM - 170MM.
We will also be offering in weeks to come 4 and 5 Bolt sprockets as well as Solid Sprockets ranging from 36T - 46T.
We also have Stems, Chain Tensioners, and Seat Post Clamps coming soon. Look for us at the Roseville Nationals in July.
To order a set of these cranks, or for more information, give Mike a call @ DH1 Racing Products @ 775-351-1901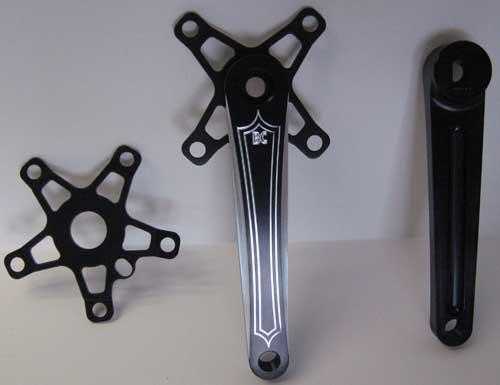 ---
Today's BMX Racing News ..... Thursday - April 23, 2009
BMX Supercross World Cup.....Copenhagen welcomes the world's best BMX-riders

UCI BMX Supercross World Cup: Copenhagen welcomes the world's best BMX-riders World Champions and Olympic Games medal winners are among the prominent participants when the international UCI BMX Supercross World Cup season starts 8-9 May in Copenhagen. The day of finals offers the spectators exciting BMX top sport, rock concert with some of Denmark's best rock names, dj, competitions and "have-a-try" for the youngsters. Entrance for both days DKK 75 (10 Euro), children under 12 years free.

The Olympic Games gold medal winner (men), Maris Strombergs from Latvia, and the World Champion 2008 (women), Shanaze Reade from Great Britain, are among the favorites to go all the way at the BMX-track in Copenhagen. A track, which is regarded as one of the best in the world.

More than 120 riders are on the starting list in Copenhagen, all fighting for World Cup points within this spectacular upcoming sport, full of action, endurance and technique. Among these, five Danish riders, who must perform to their limit to qualify for the final heats.

"Two or three of our riders have the potential to go far in Copenhagen, even all the way to the final. However, both their mental and physical capacity must be top-tuned. We are training intensively these days and, no doubt, the World Cup is an important step on our way to our ultimate aim; the Olympic Games 2012 in London. We trust that the spectators, as in 2008, will give us their full support", says Christian Poulsen, the national BMX team manager.

Lately and in no time, BMX Supercross has become popular all over the world, and especially the Beijing Olympic Games 2008 enhanced the interest for and number of members within the sport. This is also what the local BMX club, Københavns BMX Klub, has experienced.

"After the BMX Supercross World Cup 2008, we have been welcoming a lot of new members in all age groups to our club; many of whom were spectators at last year's World Cup! Our members not only practise BMX, the majority of them also do voluntary work at the club, and a handful of them have been working tirelessly to stage this year's World Cup", says Nils Stærk, President of Københavns BMX Klub.

Rock concert with well-known names and "have-a-try" for the youngsters to add to this spectacular BMX-event, a concert with the rock band BeMyeX is scheduled at the day of finals, 9 May. The band will be composed for this special occasion and consists of some of Denmark's best rock musicians: Jacob Binzer (guitar), Jesper Elnegaard (drums), Rune Funch (guitar), Assi Roar (bass) and Jacob Illeborg (vocal). The band is scheduled to play four times during the afternoon of 9 May. Prepare yourselves for a spectacular display of both rock music and BMX!

The Swedish dj Uncle R adds to the amusement and, furthermore, a lot of exciting happenings will carry you through the day. A particular BMX-track and gear for free will be at children's disposal during the day, supervised by competent members of BMX-clubs from all over the country. Please see www.bmxcopenhagen.com as the program is constantly updated.

Bike City Copenhagen
The UCI BMX Supercross World Cup is part of Bike City Copenhagen (BCC), which HRH Crown Prince Frederik is protector for. Copenhagen is the only city in the world, which has been appointed as Bike City by the UCI by now and between 2008 and 2011 Copenhagen is host of 6 major international cycling events.

Beyond the UCI BMX Supercross World Cup it is among others the prestigious World Road Championship 2011. Behind BCC stand as strong partners as the Danish Motor Sport Union, the Danish Cycling Federation, Sport Event Denmark, The City of Copenhagen and Wonderful Copenhagen. For more information please visit www.bikecitycopenhagen.com.

In continuation of BCC, efforts are made to win the hosting of the World BMX Championships 2012 to Copenhagen. Five cities have announced their bid, and UCI is taking their decision in June 2009.

Danish riders and information
The Danish team in Copenhagen includes: Amanda Sørensen, Mike Kaltoft, Morten Therkildsen, Klaus Bøgh Andresen, Henrik Baltzersen and Niklas Laustsen (Junior).

◦ Finals Saturday on 9 May between 12 and 17 hours. Qualification on 8 May between 9 and 15:30. Ticket prices: adults 75 DKK (10 Euro) for both days, children < 12 years free. Copenhagen's BMX-track (Københavns BMX-bane), Ved Slusen 2, 2450 Copenhagen SV. More info: www.bmxcopenhagen.com.

The Danish Year of Sport 2009
The UCI BMX Supercross World Cup is part of the Danish Year of Sport 2009. More than 50 international sporting events and congresses will be staged all year round in many parts of the country with the IOC Session and Congress in Copenhagen in October as the crown jewel. The events will all together brand Denmark nationally and internationally as a strong sports event nation under the slogan of "Inviting the World of Sport".
---
Morphine Industries' NBL Gator National Race Report

The Morphine Crew came from all four corners of the country to converge on High Springs for the Gator National. We rolled into town with the Factory Rig Thursday night with light rain and the chance of hail and tornados. What a welcome!
The weather took a positive turn and stayed that way the rest of the weekend to add to the great setting and fast track.

A PROs - Tyler Faoro, Gavin Lubbe and Jason Larev started both days off with great performances in the motos taking most of the holeshots and wins. With all three making it to the semis both days, Morphine Industries was looking at a triple threat in the mains. However, stacked semis and poor lane selection made it a tough road. Unfortunately, only Tyler Faoro made it out both days taking a 4th on Day 1 and a 5th on Day 2.
Elite Woman - Kyla Reed had a full rack of women to contend with both days. She rode with style sneaking in a no-hander on the second straight on Saturday and finishing with a 6th in main on Sunday.
41+ - Jonathan Reeves finished one moto shy of a perfect weekend taking a 1 in the main for both days.
17-18 X - Travis Woodruff and Talbott Cross battled through the only class with quarters both days. Talbott came up short of the main both days with Travis making the main on Sunday and taking a well earned 5th.
12 X / 11-12 Cr - Noah Reeves continued to put the pieces together as he gains his groove. Battling Cole Tesar and Preston Wood, Noah took 1's and 2's in the motos and settled for 3's across the board in the Mains both days.
10 X / 9-10 Cr - Richie Dey continued to impress with his flying jumps and speed. With 1's and 2's in his motos on both bikes, Richie slid out in the last turn to settle for an 8th on 20 and came back for a 2 in the cruiser on Saturday. Sunday was a different story taking a 3 and 2 in the mains.
A big thanks to John and Laura Pringle for their great hospitality over the long weekend.
Morphine Industries will be rollin' into St. Cloud, FL this weekend for the NBL Easter Classic with the same bunch of banditos. Be sure to stop by to check us out and learn more about our outstanding group of sponsors.
Morphine Industries would like to thank its Factory Team Sponsors; Staats Motocross Bicycles (www.staatsbikes.com), Alienation (www.alienationbmx.com), Fly Racing (www.flyracingbmx.com), Lost Energy Drink (www.lostenterprises.com), Tioga (www.tiogausa.com/bmx), Sinz Racing (www.sinz-racing.com), Rennen (www.rennendesigngroup.com)
---
NBL Western Regional National at Roadrunner BMX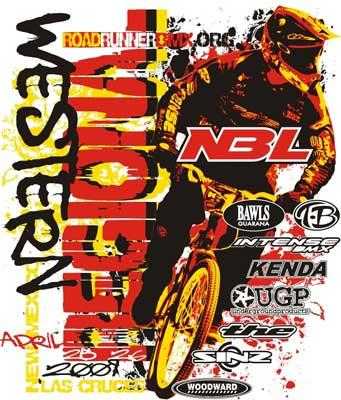 Somethin' new is going on this weekend at Roadrunner BMX. The famous track is hosting it's first NBL Regional National.
The organizers invite you to check out their web site at www.roadrunnerbmx.org for more info on the Regional in Las Cruces, New Mexico.
Check it out, it's a cool site and looks to be a good race, if you're interested.
---
Denmark UCI SX TV Ad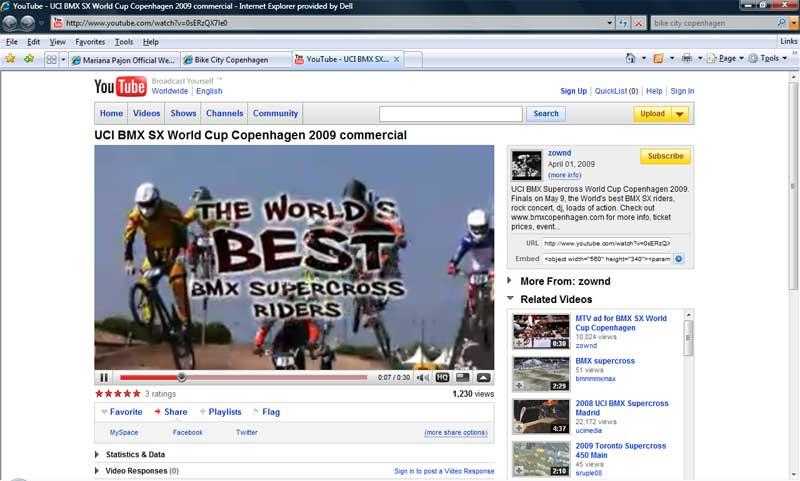 Need another reason to go to YouTube?
Check out the UCI BMX Denmark Supercross TV ad that is playing on Danish TV!
---
Today's BMX Racing News ..... Wednesday - April 22, 2009
Hire Park Open House!

Hire Park BMX in Warsaw, Indiana will be hosting an open house this coming Saturday.
They will be open at 12:00 and ending around 5:00.
The Open House will include.....Free practice, renewals and you will be able to practice on the track that is going to be hosting the NBL Midwest Nationals, June 6 & 7.
Save some money! The NBL license will be going up in May, so come on out and get renewed before the price increase.
For directions and information, please visit www.hireparkbmx.com.
---
Powerhouse/Bike Alley/VRP eating Gator Cajun Style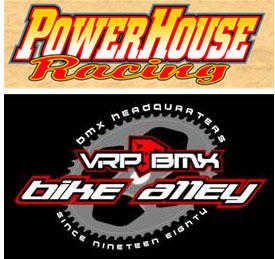 Another strong showing for Powerhouse/VRP/Bike Alley as two riders invade the bayou.
Reid Campbell killed it all weekend with a double double in class and cruiser. He was awarded rider of the weekend. He lead most races and had to battle back in the main on Sunday where he made a great pass in turn two that would lead him to victory.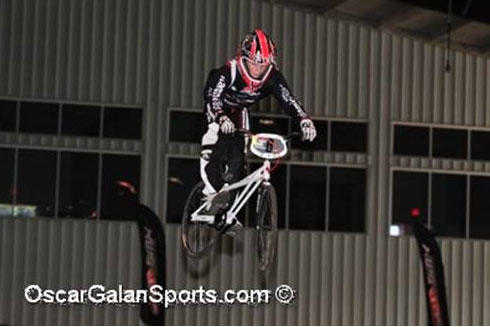 EJ Pasowicz also had a solid weekend finishing with two seconds in open along with a 4th and a 5th in cruiser and a 3rd and an ugly 7th in class. He battled hard with some photo finishes.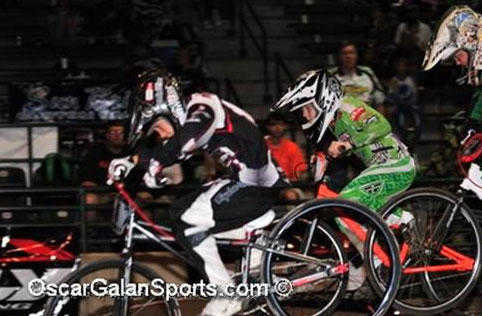 But, this is the real reason EJ came to the Bayou to eat some gator meat!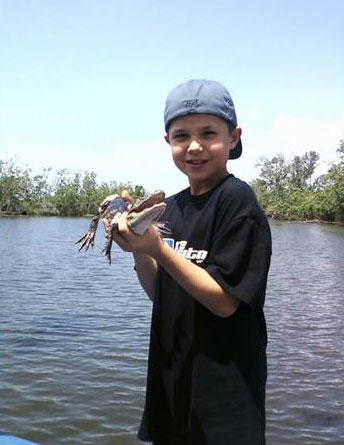 All and all it was an awesome weekend with some great finishes. As always we would like to thank all of our sponsors:

---
POWERHOUSE RACING, INC SIGNS JARRETT KOLICH
Orange, Ca – Powerhouse Racing, Inc is proud to announce the signing of AA pro Jarrett Kolich.
Terms of the deal were not disclosed, however, the agreement calls for him to race for Powerhouse Racing through the 2009 season with an option for the 2010.
Victor Esparza, President of Powerhouse Racing, said "Jarrett is well known and respected in the BMX industry and has the qualities we would like to support".
Powerhouse Racing, Inc was formed in 2009 to promote BMX racing, BMX products, and BMX events. Powerhouse racing is a California nonprofit corporation.
To learn more about Powerhouse Racing go to www.powerhousebmx.com
---
POWERHOUSE RACING ANNOUNCES TRAINING CLINIC HOSTED BY JARRETT KOLICH

Orange, Ca – Powerhouse Racing, Inc is proud to announce their first training clinic scheduled for April 25, 2009 from 12:00 – 2:00 at Bellflower BMX.

This will be the first of a series of training clinics hosted by Powerhouse sponsored rider Jarrett Kolich.

The clinics will be held monthly at various locations and is open to all ABA & NBL youth riders look for professional training.

All participants will receive Powerhouse racing T-Shirts, free drinks, and raffle tickets for BMX prizes. Space is limited to 25 riders.

Jarrett Kolich was ranked 8th in the ABA 2008 standings and is a proven AA pro.

Jarrett work his way up through the racing scene as a youth rider and has the experience and advice that can help youth riders.

For more information regarding Powerhouse Racing go to www.powerhousebmx.com.
---
POWERHOUSE/BIKE ALLEY/Vitamin Water's Kyle Stan to represent the USA at the 2009 World's in Australia.
Powerhouse/Bike Alley/Vitamin Water's, Kyle Stan has earned the right to represent Team USA at the 2009 UCI BMX World Championships in Adelaide, Australia.
Kyle won his World's berth recently at the USA Cycling National BMX Championships at the ABA Metroplex in Desoto, Texas.
Check out Kyle below, showing the audience what fuels him to victory…Vitamin Water…Try It!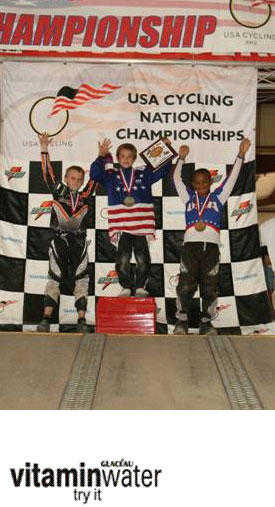 ---
Today's BMX Racing News ..... Tuesday - April 21, 2009
NBL Launches 2009 Bring-A-Buddy Program to
Increase Participation in BMX Racing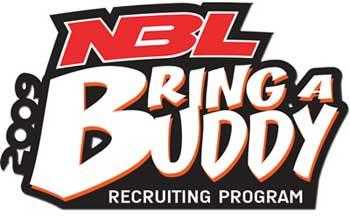 More than $40,000 in prizes available to be won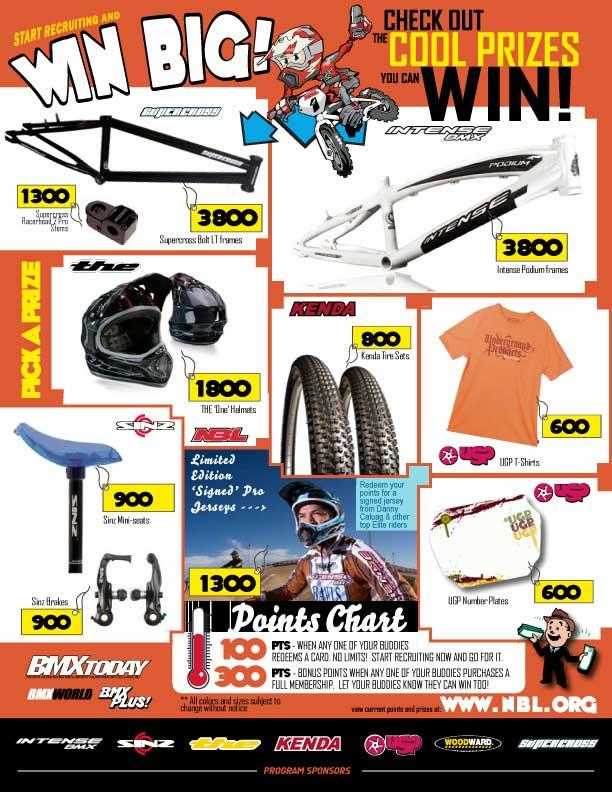 Imagine if every NBL member recruited just one new rider this year - Local programs would get a huge boost and thousands of new riders would be hitting the track, raising the level of competition across the country. The 2009 NBL Bring-A-Buddy Program has been designed to do just that and with more than $40,000 in prizes to be won, recruiters and NBL tracks will have plenty of incentives to keep them busy. Bring-A-Buddy played a key role in boosting membership during the Olympic year and this year's program will run for 3 ½ months to allow everyone a chance to get involved. It's starts as a challenge to members and then ends up being a fun and easy contest where everyone wins!
The program is simple and offers an exciting, points-driven, incentive platform that rewards NBL members for their efforts. In the April and May issues of BMX Today magazine, members receive a full sheet of 'Buddy' cards and are tasked to distribute them to any 'buddies' who might be interested in trying BMX for the first time. When a 'Buddy' redeems a card at any local NBL track, both the recruiter and the 'Buddy' win a free limited-edition NBL sticker kit. The 'Buddy' then gets a chance to win random prizes and the recruiter receives 100 points. In fact, each time a new 'Buddy' redeems a card, the recruiter earns 100 points and when the 'Buddy' joins as a full NBL member, the recruiter pockets an additional 300 bonus points. It all adds up quickly! To support the super-active recruiters, additional cards and supplies are available at all local NBL tracks.
Best of all, recruiters get to choose their own rewards based on their individual effort. NBL is serving up more than $40,000 in prizes and recruiters can redeem them for several major prizes including the popular Intense Podium Frame, a sweet new Supercross Bolt LT frame, THE Helmets and much more. Supercross BMX has joined the list of sponsors for the program and there are several new prizes in the rewards catalog this year. Riders can now redeem their points for a limited number of custom, autographed pro jerseys from riders like Randy Stumpfhauser, Stephanie Barragan, Maris Strombergs, Kris Fox and other top riders. A new 'NBL Grands Package' and 'UGP Combo pack' have also been added to the mix.
NBL tracks will see immediate benefits from the program and the top performing tracks will also win valuable prizes including complete Intense and Supercross BMX bikes, helmets and other sponsor products. The Bring-A-Buddy program is easy to run and many of the tracks have already fully embraced it. We'd like to recognize the top recruiting tracks from 2008 and wish everyone a great season of recruiting.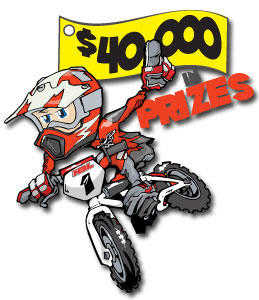 Top Track by Region in 2008:
· Midwest – GTC BMX, MI
· Northeast – Trilogy Park, PA
· Southeast - Cape Coral BMX, FL
· West – Santa Maria BMX, CA
"NBL tracks are promoting the benefits directly to their members and in turn get a much-needed boost on the grassroots level", said Justin Travis, NBL Field Director. "They can see an immediate return on their investment and that definitely helps boost local participation". Tracks and members can view monthly prizing, recruiting statistics, and other exciting news through the dedicated Bring-A-Buddy section on the NBL website at http://www.nbl.org/bring-buddy.asp.
"The program provides our sponsors with a vital link to the grassroots level and further connects their brand directly to the end consumer – The NBL member", says Ken Masters, NBL President. "It's a great compliment to their ongoing efforts to promote the sport locally". The program runs from April 15 through to July 31. Visit the NBL website at www.nbl.org for more details.
The 2009 NBL Bring-A-Buddy Program is proudly sponsored by Intense BMX (www.intensebmx.com), Supercross BMX (www.supercrossbmx.com), Kenda Tires (www.kendausa.com), UGP (www.undergroundproducts.com) Sinz Racing (www.sinz-racing.com), THE Industries (www.bmxthe.com), and Camp Woodward (www.campwoodward.com) in association with BMXWORLD, BMX Plus! and BMX Today magazines.
---
2009 Toronto Bike Show Race & Dirt Comp wrap-up
By; Brent-Smitty-Smith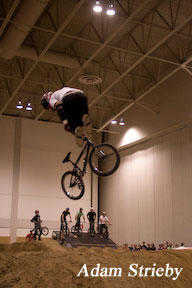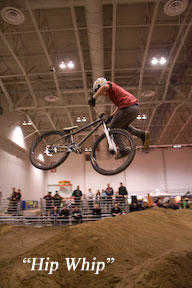 After another long cold winter the light of The Bike Show at the end of the dirt riders tunnel did not disappoint. The 2009 edition of the dirt comps was one not soon to be forgotten.
With a deep pool of talented BMX and MTB racers and jumpers cut loose on an awesome multi-use course the crowd was pumped. Packed bleachers cheered on their favorite racers and jumpers as the riders had a blast back on the dirt hangin with friends and showin their stuff.
Brian Strieby made the return trip to the great white north, attempting to defend his 08 Bike Show titles. Brian brought along some awesome additions to the show in the form of his older brothers', Adam and Nathan.
Brian and Nate managed to get into town early enough to help me with the build and the team effort really showed. Working on a tight timeline with union operators is not easy, but the team was patient and persistant enough to get a sweet track done in good time.
When the riders showed up for practice on Friday the jumpers were grinnin from ear to ear. With a tall, steep start hill, the track was tight 4 man u in a u with a right hand first turn.
The track had decent berms and a variety of jumps, with the highlight being a big 4- pak into last turn that hipped riders left, landing right in the berm. Seemed like a lot of riders were gettin their moneys worth in practice and we had just begun.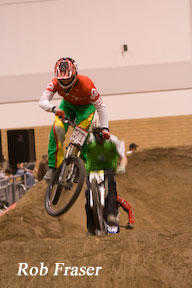 Friday night wrapped up with our annual tribute to our friend Tim DaSilva. In Tims memory we have an open wheel, pro only challenge race. This has been an exciting event and one that the riders hold dear, Tim was a good rider and great guy, we miss you Timmy. The 2009 DaSilva champions are Bob Rowley and Amelia Walsh, both rode 20" BMXs to decisive wire to wire wins.
Adam Strieby, multiple X- Games dirt Jump medalist, was seen riding the BMX race course in practice and considered takin a shot at the races. Adam decided to stick to the jump comp, good idea for Adam bummer for the rest of the pro stunt BMX class. Wins both days for Adam helped ease the pain of his car bein towed and huge props to Aaron Sherrie for placing tight seconds both days after competing in street as well.
Saturdays racing was great excitement for the crowd. The tight track made for some aggressive racing and there was plenty of contact to keep the officials busy. In general it was good hard, clean racing, Dean Pearson from the OCA has been around a long time and knows how to keep it fair and fun for all. Even if it means dq's for both myself and his son !
Racer of the day Saturday without a doubt was Brian Strieby. Brian was all business when main time rolled around and the plan was to defend his titles. Game plan went perfect for Brian, including beating out 6 time Canadian national champ, Bob Rowley on the 20" and Orangeville Indoor MTB champ, Alex Brancier on the MTB. Alex rolled in another 2nd in cruiser, but note down, Brian Strieby for the pro cruiser win as well on his way to a triple.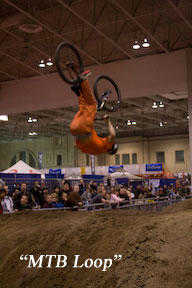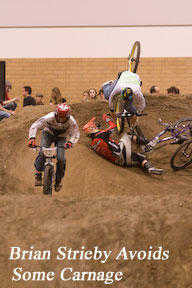 Amelia Walsh was lookin real tough to beat after a win on Friday night and in the Saturday Pro Women BMX, but a crash in the Saturday Pro Women MTB main checked her out for the weekend. We had some major talent on the gates for the women this year and comeback kid Meghan Jarvis rode her 1st ever MTB race in for the Pro win. Welcome back to racing Meghan.
Saturday stunt battles were a crowd favorite, with three big hits on course we saw some great air, style and variations. Flips, 3's, tailwhips, barspins all good to go, but one of my favourites was Adam Striebys decade airs. For the MTB's it was Matt MacDuff on Saturday for the win with Brett Rheeder in for the 2nd. Sunday Pro MTB saw Rheeder kick it up a notch for the win, with Ryan Rosborough makin out Sunday for the 2nd.
Sunday racing was even more fun for the riders as the course was rolling faster and some new lines had developed. The stacked Pro MTB class was dominated by Industry skateparks Brandon Cassell, while Jason Rowley was the man for 20" BMX. Brian Strieby, after bashin his elbow on a loop gone bad in stunt, still managed to hang in for another win, this time pro cruiser.
Be sure to mark down next March in your calendar and dont miss out on the 2010 Bike Show Dirt Comps. Join facebook group site- Toronto Bike Show Dirt Comps- where you can see photos, videos and updates for next year.
Special thanks to the folks at the bike show for letting us do our thing. As well, thanks to our sponsors Shimano, Diamondback, Black Pony BMX shop, The Bike Zone, Ryders Eyewear, Kona Bikes, Industry Skatepark, The Ontario Cycling Association, Mountain Grove Custom Carpentry, my Family and my crew. - c-ya, Smitty
2009 Toronto Bike Show- X-Track Dirt Comps Results
Brought to you by the Toronto Inernational Bicycle Show, Shimano, DiamondBack Bikes, Black Pony BMX Shop, The Bike Zone, Industry Skatepark, Ryders Eyewear, Kona Bicycles, the Ontario Cycling Association Brent Smith and MountainGrove Custom Carpentry.
Friday Night Tim DaSilva Memorial Challenge:
Pro Only- Open wheel size class;
Pro Men- Pro Women-
1st- Bob Rowley-20" 1st- Amelia Walsh-20"
2nd- Brian Strieby-20" 2nd- Anne LePlante26"
3rd- Kyle Pearson-24" 3rd- Lee Ryckman-20"
4th- Jamie Brierly-20" 4th- Meghan Jarvis-20"
Saturday

Pro Men MTB

1st- Brian Strieby

2nd- Alex Brancier

3rd- Rob Fraser

4th- Chris Staniewski

5th- Nathan Strieby

6th- Jonathan Palframan

Pro Men BMX

1st- Brian Strieby

2nd- Bob Rowley

3rd- Kyle Pearson

4th- Greg Bidwell

Pro Women MTB

1st- Meghan Jarvis

2nd- Anne LePlante

3rd- Caroline Arsenault

4th- Amelia Walsh

Pro Women BMX

1st- Amelia Walsh

2nd- Meghan Jarvis

3rd- Lee Ryckman

Pro Cruiser

1st- Brian Strieby

2nd- Alex Brancier

3rd- Kyle Pearson

4th- Nathan Strieby

Pro BMX- Stunt

1st- Adam Strieby

2nd- Aaron Sherrie

3rd- Jeremy Joyce

4th- Chris Henry

5th- Brian Strieby

6th- Kyle Laurenson

7th- Jesse Priede

Pro MTB- Stunt

1st- Matt MacDuff

2nd- Brett Rheeder

3rd- Rob Fraser

4th- Brian Strieby

5th- Justin Soares

Am BMX- Men

1st- Gary Quill

2nd- Paul Schiavone

3rd- Scott Graham

4th- Corey Walsh

Am BMX- Women

1st- Stephanie Huiskamp

2nd- Christine Schiavone

8& Under- Expert BMX

1st- Sheldon Tryon

2nd- Justin Rowley

3rd- Curtis Krey

4th- Romyk Soltys

Am MTB- Men

1st- Mike Hermanovsky

2nd- Matt Gillies

3rd- Nick Kesik

4th- Aaron Smith

Am MTB - Stunt

1st- Matt Pollington

2nd- Tim Hummell

3rd- Andrew Holmes

4th- Avi Kuper

5th- Braden Barrett- Hay

6th- Dima Ryschkevich

7th- Tyler Publow

8th- Pat Moha

Am Cruiser

1st-Gary Quill

2nd- Shane Daniels

3rd- Hunter Foster

Am BMX- Stunt

1st- Ryan Reis

2nd- Scott Graham
Sunday

Pro Men MTB

1st- Brandon Cassell

2nd- Hugh MacLachlan

3rd- Alex Brancier

4th- Matt Zdriluk

5th- Nathan Strieby

6th- Brian Strieby

Pro Men BMX

1st- Jason Rowley

2nd- Bradie Johnston

3rd- Jamie Brierly

4th- Greg Bidwell

Pro Women MTB

1st- Anne LePlante

2nd- Meghan Jarvis

3rd- Lee Ryckman

4th- Caroline Arsenault

Pro Women BMX

1st- Meghan Jarvis

2nd- Lee Ryckman

3rd- Christine Schiavone

4th- Stephanie Huiskamp

Pro Cruiser

1st- Brian Strieby

2nd- Alex Brancier

3rd- Keith Grant

4th- Kyle Pearson

Pro BMX- Stunt

1st- Adam Strieby

2nd- Aaron Sherrie

3rd- Jeremy Joyce

4th- Brian Strieby

Pro MTB- Stunt

1st- Brett Rheeder

2nd- Ryan Rosborough

3rd- Brian Strieby

4th- Matt MacDuff

Am Cruiser

1st-Gary Quill

2nd- Shane Daniels

3rd- Hunter Foster

Am MTB- Men

1st- Peter- John Wegrynowski

2nd- Tommy Lucas

3rd- Matt Gillies

4th- Brennan Kovacevich

Am BMX- Men

1st- Hunter Foster

2nd-Gary Quill

3rd- Paul Schiavone

4th- Scott Graham

Am MTB - Stunt

1st- Brett Kilroy

2nd- Braden Barrett-Hay

3rd- Matt Pollington

4th- Andrew Holmes

5th- Marc Lefebure

6th- Tyler Publow

7th- Keenan MacGregor

8th- Brian Soehner

Am BMX- Stunt

1st- Jamie Dixon

2nd- Micheal Dimarco

3rd- Mitch McGrath

4th- Scott Graham
Thanks to everyone who supported the event this year. It has been 5 years since I took over this event and every year seems to bring better courses, better riders and more fans.

Me and the crew will keep pushing to improve and look forward to seeing you all again next year. Good luck and have fun this summer. - C-ya, Smitty
---
Today's BMX Racing News
..... Monday - April 20, 2009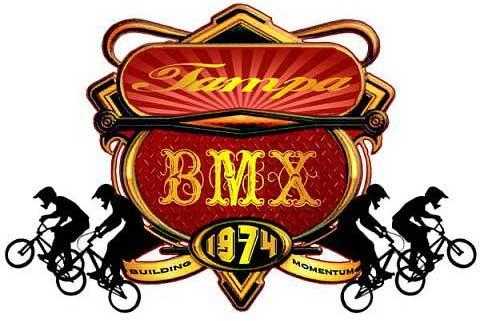 "One of the sweetest tracks in the Sunshine State"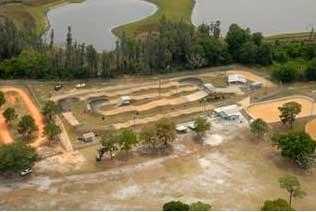 WANT A CLOSER LOOK?
YOU ASKED FOR IT…
YOU GOT IT!
Stop by http://thenewtampabmxraceway.shutterfly.com/ and check out before and after high resolution photos of our track. The latest photos were taken last week by one of our riders parents! …and there have been additional improvements since then!
We have started to white stripe the entire track to include the turns with highly reflective white traffic paint. It looks outstanding! The last of the concrete culverts have been removed and the ground graded for your tenting pleasure during the state qualifier. FIVE additional sets of bleachers are being added this week so everyone can have the "Best Seat In The House!"
Don't forget this coming weekend…… April 25th & 26th….. Saturday "ALL DAY PRACTICE" and Sunday "GRAND RE-OPENING" with EXTENDED PRACTICE, POINTS ONLY RACE, HUGE SWAP MEET and FOOD GALORE!
Florida BMX State Qualifiers 7 & 8
May 2-3, 2009
Tampa BMX
April 25th: ALL DAY SATURDAY PRACTICE 12pm-8pm
April 26th: GRAND RE-OPENING Race & Swap Meet
April 30th: Special Thursday Practice for Tampa State Qualifier
May 1st thru 3rd: 2009 Florida State Qualifiers 7 & 8 TAMPA BMX
For more information on Tampa BMX, please click here to visit the Tampa BMx web site.
---
Wanna be a BMX Jedi Master?
Check out the Greg Hill Speed Seminar
At Cleveland, Tennessee!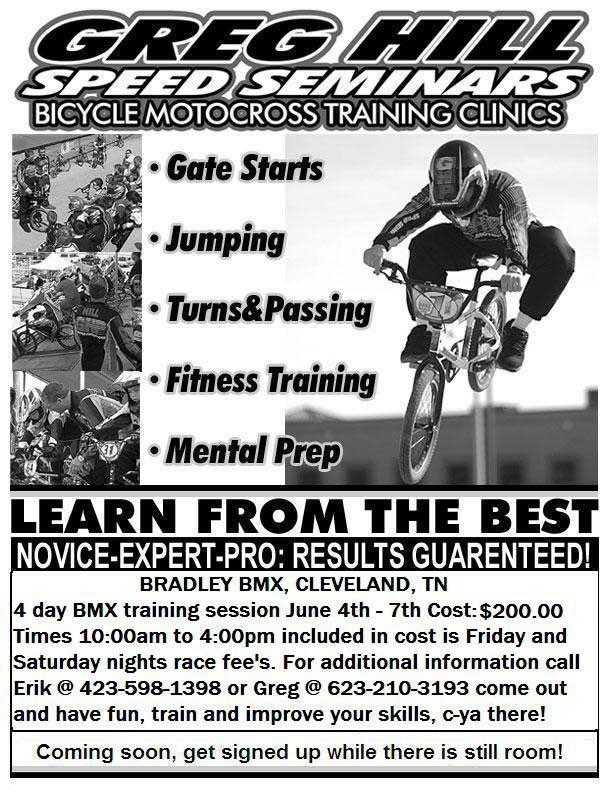 ---
Today's BMX Racing News ..... Saturday - April 18, 2009
UGP OPENS ARE $10.00 IN WOODBRIDGE?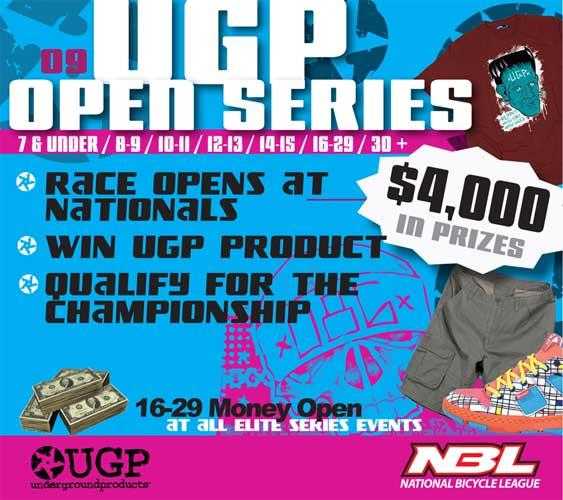 You heard it right. NBL is offering a great chance to get qualified for the UGP Open Championship for a great price. PLUS, if you register for an Open both days, UGP will serve up a free T-shirt too! Register at the race starting on Friday, April 24 and make sure you get qualified to race the UGP Open Championship, held at the NBL Grands this year.

Full Deal ->> Register for two UGP Opens and you get a free UGP T-shirt.
Make 3 UGP Open mains and you are qualified to race the UGP Open Championship at the Grands

Make 6 UGP Open mains and we'll pay your entry fees for the UGP Open Championship at the Grand
Visit UGP to see their full product line and the visit www.novabmx.org to learn more about the NBL Freedom Nationals, April 24-26. Check out who's racing opens below.

UGP Open Series - Qualification Standings
Classes: 7 & Under, 8-9 Open, 10-11 Open, 12-13 Open, 14-15 Open, 16-29 Open, 30+
Qualifications: 3 or more qualifies rider / 6 or more and rider is qualified with free entry
7& Under Open

Mains

Carson Leet 8

Sean Chester 4

Johnathan Messing 4

River Bell 3

Wyatt Bell 3

Julian Dittrick 3

Elissa Jordan 3

Gabriel Perez 2

William Seitz 2

David Foster 2

Evan Branch 1

Zachary Jacobs 1

Zach Umstead 1

Ronnie Burwan 1

Cal Bergquist 1

Ethan Kavanaugh 1

8-9 Open

Kaiser Kayton 6

Trevor Butler 4

Kendal Wong 4

Chase Corbin 2

Connor Smith 2

Jacob Baca 2

Jake Bryson 2

Logan Leche 2

Chase Stehman 2

Anthony Feinstein 2

Hunter Fullwood 2

Rose Ellen Hoke 2

Trevor Harrison 1

Tom Kindelspire 1

Ethan Hazel 1

Louis Kaminski Iii 1

Logan Kraft 1

Cameron Eader 1

Grant Green 1

Jarrett Biddle 1

Tyshawn Carr 1

Noah Roark 1

Isabel Diamond 1

10-11 Open

Luke Reinhart 8

Gabriel Barwick 4

Ryan Ellefsen 4

Richard Dey 3

Coleman Habib 3

Michael Bouvette 2

Andrew Gray 2

Ty Ladich 2

Hunter Nabors 2

Christian Cloutier 2

Nathan Stymus 2

Makieva Hopson 2

Todd Maniscalchi 2

Colin Severson 2

Cody Henderson 1

Spencer Snavely 1

Wyatt Gratz 1

Noah Mc Bride 1

Jason Baird 1

David Hakes 1

Tyler Knight 1

Seth Michalowski 1

Chrystofer Davis 1

Donald Sutton 1

12-13 Open

Brian Manning 7

Chance Leffew 4

Walter O'brien 3

Walter Perez 3

Gregory Schaaf 3

Jared Moulton 2

Sean Petrow 2

Gihan (Gw) Weerasekara 2

Nick Dawson 2

James Haga 2

Hobie Hoke 2

Justin Klanderud 2

Robert Cabral 2

Caleb Minthorn 2

Bianca Dean 2

Dallas Bond 1

Tommy-Lee Buskey 1

Jarred Johnson 1

Santiago Marin 1

14-15 Open

16-29 Open

Juan-Camilo Marin 3

Emmanuel Paulino 3

Cory Watts 3

Connor Fields 2

Bryan Kipp 2

Nicholas Britt 2

William Grant 2

Nathan Miller 2

Alejandro Monsalve 2

Cj Bunch 2

Maurice Horton 2

William Peters 2

James Cazares 1

Andres Arenas Correa 1

Alex Palmer 1

Aaron Turner 1

Erik Olson 1

Jason Conklin 1

Alexander Rico 1
30 & Over Open
Tom Wagner 5

Randy Davis 4

Thomas Gonzalez 4

John Pringle 3

James Nabors 2

Michael Stoneking 2

Greg Boring 2

Michael Kuzmission 1

Christopher Barlowe 1

John Pringle 1

Jason Rick 1

Chris Cline 1

Fred Vielhauer 1
---
Today's BMX Racing News ..... Friday - April 17, 2009
Psykopath Scores BIG At The ABA Northwest Nationals!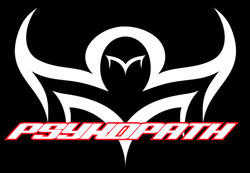 Psykopath Team Riders were in full force recently in Redmond Oregon for the ABA Northwest Nationals. The crew was small in number but everyone rode great and made this weekend work well for themselves. The drive from Nor*Cal was a quick little 8 hour trip that had everything from sleet and snow to good old black ice! The crew arrived safely Thursday night and hit the town before settling into the weekends hotel and getting ready for a solid weekend of riding.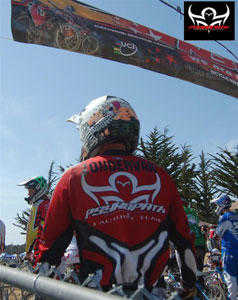 Highlights of the trip were our Single A Pros of Jesse Langland and Kyle Zondervan both making the main event on both days of the national. Jesse would even start off Saturday with the low points headed into the third round and was hungry for the overall win! An outside gate and a first turn ball up would keep him from the win but he has served notice that he is a threat in the class and right where he needs to be with a few California races quickly approaching.
Along with Jesse our other A pro Kyle Zondervan was right there all weekend and has adjusted well making another 2 mains and helping his own cause in the process. He has shown that the training is really paying off and will definitely keep things going as ABA Bakersfield is in his sights to score up some more results. Kyle has made the transition into A pro nicely and his skills and power are coming together nicely so the future looks good for sure.

Am riders were just as on point as well! Donald Goodwin has come back after taking a short break to work on DG23 things, and looked in fairly good form for not riding as much as usual. He would chalk up a few finishes and scope out the competition in 28-35X and knowing him he will look to make an impact later through the year and take Psykopath to the front of that class.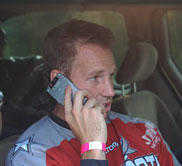 Along with Donald making his first few mains our newest recruit who we spoke of earlier in posts Kevin Zondervan is starting to put it together in both 19-27X and 17-20 Cruiser. He would make several mains through the weekend but was pretty psyked about his 19-27X 5th place finish behind some heavy hitters on Saturday. Kevin has eveolved quickly into a solid all around rider and with steady results he is looking to stay relevant in a very tough class.
Even our resident Team Manager Nick Valencia was making moves and pulled down another top 3 in 19-27X on Saturday and then would back it up with another main event on Sunday. An outside lane would be trouble as he hit the first turn on the outside looking to repeat the previous days results but had some trouble as the first turn was eating up riders all day long. Valencia would go down and have to settle for a 7th place finish, but as always 7th in 19-27X is very respectable and were proud of not only his results this weekend but all of our Nor*Cal guys that made the trip to represent all things Psykopath Industries.
Keep on the lookout for more and more from the team as Valencia heads to Florida and the local guys get ready for more Cali ABA events!
---
Today's BMX Racing News ..... Thursday - April 16, 2009
NBL Easter Classic Race Report
Words & Pix by Jerrod Huffman/JrodsPhotoShop.Com for BMXmania.com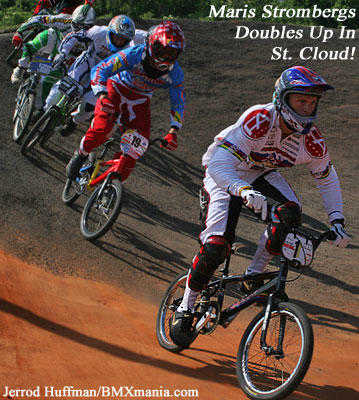 St. Cloud, Florida sure was a change from the boring ol' Midwest Spring. It was 80 degrees and sunny with a small ocean breeze, perfect for some elite racing action.
Day 1 in the Elite Men's class was all about your Olympic gold medalist, Maris Strombergs. Maris as well as a few of the other usual suspect each nailed down a few wins in motos. In the main the holeshot went to Maris with Kyle Bennett and Barry Nobles close behind. They held that formation all the way around the track. Nobles tried a move in the last corner but Bennett held him off and they finished in that order.
Day 2 of Elite Men the Strombergs Show continued. Rack up another holeshot for the champ and another main win. Bennett made his charge twice but was unsuccessful, and Carlos Oquendo stayed in third and watched.
Elite Women's class was mixing it up all weekend. Mariana Pajon, Dominique Daniels, Alise Post, and many more of the fastest females in BMX were there for some cash. Mariana was looking like the shoe-in for the main winner on day 1, but when she didn't get the holeshot in the main event, Dominique just had to keep up her winning ways and that is just what she did. Pajon finished second and Post took the three spot. Shortly after the main, Dominique was hit hard by the heat and was barely able to even get up to the podium. She pulled out of Sundays race so she could get some rest and recover a bit.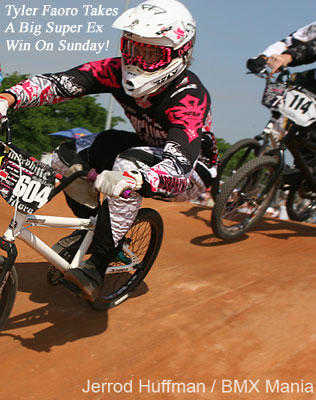 Speaking of Sundays race, with Dominique out of competition, it was all about the 3P's.
Pijon, Post, and Pitts....Madison
, that is. They went into the first corner that way and finished in the same order.
Tomorrows champions... the Super Ex class... Once more everyone was anticipating the battle between Weston Pope and Josh Meyers. Pope had gate 8 and Meyers with 6, when the gate slammed down Pope shot out front like the little rabbit at the dog races. Fausto Endara slid his Free Agent ride in behind Pope and Meyers was nowhere to be found. Josh was playing catch up after being in 6th coming out of the first turn. One by one Meyers passed them and he settled for third after a hard fought battle for that position on the podium. Pope took home his first ever Super Ex main win and Fausto Endara grabbed the 2 spot.
Day 2 of Super Ex Ended up with a little upset at the stripe. Matt Kelty took to the point with Tyler Faoro and Weston Pope hot on his tail. They rode the lap in this order until the last straight, when Faoro showed his skill in the rythem section and passed Kelty at the line, while Pope had to go home with third.
Tim Dinger of the Elite Masters class showed that he wasn't playing around when he took the holeshot in Saturdays main. Will Murray and Tommy Opincar were close behind until Murray seemed to run out of gas allowing Opincar to get past and then The "O" Show, Percy Owens cranked it up and wound up passing Murray on the last straight. As for Dinger and Opincar, it was a scorers nightmare, Side By Side at the line and the win went to Tommy Opincar.
---
Dutch Crupi/Europe Riders Rock The Dutch Nationals!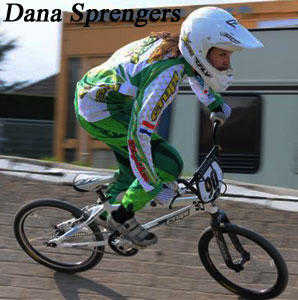 The Dutch Crupi Europe riders rocked some mighty BMX racing in their first Dutch National at Luyksgestel.
Except of Jay Schippers (not recovered from his crash at the European rounds in Zwolle) all riders competed.
Several riders were very remarkable this weekend, turning in some awesome performances.
To start with "Lady" Dana Sprengers.....No one, including Dana herself believed the she would be turning in good results this season, after her last years heavy knee injury, but she amazed everyone with a 1st place finish in Saturdays Elite Women's Time Trial and she exceeded herself in Elite Women's main event with a perfect 2nd!
And then ............... Jelle van Gorkom is back, and how! Jelle is recovered from his shoulder surgery and has been racing in the USA during his 3 month training camp over there, he felt really good. Also amazing with a 5th in Saturdays Elite Men Time Trial, he beat the Dutch national team riders in the main event.
Kevin Sprengers did not make the main, ending up with the dreaded 5th in his semi.
The Schippers Brothers, Jordi and Nick ruled the 15-16 Boys Cruiser class and took 1 and 2 in the final.
In 15-16 Boys (70 Participants), Jordi Schippers (14 years) finished 4th in Sunday's final and his brother Nick unfortunately crashed in qualifying position in his quarter.
---
Today's BMX Racing News ..... Wednesday - April 15, 2009

Morphine Industries' NBL Easter Classic Race Report
Tyler Faoro Takes Top Spot on Podium on Day 2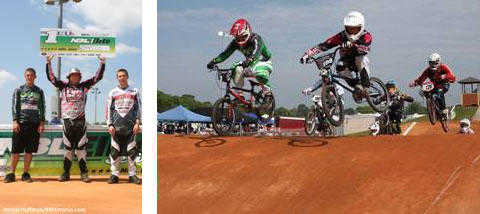 Great weather, great track and great racing - exactly what was expected of the Easter Classic in St. Cloud, Florida this past weekend.
Super Xs – Tyler Faoro and Gavin Lubbe were not going to disappoint. On Saturday both riders blasted through the motos and semis to make it to the Main with Tyler taking a 4th and Gavin a 6th.
On Sunday, both riders started off the day in similar style with Tyler Faoro making it through to the Main and taking the top spot on the podium with a 1st place finish.
Elite Woman - Kyla Reed had two full racks of women to contend with both days. She battled with the best that the NBL had to offer narrowly missing the Main both days.
41+ N - Jonathan Reeves racked up a perfect day on Day 1 finishing with a 1st in the Main and took a day off on Day 2.
17-18 X - Travis Woodruff and Talbott Cross had the only class with quarters both days. Both riders killed it in the motos but unfortunately came up short to make the main both days.
12 X / 11-12 CR- Noah Reeves was on the sidelines due to a wrist injury.
10 X / 9-10 Cr - Richie Dey had a great weekend - on his 20" unfortunately crashing on Day 1 due to some questionable riding by a fellow rider but coming back to take a 1st in the main on Day 2 and. On his Cruiser, Richie took a 2nd on Day 1 and a 3rd on Day 2.
Morphine Industries will be shooting up to Woodbridge, VA in two weeks for the Freedom Nationals. We hope to have all our riders back health and ready. Be sure to stop by to check us out and learn more about our outstanding group of sponsors.
Morphine Industries would like to thank its Factory Team Sponsors; Staats Motocross Bicycles (www.staatsbikes.com), Alienation (www.alienationbmx.com), Fly Racing (www.flyracingbmx.com), Lost Energy Drink (www.lostenterprises.com), Tioga (www.tiogausa.com/bmx), Sinz Racing (www.sinz-racing.com), Rennen (www.rennendesigngroup.com)
---
30th anniversary of Euro BMX, October 2-4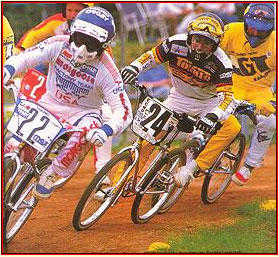 The UNIVERSITY of BMX and ATTRACTIEPARK SLAGHAREN are the organizers of the "International Old Skool of BMX Reunion & Celebration of 30 years of BMX in Holland and therefore in Europe.
Waalre/Slagharen, April 9th. 2009
Dear friends in BMX, Old Skool BMX riders and officials,
More then 30 years ago, I introduced the sport of BMX during an International Moto-Cross event at the "Euro-circuit" in Valkenswaard – Holland. About 8 months later, to be precise October 19th 1978 we formed the Stichting Fietscross Nederland (S.F.N.) and BMX became then an official sport.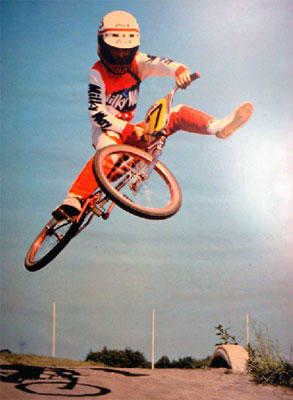 We cordially invite Old Skool BMX riders from the period 1978 till 1994 to be part of the first International BMX Reunion in Europe and celebrate as well the 30 years of existence of the sport of BMX. We will come together and socialize at the location were in 1983 the first outside-USA BMX World Championships took place in Holland at ATTRACTIEPARK SLAGHAREN (at that time called PONYPARK Slagharen).
At this venue, several years after the 1983 Worlds, special designed and prepared BMX TV events were broadcasted Nation wide by AVRO TV and among others a couple of European Championship (individual and teams) took place here as well as 10 European Challenge Cup events, probably well remembered by most of you all.
Besides O.S. riders, also former officials are more then welcome and of course those interested fans/supporters from back then are welcome as well to have a great weekend at the amusement park, socializing, talking history and meeting old friends from the early days of BMX.
This unique weekend will take place from Friday October 2nd till Sunday 4th 2009. Most of the Old Skool BMX riders do have families themselves now and together with their children these young families can have a great time. There is no better place to have this Reunion and Celebration then at Attractiepark Slagharen.
Wouldn't it be nice to meet old friends, former competitors and talk about the early days of the sport? Show your children how this sport started out and explain them what their parents mend in the developing of the sport. Besides that, the children can have a great time at the Amusement park itself.
Just like the old days, a special section of the cottage area has been reserved for this happening. Like in the early days, a BMX village will be formed and this is not only at the park itself, but also on the camping-site. The camping-site was a favourite place for many National and International riders and their families.
We kindly ask potential participants to fill out the entry form, which is located at www.univofbmx.com and return it by e-mail or post a.s.a.p. to: Gerrit Does by E-mail at does0231@planet.nl or by post at G. Does - Eindhovenseweg 19 - 5582 HN Waalre - Holland.
Please do pass this information on to O.S. BMX'ers that you know.
Again its possible to make your reservations now. We hope to welcome you all at this first ever International Old Skool of BMX Reunion in Europe. Till October 2nd 2009 then and have a safe trip over here,
Kindest regards, Gerrit Does/Organizer
---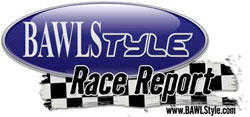 BAWLS RIDER TONY LEHMAN ShiINES ON HIS HOME TRACK
FIFTH BMXER AWARD WINNER NAMED AT THE nBL EASTER CLASSIC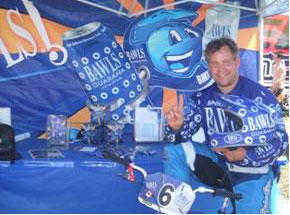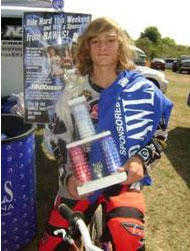 April 14, 2009 – Five-time Florida State Champion and BAWLS Rider Tony Lehman continued his dominance over his class at the NBL Easter Classic. On his home track of St. Cloud BMX, Lehman blew by the competition and took home another 1st Place finish. Representing his home town and track are important to Lehman as he hardly ever loses a race in the state of Florida.
Lehman will make his case for his sixth State Championship next month in Sarasota at the Sunshine Series State Championships! In addition to Tony's success, BAWLS Pro Riders Matt Pohlkamp, Danny Caluag, and Stephanie Barragan were in attendance at the Easter Classic earning points for the NBL League Championship.
At the NBL Easter Classic, BAWLS presented their BMXer Award to their fifth winner. 15-Novice rider Simon Brandenburg from St. Petersburg, FL made the biggest impression in Saturday's race. He crashed in his first moto, but then took 1st in both the second and third rounds. He took third place overall on both Saturday and Sunday. Simon's accomplishments on the track are nothing compared to his accomplishments off the track. Simon was diagnosed with Cystic Fibrosis 15 years ago but because of BMX, he is one of the healthiest and one of the most in shape kids with his condition. Simon will be featured in an interview with BMX Today Magazine and has a 2009 sponsorship with BAWLS Guarana!
Want to try your shot at being a BAWLS BMXer Award winner? We'll hand out our next trophy at the NBL Keystone Nationals on May 22-24 in Pottstown, PA!
For more BAWLS BMX news, photos and sponsorship info, visit www.BAWLStyle.com.
---
NEW VIDEO TROLLEY FOR BMX RACING GETS A BMX WORKOUT!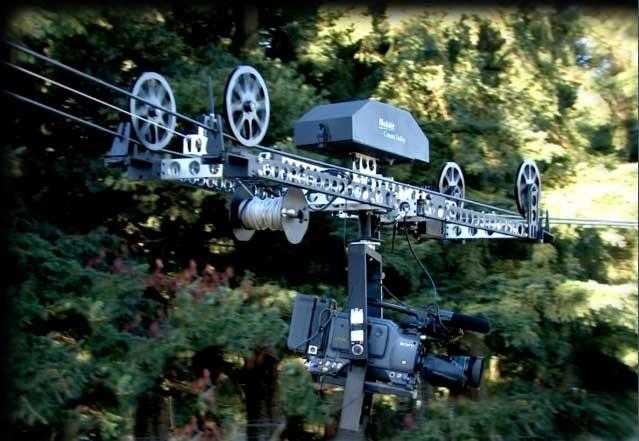 The new Noblét Camera Trolley is a tool to make some UNREAL video camera possibilities, and it's been tested at Peninsula BMX in Port Orchard, Washington.
The trolley allows remote video camera operation that is fluid and mobile and makes possible some very high level video effects.
The Noblét Camera Trolley NCT-7 features a wireless Transmitter/Receiver (pan & tilt operation only). It includes drive motor, pan & tilt head complete with slip ring technology for Pan & Tilt controls, component, composite, and HD/SD SDI video feed (can accommodate 20-lb camera), carrying cases, winch rope tensioning brackets, 2 cable mounting brackets, batteries, chargers, remote control unit, overhead stabilization unit, and illustrated instructions.
See Demo Videos Below
BMX Racing

(Low quality - quick download, dial-up users)
(Better quality - medium download, DSL users)
(high quality - longer download, cable users)

"New" Demo Video (high quality - longer download, cable users)
---
Today's BMX Racing News ..... Tuesday - April 14, 2009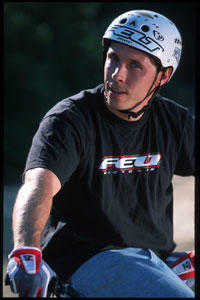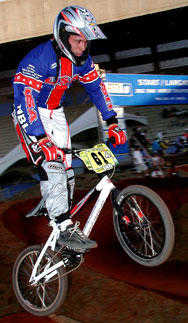 BMX Legend, Alan Foster
Seriously Injured in trails accident!
BMX Racing Legend and one half of the world famous "Foster Brothers", Alan Foster has been seriously injured in a trails accident in California. We got the word, straight up from Rob Miranda, yet another racing member of BMX Racing royalty, check it out.
"On Saturday evening we had a good session going at Sheep Hills. Myself, Hippy Shawn, The Frenchies including Christophe Leveque, Carter Holland and a few others were enjoying the trails like we always do. We take for granted the fun times we have at Sheep Hills and never think too much about crashing hard and ending up in the hospital.

Alan Foster did just that. He hit a jump a little slow, cased a bit and the impact sent him over the bars 10ft. to his head. The dirt at Sheep Hills is very tacky so you don't slide when you fall. You just stop. Alan did a "scorpion" and slammed himself pretty hard. But as tough as Alan is, he began to shake it off and tried to regain his memory. He was a mess but we always give a guy a few minutes to gather himself up and walk away. But Alan said his ribs hurt too bad to walk away. To the hospital he went. Lights, sirens and all.

The doctor told Alan he had a broken back and was lucky to be moving his limbs. He had surgery today (Monday) and had a few rods and plates installed in his spine. He's doing good and staying positive like he always is. He will probably be in the hospital for several more days and then therapy can begin.

Keep Alan in your thoughts and always remember your helmet. Alan had his helmet on thank goodness. A good session can turn bad real quick.."
---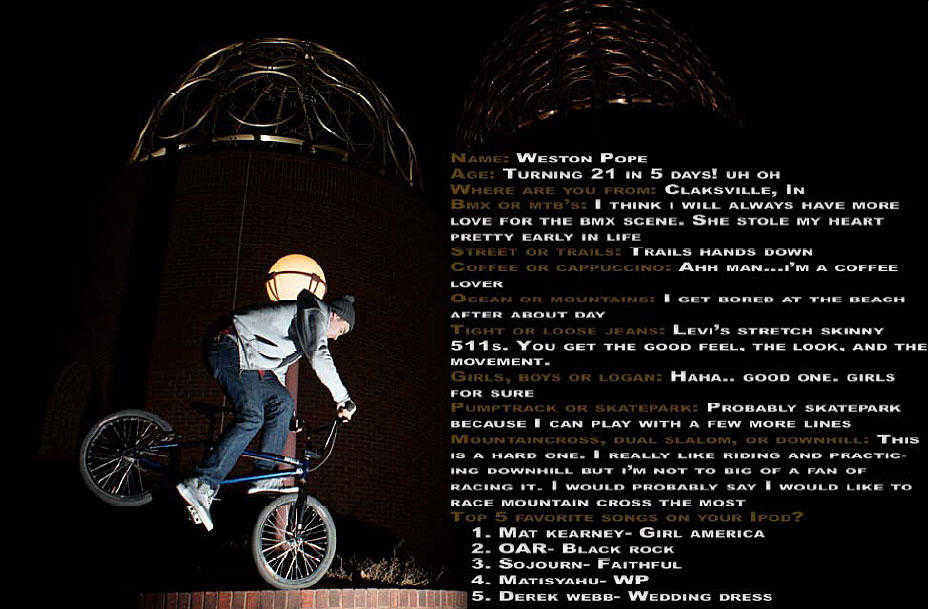 Words & Photos/Charles Mooney - Lindsey Wilson College Cycling - January 26, 2009
www.lindseyathletics.com/f/On_The_Rivet.php
Where does one start when trying to introduce Weston Pope?
If you're a fan of BMX racing, then you are probably familiar with the name, if not the impression he's made on the Collegiate Mountain Bike scene in the last year. Out of the pastures of Kentucky and onto the podium, Pope is a pure athlete.
Not new to the bicycle, but new to a mountain bike, Weston took his years of BMX, basketball and even djembe drumming to 26-inch wheels and made everyone look twice. How'd it happen? Where'd he come from?
Find out below through the photography and interview questions.
How long have you been riding bikes?
WESTON: I raced my first BMX race when I was 7 years old, but I can remember shreddin' the neighborhood for a few years before that. So competitively I've been going for about 13 full years now.
You ride a lot of BMX. Tell us about that?
WESTON: Yeah, hmm. BMX has always been kind of this outlet for me. It was always something that I could do as I was growing up. Only in the last 4 years have I really taken it to the next level in training and thinking about future opportunities with BMX. It was kind of a set up from the beginning for real.
My Dad began working at a bike shop when he was 12. He worked there until I was 17. So growing up, I always had a bike or two. You see, my parents are really smart people. They saw that I really liked BMX, and that it was something as a family, we could do together. Basically, my parents fully supported BMX from the beginning, so they went all in, and sent me all over the world to pedal a bike. By no means were we wealthy. They didn't know where it was going, but they knew that it was good for a boy to have a dream and the means to chase it.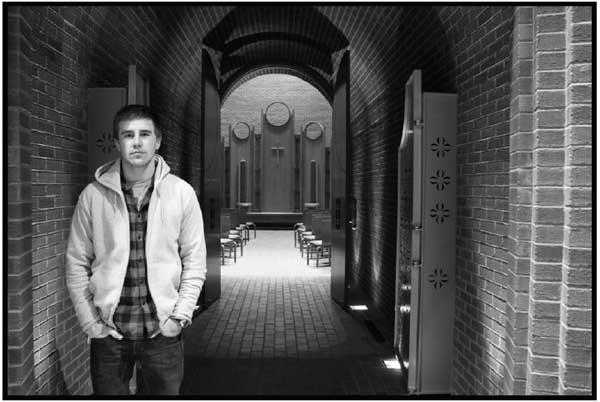 Right now you're currently on a plane to Arizona for your first Pro BMX race.
WESTON: I saved this question until after the race. Haha… man, it was a rough weekend. I didn't come anywhere near to reaching the goals I had set. I am now on the plane home looking at the weekend in retrospect. I had two pretty stacked semi races and didn't transfer out of either. Of course I was frustrated, because I hate not meeting my goals. However, I felt good on my bike and that's a good thing. I'm coming away from the weekend pretty motivated to train with the guys back at school.
When you came to Lindsey Wilson College you were strictly a BMX rider but now you ride road, cyclocross, and mountain bike disciplines. Did you get immersed in the bike loving culture or what?
WESTON: In high school I always took the winters off from BMX to take basketball pretty serious. It was always a good break and I would come back fresh to the bike. Now, I fool around with cyclocross a bit and it does the same thing for me. Here at LWC there is always someone to ride the roads with. I love it! So when I need a good active recovery I'll get somebody to pedal with me and I'll just take in the scenery. It's soooo good here. And I came to school knowing that I would start riding MTBs. But I didn't know that I would enjoy it so much. Slalom and four cross are creeping in and I'm taking it more serious each year. We will see what happens. Green River is sick to ride also!!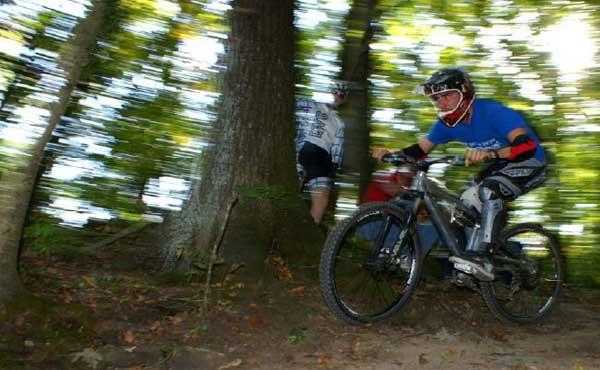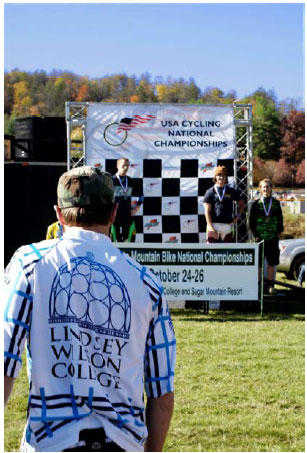 Three years ago in Angelfire, New Mexico you placed 4th in mountain cross. Two years ago you were runner up to LWC graduate Cody Stagner in Dual Slalom. This year you were the Dual Slalom National Champion on arguably one of the best tracks in the Nation. Tell us a little about this year's race and how you felt when you took the title.
WESTON: I know...right… My first year, I was first going into the first turn and I took a spill to finish fourth. Last year, I won the first lap and got beat the second two laps by my teammate Cody.
And this year, I finally won. When I crossed the line and saw the time differential showing, I was soo psyched! All I could think about was the journey was well worth it.
Several influential mountain bike riders who are at the top of the industry have said that you have the potential and talent to represent Team USA in 4X at the World Championships, a feat that only 4 American riders are chosen for. That's a pretty honorable thing for them to say. Do you think you have what it takes to be the top in 4X also?
WESTON: Oh man… That is a big claim. I can't say that I know I have what it takes, but I can tell you one thing that I know.....
That whatever I discern the correct path is for me, I will give my life to that path, and I will work extremely hard to release all of the potential inside.
Two weeks ago it was below freezing temperatures and I noticed that you were out doing hill repeats on your bike. What does your training regime include?
WESTON: Haha... I have to get out there before January, because it really gets cold then. It's a pretty good program.
Coach Grigsby and I sat down and worked out a program for me that looks like is going to be top notch. Grigsby knows what he is doing and is willing to put in the time to help out all of his team in this way.

Can you say that since you have been at Lindsey Wilson College you have grown spiritually? What made you make the necessary changes in your life to be the person that you are today?
WESTON: Yeah man, I guess you can say it like that. Right before I came to college I experienced an encounter with Jesus for myself and I was infatuated with Him and His ideas, and His way of life. So when I came here, I was soooo interested in learning about, and taking part in the discussion of what happens when a person meets this Jesus character. So I believe the changes I made were more of a natural response anyone would have. But I did seek to meet a few other people who have responded to Jesus. I met a kid named Ray Moore that fed me with some great stories, and I now have the privilege to call him a great friend.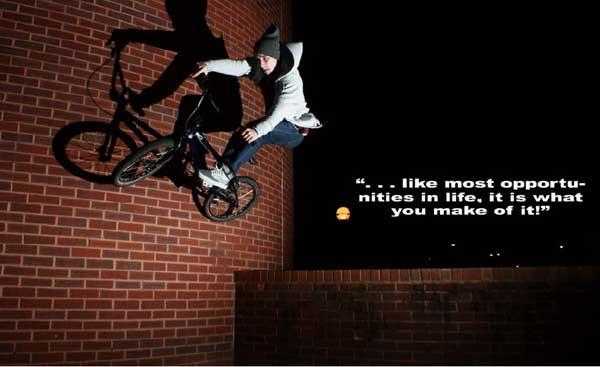 What advice would you give to someone who is considering racing on a collegiate level?
WESTON: I can only speak from my experience at LWC and what it provides for me. If you want to make some dope friends, ride your bike in a good community, and be challenged academically and spiritually, then this place could be for you. But like most opportunities in life, it is what you make of it! For me, I have given my life to this, and I couldn't think of a better place for me to be.
If you weren't into cycling, what would you be doing?
WESTON: A barista at a coffee shop, a fisherman, a bookworm, a graduate, a djembe drummer, a traveler, a friend, and a son. Dude, I really don't know…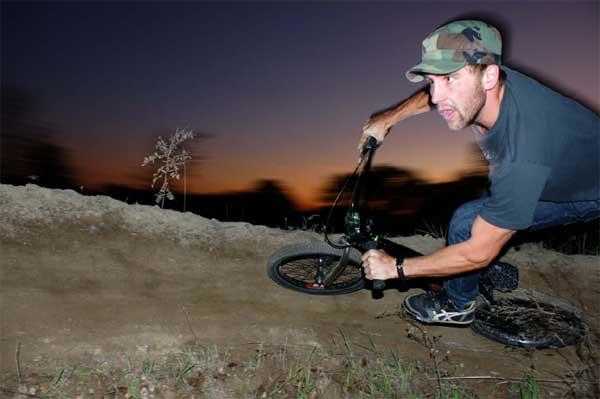 What's the best piece of advice that anyone has ever given you?
WESTON: Man, I have a lot of good advice come my way. But I think this at least makes the podium… "Don't miss out on enjoying the journey because all you do is think about the destination." This advice comes to mind when I think about my college experience, my cycling, or on second thought, probably my entire life.
What does the future hold for Weston Pope?
WESTON: Some hard work, some great times, and probably a few rough times. I can't say I really know for sure. But, if things work out, I hope to stick around LWC for a few more years as a rider, student and possibly a member of the staff. That would be pretty cool. But I will choose to follow the whisper wherever it may lead. So whatever may come, I'm pretty psyched, I'm in good hands.
Do you have any thanks?
WESTON: My parents are probably cooler than yours, just sayin'! ha-ha… See ya guys around. Peace.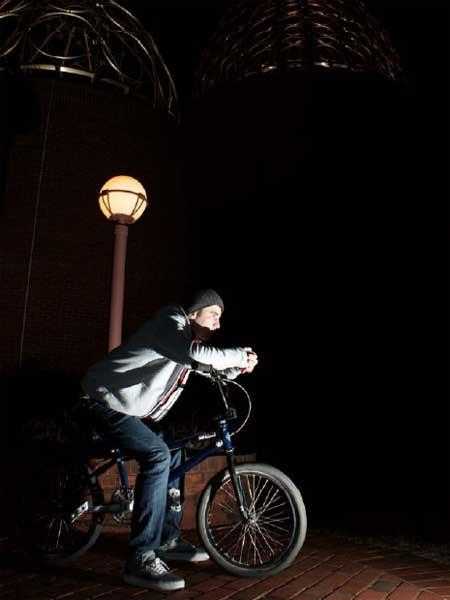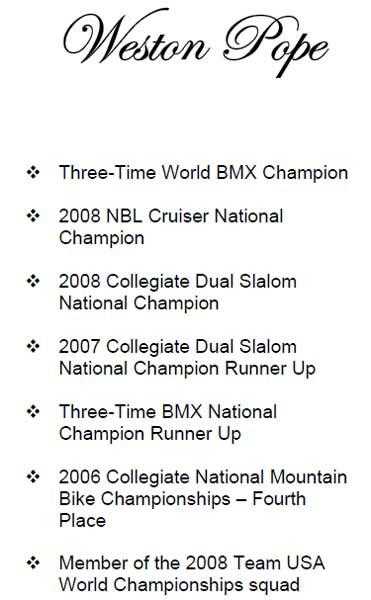 Words & Photos/Charles Mooney - Lindsey Wilson College Cycling - January 26, 2009
---
ABA NATIONAL HOST HOTELS FOR BAKERSFIELD AND ATLANTA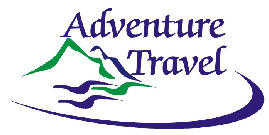 LAST CHANCE TO GET ROOMS FOR THESE TWO NATIONALS,
THE HOTELS ARE GOING TO GIVE OUR ROOMS TO OTHER GROUPS
SO PLEASE CALL OR EMAIL US TODAY
BAKERSFIELD
BEST WESTERN HILL HOUSE INN
2 MILES FROM THE TRACK
FREE CONTINENTAL BREAKFAST
OUTDOOR POOL
ONLY $84.55 A NIGHT FOR A ROOM WITH TWO QUEEN BEDS
MARIETTA GA
WE HAVE TWO HOTELS
DOUBLE TREE HOTEL
6 MILES FROM THE TRACK
OUTDOOR POOL, RESTAURANT
ONLY $69.00 A NIGHT FOR A ROOM WITH TWO DOUBLE BEDS
CROWN PLAZA
6 MILES FROM THE TRACK
OUTDOOR POOL, RESTAURANT
$75.00 A NIGHT FOR A ROOM WITH TWO DOUBLE BEDS
CALL US 253 537-7365
OR EMAIL gary@advtvl.com
---
The Medalla Light Ultimate Dirt Challenge- Sunday, March 29, 2009

Location: Rincon, Puerto Rico
BMX Dual Slalom Trails Racing: 18 & Over Open BMXR Classification
Mtn. Bike Cross Country: 12- UCI Pointed Classifications
Mtn. Bike Downhill: 4- Individual Classifications
* BMX Dual Slalom Trails Racing Course designed and constructed by John Purse, Inc.
What does the beach in Rincon, PR, a lighthouse, bikes and bikinis have in common?
They all look great in action!
The 2009 Medalla Light Ultimate Dirt Challenge went down in the paradise of Rincon, PR with great results. The UCI Mtn. Bike Cross Country and Mtn. Bike Downhill attendance drew a record breaking attendance on a new redesigned course for 2009.
The BMX Dual Slalom Trails Racing drew Puerto Rico's finest BMX and Mountain Bike riders along with GHP's John Purse promoting the event. The 800' course had the riders in the low 30 second lap times. The course had two sets of 90 degree turns and two sets of 180 degree turns with a super technical track as well. Medalla Light was impressed with the event and is looking forward to next year. See you in 2010!
Many thanks go out to Medalla Light for their support! Also, to Javier Hernandez w/Medalla Light & Crew, the Municipality of Rincon, Doel Gonzales w/Ciclo Mundo West & Crew, John Purse, Angel Perez, Dawn Rapp, Ramon Perez, Miguel Rivera, Brenda Cintron, Albert "Capitan" Perez w/Rincon Mtn. Bikes, Lorenzo Coballes w/oneactionsportproduction.com, Cartessa.com, RimcoCat.com Caterpillar Equipment Rental, and all of the volunteers and riders. We couldn't have done it without you!
Medalla Light Ultimate Dirt Challenge Results:
1 John Purse- GHP / PowerBar / ABA
2 Melvin Reveron- Profile / Puerto Rico
3 Faelly Lopez- Puerto Rico
4 Gregorio Rivera- Puerto Rico
5 Brian Perez- Profile / Puerto Rico
6 Harrold Serrano- Puerto Rico
7 Milton Torres- Puerto Rico
8 Fabio Burgos- Puerto Rico
---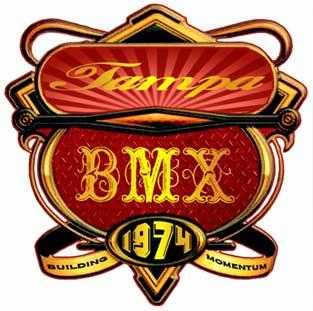 TAMPA BMX RACEWAY
17302 DALE MABRY HIGHWAY
TAMPA, FLORIDA 33549
813-265-1269
GRAND RE-OPENING and
ANNUAL SWAP MEET
SUNDAY APRIL 26, 2009
PRACTICE FROM 10am TO 3pm - $7.00
POINTS ONLY RACE AT 3:30PM - $3.00
Come on out to the NEW and IMPROVED Tampa BMX for this event! The track is finished and ready for you to put down some rubber! Bring your new, old and barely used BMX parts out and set up for the swap meet. Last year we had hundreds of participants and deals galore! For those of you looking for new parts and supplies for great prices J & R Bicycles, a proud sponsor of Tampa BMX, will be vending all day.
Don't forget to bring your appetite as we will be having a special from BMX BITES (our concession). A pulled pork sandwich with fries and a drink for just 5 bucks! Smoothie King, another proud Tampa BMX sponsor, will be on hand serving your favorite smoothies. One of our newest Tampa BMX sponsors, DNA ENERGY DRINK, will be on site with a cool special, buy one DNA ENERGY DRINK at BMX Bites and you will be given a coupon redeemable for a free drink at the DNA ENERGY DRINK tent!
Come out and join us for this great event and get psyched for the state race next weekend!
You'll be glad you did!
AND!
ALL DAY PRACTICE
SATURDAY APRIL 25, 2009
PRACTICE FROM 10am TO 3pm - $10.00
Ask yourself these simple questions……
1.Am I ready for state qualifiers 7 & 8?
2.Have I been to Tampa BMX in the last 2 weeks?
If you answered "no" to either of these questions…..
WHAT ARE YOU WAITING FOR!
Get out to Tampa BMX on Saturday, April 25th and get the track dialed in!
The track is smooth and fast and has been changed up just a bit.
No sense in doing a face plant during the state race when you could have came out and practiced!
---
Today's BMX Racing News ..... Monday - April 13, 2009
NBL Easter Classic Results Posted To BMX Mania Race Report & Photo Page!
Sunday!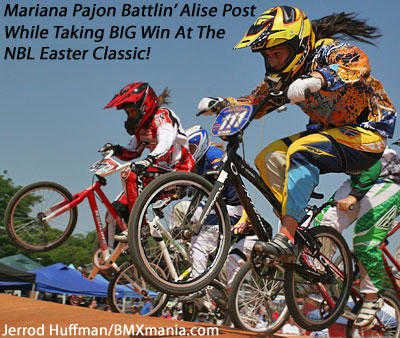 Elite Men = Maris Strombergs
Elite Women = Mariana Pajon
Super Ex = Tyler Faoro
Elite Masters = Percy Owens
Elite Men
Elite Women
Super Ex
Elite Masters

1 Maris Strombergs

2 Kyle Bennett

3 Barry Nobles

1 Dominique Daniels

2 Mariana Pajon

3 Alise Post

1 Weston Pope

2 Fausto Endara

3 Josh Meyers

1 Tommy Opincar

2 Tim Dinger

3 Percy Owens
COMPLETE RACE FINISHES POSTED ON THE
---
Go211.com To Replay NBL Easter Classic

Didn't make the NBL Easter Classic in St. Cloud, Florida this past weekend? Well, Go211.com is going to replay the entire Easter Classic (including all motos, quarters, semi, and all main events) this week!
Not bad and the price is right, so check it out!
Here ya go, the Replay Starts:
Day 1 Easter Classic replay on April 15th at 2:30pm EST
Day 2 Easter Classic replay on April 16th at 2:30pm EST

Set your cell phone to remind you and head on over to this link where the replay will take place ..... http://www.go211.com/u/easterclassic2009
Direct links to the Easter Classic pro finals.
Go211.com, THE place for BMX Racing Video!
---

The folks at Metro BMX in Bakersfield at all excited about their upcoming ABA U.S. National, and they're celebrating with a TON of events at Metro BMX before the BIG RACE. Here are the details, if you're within striking distance, you'll WANT to make these great events, AND, of course, the ABA U.S. Nationals as well!
Big Trophies or Double Stamps

(1st-4th)

Saturday & Sunday,

April 25th & 26th

$150 for both days

Lunch included

Double Points - Race for Life

Thursday, April 30th

(the night before the national)

Must be signed up to race

to be on the track.
---
Today's BMX Racing News ..... Saturday - April 11, 2009
FROM BEAUTIFUL St. cloud, FLORIDA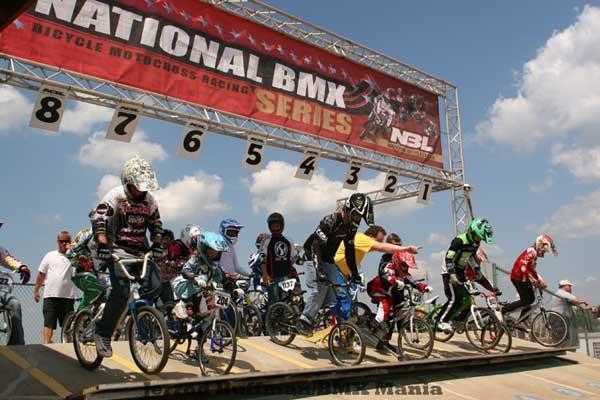 coverage OF THE NBL Easter classic!
Check out the BMX mania race report page
with photo coverage by
Jerrod Huffman/JRODSPHOTOSHOP.COM
Click on the video below to check out Jrod's pix!
---
NBL EASTER CLASSIC LIVE WEBCAST 10:00 am (est) APRIL 10th and 11th
Watch the NBL Easter Classic LIVE webcast from St. Cloud BMX in Florida, April 11th and 12th at 10:00 am. The format will feature a pre-race show, athlete interviews, industry buzz, and tons of great racing action.
The LIVE webcast will include:
Elite Series Action – Olympic Gold Medalist, Maris Strombergs vs. NBL's National Champion, Randy Stumpfhauser. Dominique Daniels vs. NBL's National Champion, Stephanie Barragan.
National Team Competition – AFH took the win both days in High Springs – Watch for Jesters to give them a run for their eggs at Easter. Factory Felt/SC Action Sports and Excalibur BMX are separated by a mere point at the top of the standings but things will tighten up by the Grands.
Team NBL Competition – Can Intense/Dyna-Pep win both days and sweep NBL Spring Break? HBR/SE Racing holds the current lead in points but that could change soon.
The HUGE Easter Egg Hunt put on by St. Cloud BMX.
UGP Open Classes – Are you qualified to race the Championship at the NBL Grands? All Open class winners at Easter get FREE UGP products both days.
Tune in April 11th and 12 to watch the LIVE racing action at http://www.go211.com/u/easterclassic2009/
---
Today's BMX Racing News ..... Thursday - April 9, 2009
WATCH THE NBL EASTER CLASSIC 'LIVE' ON GO211

GO211.com, the premier action sports social networking and online video share site, will webcast the NBL Easter Classic 'live' from St. Cloud BMX in Florida, April 11 & 12. The format will feature a pre-race show, athlete interviews, industry buzz, and tons of great racing action. Coverage will begin on Saturday at 10am EST - Tune into http://www.go211.com/u/easterclassic2009 for the pre-race show and watch the NBL Elite Series unfold in front of your eyes.
What to watch for?
1. Elite Series Action – Olympic Gold Medalist, Maris Strombergs vs. NBL's National Champion, Randy Stumpfhauser. Dominique Daniels vs. NBL's National Champion, Stephanie Barragan.
2. National Team Competition – AFH took the win both days in High Springs – Watch for Jesters to give them a run for their eggs at Easter. Factory Felt/SC Action Sports and Excalibur BMX are separated by a mere point at the top of the standings but things will tighten up by the Grands.
3. Team NBL Competition – Can Intense/Dyna-Pep win both days and sweep NBL Spring Break? HBR/SE Racing holds the current lead in points but that could change soon.
4. The HUGE Easter Egg Hunt put on by St. Cloud BMX.
5. UGP Open Classes – Are you qualified to race the Championship at the NBL Grands? All Open class winners get FREE UGP products both days.
GO211 WEBCAST SCHEDULE - http://www.go211.com/u/easterclassic2009

Saturday, April 11 EST
10:00am – Pre-Race show
11:00am - NBL Easter Classic/Day 1 - Rounds 1, 2 & 3, Quarters, Semis, Mains
Sunday, April 12 EST
8:00am - NBL Easter Classic/Day 2 - Rounds 1, 2 & 3, Quarters, Semis, Mains
The 2009 NBL Easter Classic is brought to you by BAWLS Guarana (www.bawls.com), Intense BMX (www.intensebmx.com), Kenda Tires (www.kendausa.com), UGP (www.undergroundproducts.com) Sinz Racing (www.sinz-racing.com), THE Industries (www.bmxthe.com), in association with GO211 (www.go211.com) and Camp Woodward (www.campwoodward.com).
For more information and to view the full NBL National Schedule, visit the NBL website at www.nbl.org.
About GO211.com
GO211.com is the leading community and video site for lifestyle sports created by and for action sports athletes and enthusiasts. It's the place to hang with the Pros and friends to get behind-the-scenes video, blogs, photos, webcasts and podcasts from featured contributors along with other action sports fans. Go211.com offers a broad range of exclusive content submitted directly from the athletes. The current Go211 Pro Team roster includes Danny Kass, Jeremy Jones, Christian Hosoi, CJ Hobgood, Donny Robinson, Hannah Teter, Danny Davis, Andy Finch, Joey Bradford, Ross Powers, Holly Beck, Alise Post, Clay Marzo, Mary Osborne, Danny Caluag, Mike Losness, Seth Wescott, and Kelly Clark, among others.
---
USA Cycling Announces Registration open for Copenhagen SX; Funded team named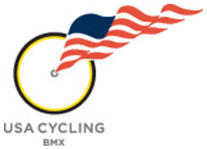 Registration for the UCI BMX Supercross World Cup in Copenhagen, Denmark, May 8-9 is now open and USA Cycling's funded team has been named. All USA Cycling championship class members must register on-line using the My USA Cycling function before April 22. Four men and two women have also been named to compete in Copenhagen on USA Cycling's funded squad.

All USA Cycling championship class members, including junior elite and elite, who wish to compete in the Copenhagen World Cup must register on-line at the USA Cycling website before April 22. The cost for registration is $150 per rider. For more information on the Copenhagen World Cup, visit the UCI's Supercross World Cup website, here.
USA Cycling has also announced the funded team for this event. The team will include: Nic Long (Lakeside, Calif.), Joey Bradford (Monterey, Calif.), David Herman (Wheat Ridge, Colo.) and Denzel Stein (Desoto, Texas) for the men and Arielle Martin (Pleasant Grove, Utah) and Alise Post (Saint Cloud, Minn.) for the women. For more on the qualification procedures surrounding USA Cycling's BMX Supercross World Cup funded teams, click here. To view the latest USA Cycling BMX rankings, click here.
---
ABA Announces Hot Hotel Special for U.S. Nationals in Bakersfield, CA

ABA US Nationals May 1st-3rd-Bakersfield, California
The beautiful Wyndham Garden Hotel - Bakersfield is the exclusive ABA Host Hotel of the 2009 ABA U.S. Nationals.
The hotel is only 3 miles from the Track, and the rooms feature 37 inch flat panel LCD televisions and high speed internet access.
You won`t find a better hotel for less!
3001 Buck Owens Blvd | Bakersfield, California 93308
Phone: 661-395-9800
Ask for the BMX Rate ($84.99)
---
Today's BMX Racing News ..... Wednesday - April 8, 2009
VINTAGE BMX SHOW & SWAP
featuring the
NORTH AMERICAN SIDEHACK CHAMPIONSHIPS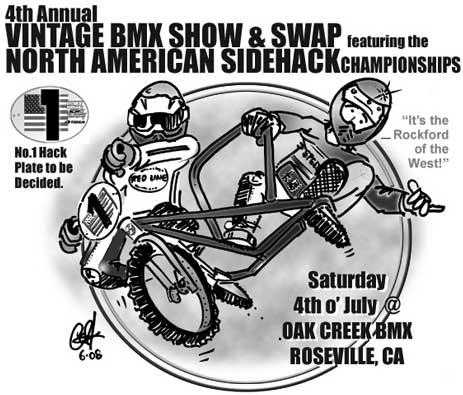 Saturday - 4th o' July @ OAK CREEK BMX ROSEVILLE, CA
WHEN: Saturday only - July 4th, 2009. Vintage Bike registration begins at 7am. First come, first pick for display spots.
ENTRY FEE: $1.00 per Bike
WHERE: Oak Creek BMX in Roseville, CA. (Sacramento)
WHAT: Bring your old school bikes to display, meet other collectors, swap & sell parts, and vote for "Best Bikes of Show" in multiple categories. Walk back in time!
Last year, over 150 bikes were on display and over a dozen Sidehacks showed up for the "North American" No.1 Hack title, plate, and bragging rights. Must be an ABA member to race hacks.
Throughout the day, spectators and fellow collectors will be voting for their favorite bikes in the following NINE categories:
• Best MonoShock
• Best 16" Pit Bike
• Best 24" Cruiser
• Best 26" Cruiser
• Best 70's Bike
• Best 80's Bike
• Best 90's Bike
• Best Freestyle Bike
• Best of Show
AWARDS: Saturday evening (approx 7pm), host & sponsor PATRIOT BIKE SHOP will hold the Awards Banquet.
*Special Guest(s) to be announced.
Winners will be handed a custom award from event sponsor - RedlineBicycles.com
FOR MORE INFO, CONTACT:
PATRIOT BIKE SHOP - 4719 San Juan Ave., Fair Oaks, CA - Scott @ 916-961-9646 - bikeshop@softcom.net
Also brought to you by: RedlineBicycles.com , VintageBMX.com , BMXmuseum.com , OS-BMX.com, BikeThreads.com , BMXstop.com & Tioga Tires.
---
2009 EURO SERIES KICKS OFF WITH DUTCH REDLINE RIDERS ON TOP

Redline's Global team faired well at the first rounds of the Euro Champ Series in Zwolle, The Netherlands.

The Redline-equipped Dutch dominators were in full force and made their presence known from the first round of practice.

When it was all said and done, Raymond Van der Biezen won the Mr.Consistent Award, taking 2nds both days in the mains - while his fellow teammate, Martijn Scherpen, scored the win on Sunday (bettering his 8th from Saturday).

As if that wasn't good enough, Redline-France's Damien Godet; leader of the Lyon~Dardilly DN-1 team, nabbed a fourth on Sunday to make it THREE Redline Flight bikes in the top-4 of the final ... falling just one short of a full podium sweep.

With his two 2's, Van der Biezen kicks off the 2009 Euro series on top of both UCI Euro and UEC Championship rankings.

REDLINE BICYCLES www.redlinebicycles.com

PROUDLY SPONSORED BY:
SHIMANO * TIOGA TIRES * SUN RIMS * KOOLSTOP BRAKESHOES * SKULL CANDY HEADPHONES * PRYME GEAR
---
FORMULA EUROPE ON THE MAP !!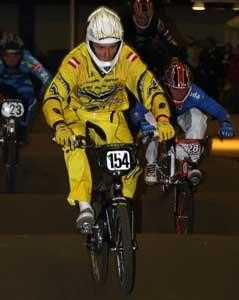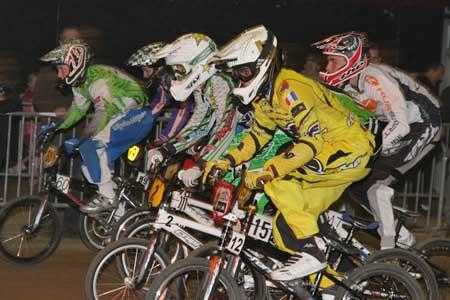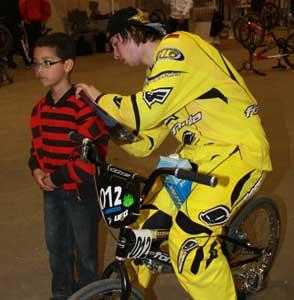 At the opening weekend of the European Bmx Championships in Zwolle, the Netherlands, the Formula Europe team didn't miss it¹s introduction.
In Elite Men, Edzus Treimanis grabs a podium place on both days.
First year junior Max Ganser takes the number 3 spot on Sunday and Bastien Merle was the fastest in Boys 15/16 and took a BIG WIN on Saturday and Sunday!
Congratulations too for Lucie Meerholz who made it both days to the finals in girls 13/14.
The junior men Rihards Veide and Niklas Laustsen were no that lucky and both injured their collarbones.
They will be probably recovered for rounds 3 & 4 of the EU Championship on the new BMX track in Klatovy, Czech Republic.
Formula Europe is proudly supported by Formula Bicycle Company, Formco Parts, EuroBmx, Shimano, Ufoplast, Alienation, Swatch, 661 and Navada.net
---
U.S. Registration now open for
2009 UCI BMX World Championships
at USA Cycling!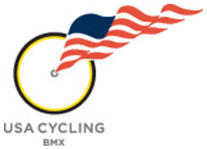 Registration is now available via the USA Cycling website for the 2009 UCI BMX World Championships and Challenge slated for July 20-26 in Adelaide, Australia. All qualified riders will need a valid USA Cycling International BMX license in order to register for the event. A complete list of qualified riders and more details on how to register are available on the USA Cycling BMX World Championship information page on the national governing body's BMX homepage. Registration for all amateur class riders closes May 1 and on July 3 for all championship class athletes.

All riders must be pre-qualified, either by finishing in the top-eight at last year's UCI BMX World Championships/Challenge, or by recording a top-16 finish at the 2009 USA Cycling BMX National Championships on March 21. For a complete list of qualified riders, click here.

Once qualified all riders must have a valid 2009 USA Cycling International BMX license, a cost of $75, in order to register for the World Championships. A challenge class license will work for both the standard 20" class and the cruiser 24" class. Renew or purchase an International BMX license via USA Cycling's website, here.

Once the license is active, riders should click on an area called "My USA Cycling" on the left side of the homepage and create an account. Once completed follow the 2009 World BMX Challenge link to register for the event. ONLY riders who have qualified AND have an active BMX licenses will be able to view the registration link. Follow the step-by-step directions to registering in the qualified class and category. Be sure and fill out appropriate jersey size as one Team USA jersey is included in the cost of registration ($200). Please click here for more information on registration.

Athletes can petition for discretionary nomination using USA Cycling's Request for Discretionary Athlete Nomination form, here. The form must be submitted before April 24.

For more information on the event visit http://www.bmxworlds2009.com/. For information regarding travel, click here.
---
REDLINE &ABA ANNOUNCE LOCATIONS OF REDLINE CUP FINALS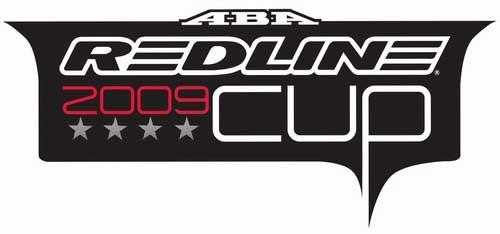 After much anticipation and excitement the 2009 REDLINE CUP CHAMPIONSHIP FINALS are now announced. This year there have been some exciting changes, the Redline Cup Series will now involve points accumulated from three races. Riders now count his/her best score from any Redline Cup Qualifier event, and then adds his/her scores from Saturday & Sunday at the Redline Cup Final.

In addition to awarding a Redline Cup jacket and No.1 plate to the winner in each age & skill level, the ABA will also award Redline Cup No.2 & No.3 plates in 2009. At the Finals, both Saturday and Sunday will also offer quadruple district points for riders.
Judging by the increased turnouts so far this year the Redline Cup Qualifiers, we think it's safe to say things were changed for the better! Racers and fans are excited and positioning themelves for a most excellent September at one of the three regionalized REDLINE CUP CHAMPIONSHIP FINALS:
· Redline Cup Finals East - September 11-13 at Comp Park BMX in Garner, NORTH CAROLINA *This is an ABA PRO SERIES RACE.
(**Note: New Date Change! Look for another exciting Press Release about a new "Special Event" event ABA BMX has planned on the previous date)
· Redline Cup Finals Central - September 22-27 at St. Peters BMX in St. Peters, MISSOURI
· Redline Cup Finals West - October 2-4 at Atwater BMX in Atwater, CALIFORNIA
WHAT?! You haven't raced a Qualifier yet, or need a better score? There is still plenty of time to get in to the points chase for those illustrious yellow-background plates.
Here are the remaining REDLINE CUP QUALIFIER's in your area:
East


May 10 York, PA Bumps-N-Berms BMX
June 20 Bourne, MA Cape Cod BMX
June 28 Ducktown, TN Ocoee BMX
June 28 Chaptico, MD SOUTHERN MARYLAND BMX
July 05 Athens, PA VALLEY BMX
July 12 Toledo, OH Speedway BMX
July 18 Burlington, NC Burlington BMX
July 18 Sylacauga, AL Marble City BMX
July 25 Ottawa, ON Ottawa BMX
August 02 Hamilton, OH Hamilton BMX
August 02 Newark, NY Upstate BMX
August 08 Westfield, MA Whip City BMX

Central


April 26 Springfield, MO Spokes BMX
May 31 Gretna, LA Gretna BMX Raceway
June 06 San Antonio, TX Lone Star BMX
June 06 Brainerd, MN Lakes Area BMX
June 06 Berthoud, CO Berthoud BMX
June 06 Elgin, IL The Hill BMX
June 14 Ponca City, OK Sooner State BMX
June 27 Wisconsin Rapids, WI Central Wisconsin BMX
June 27 El Paso, TX Desert Downs BMX
June 28 Kearney, NE TRI CITY BMX
June 28 New Ulm, MN River Valley BMX
July 05 Morgan, AR Rock City BMX
July 12 West Fargo, ND West Fargo BMX
July 12 Topeka, KS Heartland BMX
July 18 Aztec, NM Aztec Riverside BMX
August 01 Detroit Lakes, MN 412 BMX
August 02 Cedar Rapids, IA Cedar Rapids BMX
August 09 Brighton, IL Brighton BMX
August 16 Centerville, WI Toad`s Cove BMX

West


April 12 Yucca Valley, CA Coyote BMX
April 25 Tucson, AZ Desert Sunset BMX
May 09 Camarillo, CA Freedom Park BMX Raceway
May 17 Carson City, NV Carson City BMX
May 24 Molalla, OR MOLALLA BMX
May 31 Idaho Falls, ID SNAKE RIVER BMX
June 06 Coeur D`Alene, ID Cherry Hill Park BMX
June 06 Casper, WY Mike Sedar BMX
June 13 Chico, CA SILVER DOLLAR BMX
June 14 Orange, CA Orange Y BMX
June 20 Sumner, WA River Valley BMX
June 21 Bozeman, MT Gallatin Valley BMX
July 19 Santa Clara, CA Santa Clara PAL BMX
July 25 Tooele, UT Deseret Peak BMX Track
August 01 Grants Pass, OR River City BMX
August 16 Bakersfield, CA Bakersfield BMX
August 22 San Diego, CA Kearny Moto Park
For all of you who haven't yet made your main event at a Redline Cup Qualifier (or those of you who plan on qualifying at the remaining RCQ's), these are the three locations for the Redline Cup Finals - where you can become a REDLINE CUP CHAMPION and earn the Redline Cup No.1 -2 or 3 Plate for the next 12 months, the Redline Cup jacket and a photo in the BMXer; just by winning your main event at this event.
The Redline Cup East will be held at one of the premiere ABA BMX tracks; the challenging Comp Park BMX track in Garner, North Carolina. And as an added bonus - for the first time in many years, the RL CUP East Finals will count as an ABA BMX PRO series event.
For those of you in the middle of the U.S., now is the time to make plans for St. Peters, Missouri in mid-September. The Redline Cup Central is traditionally the biggest of the three Redline Cup Finals and always brings out the best of competition. St. Peters BMX is an excellent track which showcases a sweet PRO SECTION along with asphalt turns.
And finally, the Redline Cup West goes to Atwater BMX in Atwater, CA. Word on the scene is master ABA BMX track builder will be going in prior this the Redline Cup finals to give Atwater BMX a nice new design and layout! We hope to see each everyone one you at one the Redline Cup Championship Finals in 2009. This years events look to be the place to be in September!
---
Live band confirmed for UCI Supercross Copenhagen!

Live act BeMyeX delivers true rock 'n' roll and action packed stage performance in between the BMX SX heats on May 9.

The band features a selection of the best musicians on the Danish music scene: Jesper Elnegaard on drums, Jacob Binzer on guitar, Rune Funch on guitar, Assi Roar on bass and Jacob Illeborg on vocals.

It would take too much space to list all the bands they have been involved with through the years.

For the first time ever, these guys have teamed up for a one gig only

– a true treat for all rock fans! Expect great rock music that will keep the atmosphere sky high throughout the entire day.

For more info on the UCI BMX Supercross, check us out at www.bmxcopenhagen.com .
---
POWERHOUSE/BIKE ALLEY/VRP went Duck hunting in the Great Northwest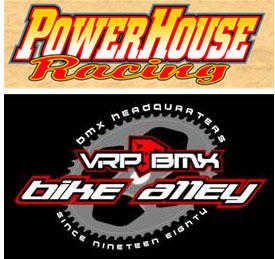 After the feathers settled and the carnage exposed Team Powerhouse/Bike Alley made their mark and conquered another territory on their way to contend for the Bike Shop title. Saturday was nothing but a display of 1st's and the title with a score of 228 which was not only the highest Bike Shop score but also out-scoring all the Factory Teams. This was followed up with a 206 on Sunday taking home another title but Elite Bicycles were not far behind with a 202. Great weekend and some great racing.
The weekend kicked off with of course the little big man Kyle "Crazy Legs" Stan. He continues his streak of National Wins with over 20 for the year so far. He battled through some tough competition to take home two more cruiser wins and two more class wins. He is challenging some of the top riders in the country for that National Amateur cruiser and class title. Now if Mike and Becky Stan could just get Kyle to use the same speed getting dressed in the morning as Kyle displays on the track life would be even better.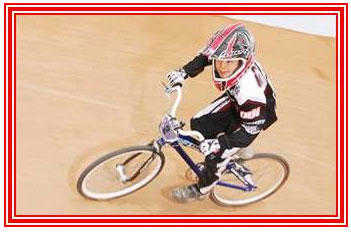 This was a tough act to follow but little EJ Pasowicz was ready for battle. He was on his new bike and ready to roll. After some vocal warm ups in the morning with a little opera that drove Kyle's dad Mike crazy EJ was ready to race. He battled through the open class to finish with a 4th after Brett Benson took him high in the last turn. So EJ would not make the same mistake twice as he lead the cruiser class into the last turn waiting for the 2nd place rider to make his move low but instead he went high and battled EJ to the line where EJ finished with a second. EJ followed this with a 5th after a battle through 32 expert riders to get there. Day 2 followed up with much of the same results with a 2nd in cruiser and a 5th in class.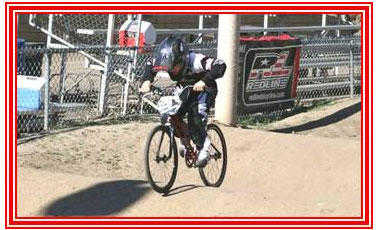 Following up EJ would be Reid "The Rocket" Campbell. He came out on Saturday with something to prove being one of the few riders representing Texas. Reid had some awesome battles and finished with a 1st in cruiser and a 1st in class. His dad was so excited he went to the bull riding event around the corner and rode the bull yelling yee haw and don't mess with Texas all night long. The next day would be another battle for Reid. He was in the lead going into the first turn when Ryan Pettigrew and Reid went down taking the next two riders with them, happy birthday to the winner. Reid then came back with a huge 2nd in class with a nice pass in the second turn. Great weekend for Reid and glad to see them come out west.
Next is the National Number 1 Girl Jordan "The Warden" who dominated all weekend long. It is amazing that she finds the time to race and train in between all the texting she does throughout the day. She came away with two more class wins and two more open wins and I think she was texting while she was racing around the track. She even found some time to get some air over the last jump on her way to more victories looking to go back to back as the national number 1 girl.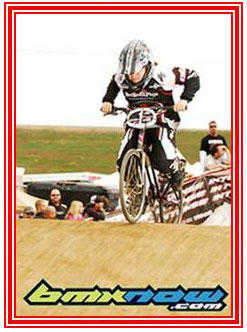 This takes us to the brother and sister combo of the Chism's. Megan had a solid weekend finishing with a 5th on Saturday and a 5th on Sunday as she continues to improve her finishes. Matt did not have the same luck. After taking a beating from Kyle Fernandez all weekend (not on the track either) and breaking his cell phone Matt was not too exciting when he knew he couldn't text his girlfriends all weekend. He also had some tough times on the track where he was in qualifying position each day in semi's but going down both days. Keep battling Matt and keep your head up because your dad will buy you a new cell phone and you can accumulate a $3000 dollar bill again. Jason (Megan and Matt's Dad) didn't see much of the racing because he was working on all the changes he wants for the website, some of the sponsors are not lined up properly or his kids hair is out of place in their photos or the song that he picked he didn't like or…well I will just leave it at that or we will be here all day.
Next we have the kid that just battles for every spot every time he is on the track Kyle "The Conquistador" Fernandez. After beating up Matt all weekend and breaking Matt's phone when he found out Matt was texting his girlfriend he was ready to race. Kyle finished with a 2nd in class on Saturday and a solid 3rd on Sunday along with an open 4th. He continues to have some solid finishes and work his way up the Nag standings.
Girl Power is next Dani "The Danimal" George. She dominated all weekend long winning every moto and every round until the main on Sunday where she got hung up on the outside and tried to battle back but was shut down in the rhythm section. Dani finished with a 1st on Saturday and a 2nd on Sunday. I guess the Barney version of the Itsy Bitsy Spider get's her pumped up before all her main events…just go to the VRPBMX.COM website to know what I am talking about.
Now we go to Joshua Klatman the Washington Wonder Boy. He continues to battle and move his way towards the top of the NAG standings. Josh came away with the 1st on Saturday and a 3rd on Sunday. Josh followed this up with a battle in cruiser on Sunday where he lead the entire race until he was passed in the last turn finishing 2nd it must have been contagious after he drank EJ's left over Vitamin Water. Josh had a great weekend and anchored the team to the highest point total to date. Be ready Josh because Mike Stan is working out hard to have the pose down in Bakersfield.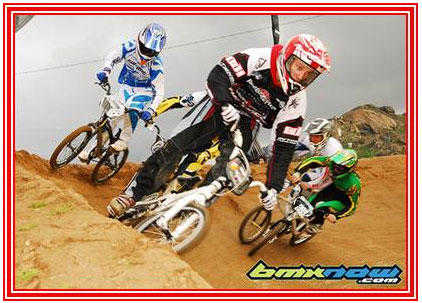 Last but not least is our young old guy who brought his killer hunting dog to Oregon, David Archibald. We found out real soon that his dog wasn't there to go duck hunting he was there to hunt humans. Anyway, David had an awesome weekend showing off his style with a huge win on Saturday followed up with a 2nd on Sunday. For a old guy David still has some serious style around the track….I think I heard him say he has more style than Klatman…shhhhhh don't let Josh hear that.
Lastly we would like to congratulate Jordan's dad Efriam who took over as the team manager and started off with two huge team wins going 2 and 0 for the season…nice start as manager.
All and all it was an awesome weekend with some great finishes. As always we would like to thank all of our sponsors:

---
Australian Olympic BMX Racing Documentary update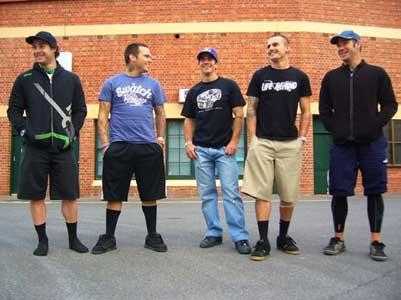 Just a note to let the racing community know where we are at with production of the look at the lives of 6 Australian Elite riders in their preparation for the 2008 Beijing Olympic Games. The world got to see the finest BMX racers in the world on the Olympic stage, but with the international selection events and training camps little did even the Australian racing community see of their preparation and behind the scenes that took place.
Australian male elite riders went missing on the local scene for a good part of a year and a half, something that we know younger riders and their families really missed in that time. It was further enhanced by recent retirements in the elite field since the Olympics.
This doco aims to bridge that gap. Life Behind Bars (working title only at this stage), once edited, will be the must have dvd for riders aspiring to meet the heights of the athletes featured. For the public to be entrenched in their stories, in a year and a half so much would evolve in their racing and personal lives. We all have seen these riders on the track, but the film captures everything that went on behind the scenes of some of the biggest events in the world as well as their lives as they are at home.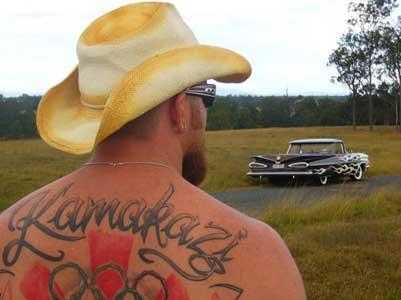 What really went down in Adelaide in the week of the 2008 UCI Supercross/Australian Championships on and off the track, who likes who and who doesn't, ride with the Australian team at the 2008 World Championships and see the interview with Glenn Codega minutes before his tragic crash that saw him ambulanced away from the track. Once you hear Glenn's comments before that event you will agree that this happened to a rider that did not deserve to go down that way.
See why Jared Graves was the number 1 pick for the Australian team, get an insight into a day in the changing life of Khalen Young. Jamie Gray, the retirement interview. A great talk with Warwick Stevenson in a hotel room in Las Vegas, the Australian racing public will get an idea on what a champion this guy has been for many years and the injuries he has overcome. One of the toughest Aussies we have ever met.
The film...all we can say "it¹s coming". As all have been hit in some way by the global financial situation, we too have been affected hard by large companies downsizing. The stories are on tape, tucked away waiting for the financial go ahead. We will keep everyone updated as we get closer.
Soon we will launch a website detailing the film¹s release as well as a new video service to BMX riders. In the meantime we have expanded our filming to enter an Australian Doritos television commercial competition. It features retired Australian rider Kamakazi and his Chevrolet El Camino.
Check it out on doritos.com.au, search for ŒA Game of Chicken¹ and if you like it gives us a vote.
First prize is 20,000, a nice little editing budget....... factory47 is Ian Maclachlan (Macca), Chantel White.
Life Behind Bars - Jared Graves, Khalen Young, Luke Madill, Jamie Gray, Glenn Codega and featuring Kamakazi.
---
Today's BMX Racing News ..... Tuesday - April 7, 2009
Copenhagen candidate for the 2012 BMX World Championships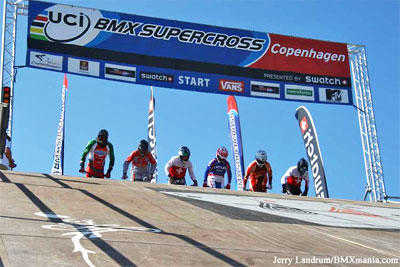 Copenhagen, Denmark is bidding to host the 2012 BMX World Championships. The decision to bid comes after the successful hosting of the 2008 BMX World Cup and the awarding of the 2009 BMX World Cup.
With brand new state of the art BMX facilities in the centre of the city, immense event organisation experience and the total commitment from the city and government to organise a spectacular World Championships, Copenhagen wishes to create an unprecedented focus on BMX in the years leading up to 2012.
Lars Vallentin, Senior Consultant, Wonderful Copenhagen, the city's tourism agency says: "As a new member of the Olympic Family we know that BMX must honor the confidence the Olympic Movement has shown the sport and stand out during the 2012 Olympic Games. The 2012 World Championships is crucial in building the right momentum for BMX. Copenhagen is determined to create the best platform for the sport to grow and be promoted in the years leading up to the 2012 Olympics."
Should the World Championships be awarded to Copenhagen, the city will focus on growing and promoting BMX in the forthcoming years. It will use the IOC Session and Olympic Congress, which will take place in Copenhagen in October 2009, as the starting ramp for a major promotion campaign.
Lars Lundov, CEO Sport Event Denmark says: "Hosting the 2012 BMX World Championships in Copenhagen would further strengthen the increased focus on cycling sport and recreational cycling in Denmark. BMX attracts and engages our youth. By hosting the 2012 BMX World Championships we can continue the strong cooperation between Denmark and the International Cycling Federation (UCI) and create even more benefits for the cycling sport. It is for this reason we guarantee strong financial support should the event come to Denmark".
In 2006, Copenhagen was selected as the first UCI Bike City which sealed a strong partnership agreement between the city and the UCI.
The UCI is currently on site inspection in Copenhagen.
Next big BMX event in Copenhagen is the UCI BMX Supercross World Cup on May 8-9. The best BMX SX riders competing at this year's first World Cup. More info on
www.bmxcopenhagen.com<http://www.bmxcopenhagen.com>
.
---
Old Skool Legend and ABA Hall of Famer, Anthony Sewell Passes Away!
"The First World Champ In BMX" died April 3rd, in his sleep. Anthony Sewell, a founding member of BMX racing is dead at 46.
Anthony who was one of the early consistent pros on the BMX race circuit, and is most noted for winning the 1978 Jag BMX 'Trophy Dash' that involved pros and amateurs.
His career covered successful racing all over the United States and included a stay in Great Britain where he raced as a pro for KHS/Birmingham Wheels. Over his career, Anthony raced for Jag BMX, Kuwahara, Huffy, Murray of Ohio, KHS, KHS/Birmingham Wheels, GT England and a one weekend/back from retirement sponsorship with S&M.
Sewell's titles and wins included results at events sanctioned by Jag BMX, NBA, NBL, ABA and IBMXF.
We asked Supercross's, Bill Ryan to give us a little enlightenment as to Anthony's place in and attitude toward the sport of BMX.
From Bill Ryan/Supercross BMX......"I was first introduced to Anthony when I was 10 at the San Pedro Track by Turnell Henry. I was in awe, here he was a top Pro and the first BMX World Champion and he was riding with us, joking with us and we instantly became friends."
"Over all the years, I don't think I ever saw Anthony have anything less than a smile and a warm hello for any of the kids in the sport, he may not of gotten the hype and the press that some of the other Pro's of the Era did, but when you look back at the results, He won more than his fair share."
"I really didn't get to know Anthony on a super personal basis until later in the Mid 80's when he was traveling back and forth to England with his Girlfriend at the time Jan and her son Simon. Anthony was more interested in helping Simon become a great racer than he was at continuing his career at that time. Which to me genuinely showed through who Anthony was. He always cared about the kids."
"Over the last few year my contact with Anthony has been limited to hugs and hello's and quick catch ups at the local Nationals. Anthony always has a smile on his face and is always wanting to say hello. I thank Big Tony (Brazil) for getting Anthony back out and more involved with BMX. The last time I saw Anthony was at the 2009 ABA Lake Perris National where I was glad to introduce Anthony to the younger kids standing around as the first World Champion of BMX, and as always Anthony was giving words of encouragement to the 7 and 8 year old kids, helping keep a new generation on their bikes."
Rest In Peace, Anthony Sewell, BMX Pioneer - 1962 to 2009
---
MBK's Arnaud

Dubois Takes

Big Win In

Opening Euro

Series Race!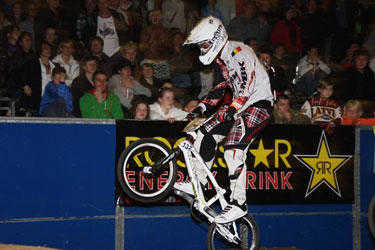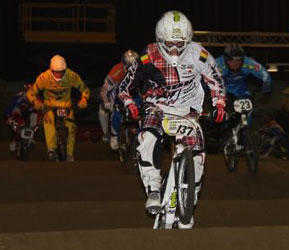 All MBK want to congratulate Arnaud Dubois Winner of the first Elite round of the European Championship in Holland!
Again a victory on his new MX540 MBK Carbon frame!!!!
Arnaud did a perfect race the Saturday from the 8 line on the starting gate giving any chances to the other riders, leading the race from the beginning to the finish lane!
For Arnaud it's the first victory in Elite European round and certainly not the last one!!!!
The Sunday Arnaud was again the fastest rider again but in final he click out on the bottom of the gate and so finish only at the 5th place.
So Arnaud is at the current 2nd place of the European ranking and wait next race to try to come back at the first place.
To look at the race clic on: http://www.bmx2day.com/videos/2009/Zwolle/chpt-europe-bmx-zwolle-09.php and go on "Elite Men round 1"
Thanks to: MBK, Kenny, Shimano, Kenda, Alex Rims, Pro.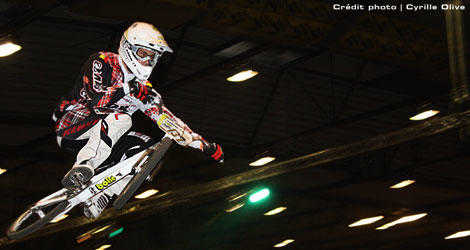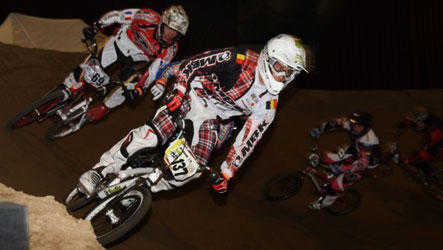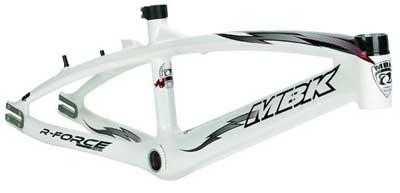 ---

Maliek Byndloss doubles for ONE/Kenda
ONE KENDA press release
After a long winter the season finally opened with round 1 and 2 of the European Championship series for Junior and Elite Men and women in Zwolle, Netherlands.
Unfortunately the track wasn't in it's best shape and didn't bring the spectators the speed we we're used to see. In the Elite classes some riders skipped round 1 for the unpredictable track.
Round 2 was a little better, but we look forward to the outdoor races.
ONE/Kenda's 2009 US Cycling Champion Maliek Byndloss from Cape Coral, Florida, USA made the flight over to the Netherlands to compete against the best riders in Europe.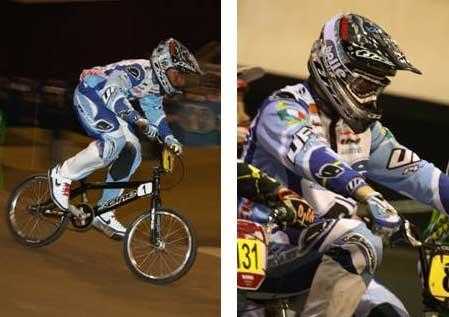 Maliek arrived on Thursday, which was a bit late to get used to the time diffence and be in shape for the race, but Maliek showed his speed and style. Although he was exhausted from travelling and his victories on saturday, Maliek still took 3rd place on Sunday.
European Champion in his class, Tommaso Giustacchini from Italy is new in the team and joined Maliek in Boys 14 yo.
Tommaso didn't make it to the main in round 1 due to mechanical problems, but easily took that main in round 2. In the main he got caught up in the pack and took an 8th place.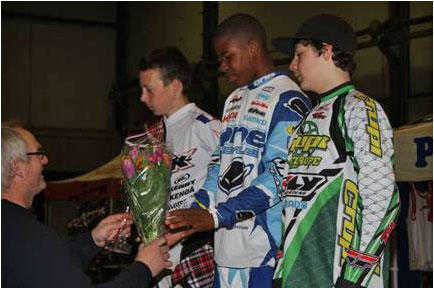 In Elite Women, Aneta Hladikova from Czech Republic came back from her 3 weeks training camp in Florida. It was also hard for Aneta to get used to the European time again. Moving up from Junior to Elite Men, Toms Skujins arrived with the Latvian team from their training camp in Italy, where his ONE/Kenda teammate Arturs Matisons crashed hard and was taken to hospital.
If all goes well, we will see Arturs again in round 3 and 4 of the European Championship.
Results:

Saturday round 1:

1st. Maliek Byndloss, Cruiser 13/14

1st. Maliek Byndloss, Boys 14

Sunday round 2:

1st. Maliek Byndloss, Cruiser 13/14

3rd. Maliek Byndloss, Boys 14

8th. Tommaso Giustacchini, Boys 14

7th. Aneta Hladikova, Elite Women
Check for the videos here: BMX-VIDEOS.COM
Next race for Maliek will be the Easter Classic in Florida and for the other riders round 3 and 4 of the European Championship in Klatovy, Czech Republic on April 25 and 26.
ONE KENDA is sponsored by:
KENDA, PINCH GEAR, KMC, SHIMANO, BOLLÉ, THE Industries, SINZ, WLM DESIGN, UFO, THOMSON, ODI, NIKE, PRO GOLD
---
World Famous Waterford Oaks Track To Celebrate 35 Years Of Racing BMX!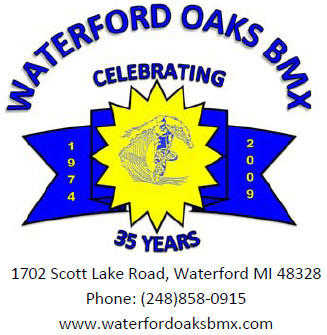 Waterford Oaks BMX was started in the summer of 1974 by a group of parents and county officials and has grown considerably since then. The BMX Coordinator Vicki Zuithof has been working for the track since 1980 and is responsible for a lot of the success the track has had over the years.
The track started out as an ABA track and in 1983 changed over to the NBL. In the early 90's a permanent registration and concession building was added. We have hosted an ABA or NBL national race every year since 1981. Waterford was home to the 1994 UCI World Championships of BMX. The track is one of the premier facilities in all of BMX racing.
The track has seen some of the top names in BMX history compete on it. Names like Greg Hill, Brent and Brian Patterson, Gary Ellis, Tommy Brackens, and Stu Thompson just to name a few. Unfortunately in 2006 Waterford Oaks lost one of our long time team members in Kelly Burnette. Kelly was well known in the BMX community and will be missed by all. His wife Lawrie still comes out to the track to visit and we enjoy seeing her every time.
2009 will be the 35th year of racing at Waterford Oaks BMX. This makes us one of the oldest BMX racing tracks in the world. Waterford Oaks BMX is located inside of Waterford Oaks County Park in Waterford, Michigan and is part of the Oakland County Parks and Recreation Commission.
The track is a not for profit organization that is run by a team made up of County employees and a board of volunteers. On July 4th and 5th 2009 Waterford Oaks BMX will be hosting the NBL Great Lakes Nationals. This is always one of the must attend races of the summer.
Come out have a hot dog and celebrate the Birthday of our nation with us. To help celebrate our 35th anniversary on August 1st we will be holding our Bob Warnicke Scholarship Race that will also include an Old School bike show. The show is being put together by Deanna Jamieson and Chris Beer with a lot of help from the board of volunteers. There will be a vendor area and a display area for participants in the bike show. We will have prizes and giveaways during the show.
If you ever got RAD at Waterford Oaks back in the day or are new to the sport we would love to see you at this event.
For more information about the Old School Show please go to www.waterfordoaksbmx.com
For more track information please call (248) 858‐0915 or visit us at www.waterfordoaksbmx.com.
Thank You, Chris Beer Secretary - Waterford Oaks BMX
---
Today's BMX Racing News ..... Monday - April 6, 2009
LEARN ALL ABOUT IT
WITH KHALEN YOUNG!
Wanna git ready to ROCK the ABA U.S. Nationals comin' up in Bakersfield? Well, rock on down to world famous Lake Perris BMX, April 26th and check in with World Famous BMX Pro, 'KY' Khalen Young.
Khalen wants to share his pro winning secrets with you at this special training opportunity to get YOU tuned up for your tough upcoming races.
To get in touch with Khalen, just click here. Khalen@KhalenYoung.com
For more info on your current ABA #1 Pro, go to KhalenYoung.com, his award winning web site.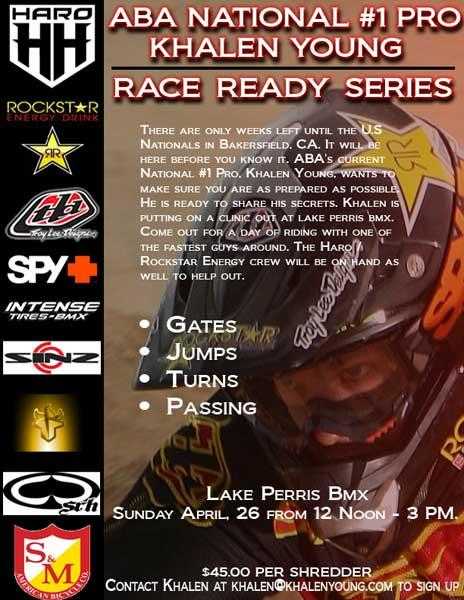 ---
Answer Supercamp To Kick Off Hot New 2009 Season At Lake Sullivan BMX in Indy!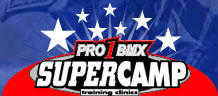 Exciting things are coming to the newly redesigned Lake Sullivan BMX facility. Located in Indianapolis, Indiana the center of the midwest.
We are very stoked about the upcoming season chocked full of great events like the Answer Supercamp featuring Bubba Harris, Karl Clark and Deak Brown coming May 16-17.
Please reserve your spot as we are only allowing a limited amount please contact Bruce at 317-213-3955.
Then we are going to have a huge Open House with a big Pro Am race and some very big news as the new track sponsor will be in attendance to unleash the bulls.
So keep www.lakesullivanbmx.com in your favs and on your watch list as this season will be the hottest in over a decade.
---
Today's BMX Racing News ..... Friday - April 3, 2009
HERE'S SOMETHING THAT'LL WAKE YOU UP!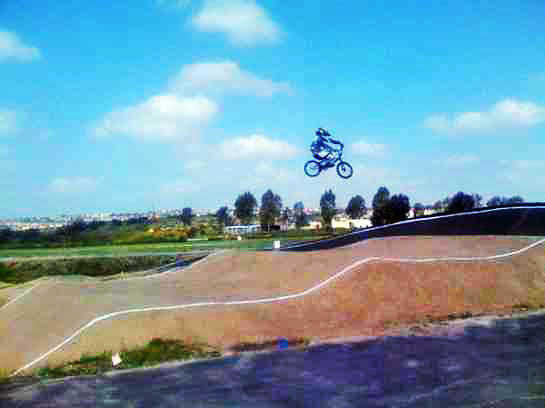 "Proud Papa" Bill Ryan at Supercross sent this over.
According to Bill, "It is a shot of Supercross's Kris Fox
clearing the new 42ft Triple at the
U.S. Olympic Training Center in Chula Vista, California.
Kris was the first one to clear it and as of now 3 days later
only 1 of 2 that have. (The other is BMXmania.com team rider Vance Wiesendanger)
---
The Best Seat In the house for the ABA U.S. Nationals!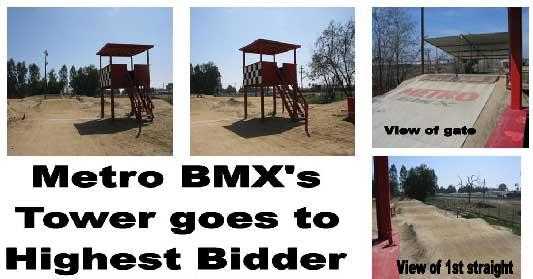 Do you want the best seat in the house for the US Nationals at Metro BMX in Bakersfield?
Check out the Track Tower up for auction.
All the information is on the US National Information page on the Metro BMX website.
The bid is currently $750, so put in your bid and have exclusive use of the tower with lunch for 15 each day.
Check it out...along with information on two double points races before the national and a 2-Day Mike Redman Clinic!
---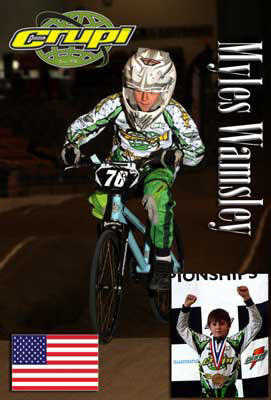 Crupi Picks Up New Factory Rider
Arcadia, California - Crupi Parts, Inc is proud to announce the signing of Myles Wamsley.
Myles is actually one of Crupi's better stories to tell.
Myles joined Crupi's Team Green Co-Sponsorship program nearly 2 years ago as a Novice rider and quickly moved up in rank.
Myles continued to get better and better due to his determination and perhaps the fact that has been trained by ex-Crupi Factory Team Manager Turnell Henry didn't hurt either!
Being true to the Crupi Team Green Program, Crupi took notice of Myles rise up the ranks as he began making National Event mains.
We could no longer see Myles as just a co-sponsored rider so we moved him up to the full Factory Team!
This type of determination and consistency with Crupi's Team Green Program is proof positive that anyone can benefit from this program.
Myles is from Henderson, Nevada and has qualified to represent both Crupi and Team USA at the World Championships in Adelaide Australia this summer.
Congratulations to Myles for his rise to the Factory ranks.
Please help us in welcoming Myles to the Crupi Family!
---
- NBL Announces Future Stars Clinics -
Coming to a NBL National Event near you!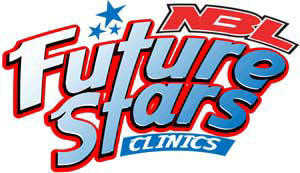 The National Bicycle League (NBL) is adding more value to National race weekends and this is good news for riders of all ages and skill levels. NBL is now offering NBL 'Future Stars Clinics' in conjunction with select National races where riders can learn from current and future stars of the sport. Whether you're looking to learn a new skill, move up to the next proficiency, or even have your sights set on being an Olympic star, NBL Future Stars clinics offer something for everyone.
Each clinic is produced by the NBL as a service to members who are looking to take their BMX experience to a new level. Clinics will offer quality instruction with an emphasis on individual development and all riders will be mentored from the starting gate to the finish line by knowledgeable instructors. Head instructor and NBL clinic coordinator, Justin Travis, brings years of training and clinic experience to the program and looks forward to developing our future stars. "We've had positive results at the first few clinics and we are looking forward to great season of rider development", said Travis, "We plan to feature a mix of future stars, NBL National Champions, and even some Olympic Stars" which promises to add even more depth to the clinics, he adds.
The clinics are designed to benefit riders from rookie to expert, with a focus on skill sets that enhance the riders overall performance. Riders will also receive specific coaching relevant to the national track that they are taking the clinic at and this will provide an immediate result for attendees.
Expect to see top talent like NBL #1's Randy Stumpfhauser and Stephanie Barragan, Olympic Gold Medalist and World Champion, Maris Strombergs and even more National and International stars at select clinics across the country. The top names in the sport of BMX will share their techniques and BMX experience with the clinic participants and this will further enhance their experience. This showcase of talent will provide a unique opportunity for riders to share the track with their BMX heroes at each and every one of the NBL clinics.
As an added value to the clinics, the NBL will provide BMX swag to all participants. The NBL has put together a valuable collection of BMX goodies including stickers, vendor and NBL program discount coupons, product brochures, and much more. Look for an NBL Clinic at a National race near you. For more details, visit www.nbl.org. Contact Justin Travis for more details and updates at jtravis@nbl.org.
Current Clinic Schedule:
April 4th - Gator National – High Springs, Fl
April 25th - Freedom National - Woodbridge, VA
May 15th - All-American National - Fresno, CA
June 5th - Midwest National - Warsaw, IN
June 26th - Stars n' Stripes National - Pittsburgh, PA
July 3rd - Great Lakes National - Waterford, MI
July 10th - Music City National - Nashville, TN
August 14th - Heartland National - Akron, OH
September 4th - NBL Grand National - Louisville, KY
---
Today's BMX Racing News ..... Thursday - April 2, 2009
BMX World Challenge Info available on-line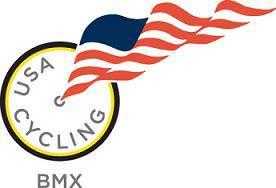 Information regarding the 2009 UCI BMX World Challenge and World Championships, including a complete list of qualified riders, is now available on the USA Cycling BMX homepage.
Participants should also be aware of the following important deadlines:
Apr. 1, 2009: Registration opens to all automatic main event qualifiers from the 2008 World Challenge in Taiyuan, China.
Apr. 6, 2009: Registration opens to all qualified riders from the USA Cycling National Championship race (total 16 riders per UCI class).
Apr. 24, 2009: Deadline to submit Discretionary Athlete Nomination (Riders who want to apply for "non-filled" spots by qualified riders form–5:00 p.m. MST.
May 1, 2009: Registration closes for all Challenge class (amateur) riders.
May 15, 2009: Team USA Challenge roster announced
Jul. 3, 2009: Registration closes for all qualified Championship class (elite) riders.
Jul. 15, 2009: Team USA Championship roster announced
---
Go211 now streaming on your MOBILE DEVICE
Hey BMX Fans Across The Nation!
If you haven't checked out the NEW Go211 Mobile site you are seriously missing out. It's more interactive then before and you can log in and check messages, friend invites, the works.
Oh and the best thing now is the LIVE WEBCAST streaming on your mobile device. OOOOH YES, you read that correctly. If you're missing out on an event and don't have your computer handy you can hit the go211 mobile site and watch the event LIVE on your phone.
So think about it. You're sitting at your hotel just waking up because you know you're moto doesn't start until later in the morning. So you roll over, grab your phone and log on to see what's going on at the track right from your PHONE. That's pretty freaking cool.
Oh, FYI, Iphones are currently not supported. Sorry all you Apple lovers but at the moment it just ain't gonna work. But if you have a black berry, blue berry, black jack, treo, etc... You should be able to access the live content. Keep in mind of course that depending on your cellphone speed you may get the dreaded buffer monster.
Make sure to check out the mobile site at www.go211.mobi
Rich Montalvo, Go211.com Producer
---
USA Cycling sets 17-18 BMX Junior Elite Camp
USA Cycling will host its first-ever Junior Elite Camp Apr. 6-12 at the Chula Vista Olympic Training Center in California.
The invite-only camp is designed to function as the next step above the Junior Development camps and is open to 17 and 18 year-olds only.
The following athletes are set to attend:
Men - Denzel Stein ... Corben Sharrah ... Connor Fields ... Riley Stair ... Jordan Seward
Women - Dominique Daniels ... Alise Post ... Ashley Verhagen
---
Standard Army/Pokerstars.net's Allie Dragoo turns pro!!!
Article & Interview by BMX Mania Correspondent, Chase Campbell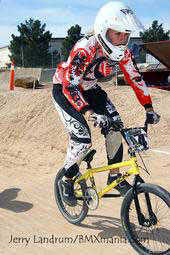 Allie Dragoo will make her pro debut on the second stop of the NBL Spring Break nationals in St. Cloud, Florida .. Allie has been turning heads and making a huge name for herself while winning the 2008 NBL Grand National main event in 17 and Over woman.
Since that point she has been hitting the training hard and is a force to be reckon with. Most recently Allie showed up at Desoto, Texas and raced the ABA National Friday-Sunday, and the USAC National Championships on Saturday, she did very well.
In the USAC she had to battle with top pros like Dominique Daniels, Alise Post, Amanda Geving and other top elite woman. On Saturday Allie made a big statement placing 3rd in the main event, Allie stood tall on the podium representing Standard/Pokerstars.net with a massive smile, well deserved Allie! Make sure you check Allie and the Standard Army at the upcoming nationals!
Allie Dragoo Q&A:
BMXmania - What made you make the move to the Elite woman Class?
Allie- "There were many conversations between me and who I needed to talk to about moving up for some time. Rick (Standard's owner, Rick Moliterno) called me and said "go for it"! I've really been excited to move up and compete at a higher level; it's only going to make me stronger"
BMXmania - When you won the NBL Grands main in 2008 in 17 and Over women, how much was that a confidence booster for you?
Allie- "That was like the best day of my life! It was my first full year back from taking a break... When I won, I was like holy cow, if I keep working hard, I will be able to turn up"!
BMXmania - By turning Elite, you will have many kids looking up to you, what is your best advice out there to help the future in BMX (the young guns)?
Allie- "As long as you work hard at what you love to do and try your best then that's all anyone can ask for"
BMXmania - Allie I really enjoyed doing this interview and hope to see you killin it in the Elite Women's class. Is there anyone you would like to think in this interview?
Allie- "First I would like to thank God! My mom, Rick and Jess at Standard, and the Standard Army. Like to thank Rich from pokerstars.net, Matt Kelty and family for helping me along the way and all my friends and family!
BMXMania - Thanks again Allie. Make sure to see Allie at all the Elite pro series events and rock the pro scene! Best of luck to you!
To check out more about Allie and the Standard Army, go to Standard's website standardbyke.com.
---
USA Cycling hosts Copenhagen SX Prep Camp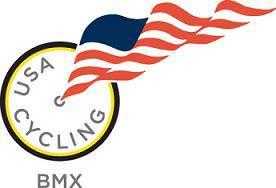 USA Cycling will host a prep camp for all U.S. riders registered to compete in the UCI BMX Supercross World Cup in Copenhagen.
The camp will take place from April 27 - May 4 at the Chula Vista OTC and is designed to allow registered riders the opportunity to ride the Supercross track prior to departing for Copenhagen.
For more information contact USA Cycling's BMX Program Director, Mike King via email at USA Cycling.
---
Corey Reid Is On Fire!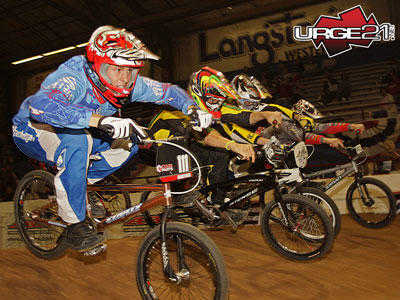 Staat's, Corey Reid has been making a name for himself in the NBL and ABA/UCI recently.
Corey has been on the octane lately and since Nic long moved to the AA ranks Corey is now right up there, hangin' around the #1 spot in the ABA single A PRO standings..
Some of his latest results are a nice 5th and 6th In Arizona, not to mention he won the Guthrie, Oklahoma national and that was a madd confidence boost, and the kid has been on it since. Corey has also landed a 2nd place finish in Lake Perris in the A pro class.
See Corey at all the NBL elite series races and the ABA/UCI circuit.
He would like to thank Staats for the support!
---
Today's BMX Racing News ..... Wednesday - April 1, 2009

NBL Pre National Future Stars Clinic Gator Nationals
The NBL is headed down to Gator country. High Springs BMX, located in High Springs, Florida, just north of Gainesville. The NBL Gator Nationals will feature more than just racing. On Friday, NBL will host a Pre-National clinic with NBL head instructor Justin Travis and Elite star, Josh Meyers.

The Pre-National clinic will help riders develop their current skills so they can achieve the best possible results for the weekend. This is a great chance for extra track time on one of North Florida's premier BMX tracks.

The clinic will focus on first straights, cornering and passing, manualing, pumping, jumping and mental readiness, if you're really lucky some of Josh's FIRST STRAIGHT POWER might even rub off on YOU!

Along with the Clinic riders will receive a goody bag full of values including discounts on/from:

$5 off one UGP open entry fee

$5 off your next Future Stars Clinic

$50 off a week at the Ohio Dreams Action Sports camp

Bike bucks from J&R Bicycles

Coastal Bike Supply

Evolution Bike Co.

Kovachi Wheels

Tom Izor Photography

Stickers and swag from our sponsors!

Over a $60 Value!

Date: Friday, April, 3rd
Times:
11:00 11:30am..Registration and warm up
11:30 1:45pmClinic
1:45 2:00pm..Question and Answer with Josh Meyers
Cost: $30 - Includes professional instruction and goodie bag from sponsors.
Visit www.nbl.org for more information about the weekend.

The NBL Gator National is proudly sponsored by BAWLS Guarana (www.bawls.com), Intense BMX (www.intensebmx.com), Kenda Tires (www.kendausa.com), UGP (www.undergroundproducts.com), Sinz Racing (www.sinz-racing.com), THE Industries (www.bmxthe.com) and Hotshoppe Designs (www.hotshoppedesign.com) in association with GO211 (www.go211.com) and Camp Woodward (www.campwoodward.com).
---
Its Not an April Fool! ... Germany's got a new Bicycle Motocross Company!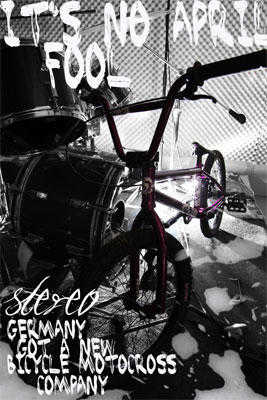 We are proud to release the great news that Germany has a new Bicycle Motocross Company!
Our Dream has come true! Oli Kienzle and Till Priebe the head honchos behind the BMX mail order and distribution company, Oldschoolbmx have come out with their new baby!
"Stereo Bicycle Motocross Company"...the Idea to come out with a new BMX Company started way back when we started our BMX Shop nearly 8 years ago, we always had one thing in mind, to come out with our very own BMX company, and some day to offer our own bikes and parts.
And now, here we are!
A lot of work was done the last months and finally samples have arrived and have been tested.
A Full Bike Line of 6 Complete 2010 Models will make their way to the public in mid-July, everything will be offered including street, dirt, park and even brakeless model!
At the upcoming new Bike Show in Munich, Germany called "Bike Expo" our new bikes will be shown to public!
More news about Stereo Bike Co will come out in the next months!
So stay tuned ... have a good one!
---
AND, since It's "Completely Different News Day" on BMX Mania, here's one you didn't think you'd read about when you fired up your net connection!
Get ready for the MASTERS OF DIRT!
Top international riders, a three-hour set of death-defying stunts and Malta's first annual Bikers' Fair & Festival




Two of the world's best known names in Freestyle Motocross (FMX) zoomed into Malta yesterday, giving guests a sneak preview of what audiences can expect from the Masters of Dirt on 16 and 17 May. Jason Moriaty (South Africa, Alistair Sayer (South Africa) and Justin Ryan Hoyer (USA) provided insight into the way the internationally renowned show will work locally, as well as the electric atmosphere that is to be expected.

Mr Moriaty, a top ex-FMX rider and current trainer said: "Maltese audiences are in for a treat, as well as something completely different. The Masters of Dirt brings together some of the most talented riders in the world for a jam-packed few hours of death-defying stunts on BMX, FMX, Quad and Mini Bikes, an incredible audience atmosphere and the chance to mingle with these talented performers. It is a family show that has toured Europe several times over and which continues to pack arenas wherever it goes."

Speaking from the MOD base in Austria, show's producer Herbert Fechter said: "This is a once-in-a-lifetime opportunity for Maltese audiences to witness a show that has wowed the world. It is a show that gets more and more exciting each year - we are now in our seventh season and the riders are still pulling out all the stops to ensure every show is more exciting, daring and outrageous than the last. Maltese audiences are in for a treat; something completely new and exciting! Our riders are award-winning stuntmen who risk their lives each and every day to entertain. The fact that they are adrenaline junkies helps of course! They will stop at nothing to win over their audiences on their two or four-wheeled vehicles."

Locally the show is being produced by Standing Ovations, the entertainment company that brought Malta recent successes including the Shaolin Monks and Swan Lake on Ice. Company spokesman Edward Bonello said: "Standing Ovations is a company that works predominately overseas and which only recently stumbled across the Maltese market. Overwhelmed with the audience's reactions and attendance to a measly taster of what Standing Ovations has to offer local entertainment lovers and is here to stay! The brand Standing Ovations signifies hours of innovative and stimulating entertainment, incorporating some of the best performers from around the globe."
The whole of the MFCC in Ta Qali will be transformed into a dirt-filled arena for the show, complete with large ramps and dirt hills. Seating and standing room around the arena ensures that the whole audience has a great view of the action.

The show will also incorporate Malta First Annual Bikers' Fair and Festival - this is an exciting chance for local businesses to directly target the biking community at an exhibition that is also open to the general public (entrance is free). It is an opportunity for bikers to meet up in a special bikers' atmosphere while enjoying a festival of food, music as well as local rock bands and DJs.

Masters of Dirt will be in Malta on 16 and 17 May, performing exclusively at the MFCC in Ta Qali. Both seating and standing areas are available with prices starting from €29. Exclusive VIP and Corporate Group options are available.

Doors to the show open one-and-a-half hours before the event, allowing audience members the chance to mingle with the riders, take photographs and get into the unique spirit of the show. Throughout, guests will also be entertained by the fiery talents of the world's famous Masters Of Dirt 'Fire Girls' (UK) and party to the sounds of International Club Ruler DJ Mosaken (Vienna).

For further information about ticket options or to BOOK ONLINE visit: www.masterofdirtinmalta.com (or call 7955 7988). For Gozo Box Office call 21558266 or 79815541.

In collaboration with The Malta Institute for Professional Photography (MIPP), Standing Ovations is offering local photographers the chance to compete with each other in photographing Europe's Biggest Freestyle Motocross Show. For further information visit www.mastersofdirtinmalta.com.

FMX - Freestyle Motocross (also known as FMX) is a variation on the sport of Motocross in which motorcycle riders attempt to impress judges with jumps and stunts.

BMX - Freestyle BMX is a creative way of using bicycles originally designed for bicycle Motocross racing. Tricks are performed without the use of a motor and riders use their bodies to propel themselves through the air.

Masters of Dirt also includes stunts and tricks

Jason Moriarty is one of the underground foot soldiers of the FMX world. He started free-riding with his buddies back in 1994 and hitting big jumps, and after some bad injuries retired from riding in 1996. In between he travelled the world and tried to grow and promote the sport of dirt biking using the newly formed craze of FMX. In 2000 he arranged and rode in Africa's first FMX demo and the next year helped get the first African FMX crew together. After a few years of getting things rolling in Africa, he returned to Europe in 2002 and was invited to help build FMX courses and judge big FMX events, including the World Cups, Red Bull X Fighters, Stick the Trick and Nokia Air and Style events.

Justin Hoyer has been riding motorcycles ever since he can remember. Growing up in the racing scene Hoyer like many struggled to make ends meet. In 2003 Hoyer became the first ever cross over athlete riding both freestyle motocross and freestyle snowcross. After just 3 months of riding Hoyer won his first ever freestyle snowcross event. In 2004 Hoyer won the Red Bull fuel and fury championship in the streets of Milwaukee, WI. In 2005 Hoyer flipped his snowmobile over the Red square in Moscow, Russia winning the Red Bull revolution on machines Championship. Hoyer is also the first person to ever perform back flips on a motorcycle and a snowmobile regularly.
Alistair Sayeris from Botswana, grew up riding in the Kalahari desert, and is without a doubt one of the most naturally gifted FMX riders in the world.He is one of the greatest combo-trick-riders doing crazy combos like One-handed Seatgrab Indian to opposite One-handed Supercan plus a One-handed-Lander.
---