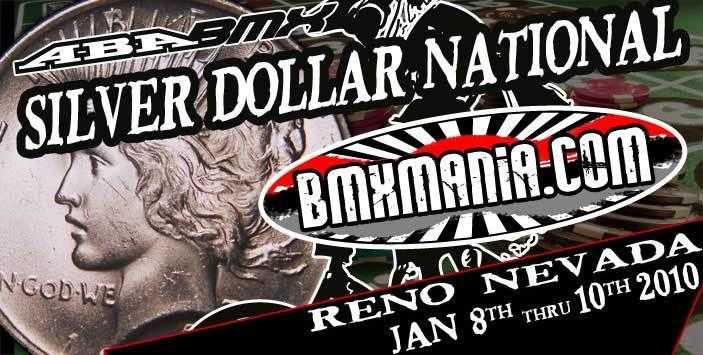 FRIDAY/PRACTICE - SATURDAY/DAY 1 - SATURDAY PHOTO GALLERY - Sunday/Day Two

Sunday/Day Two - Pro Race Results
AA Pro/Elite Men - 1 Kyle Bennett 2 Jared Graves 3 Donny Robinson 4 Sam Willoughby 5 Bubba Harris 6 Joey Bradford 7 Cristian Becerine 8 Arturs Matisons
Elite Women - 1 Alise Post 2 Ashley Verhagen 3 Amanda Geving 4 Courtney Tomei 5 Samantha Bertheim 6 Kim Hayashi 7 Brittany Bates 8 Afton Schrimpf
Jr. Men - 1 Corben Sharrah 2 Paul Wassenaar 3 Elliot McGrath 4 Bryce Hocking 5 Stephen Creighton 6 Blake Foxx 7 Connor Fields 8 Tory Nyhaug
Jr. Women - 1 Dominique Daniels 2 Brooke Crain 3 Taylor Wolcott 4 Victoria Johnson 5 Meghan Matthews 6 Tiva Feltman 7 Kaitlyn Larson 8 Abigail Graalman
A Pro - 1 Deak Brown 2 Lee Lewis 3 Jake Peebles 4 Jason Morris 5 Riley Stair 6 Logan Collins 7 Tony Hoffman 8 Maris Gutmanis
Vet Pro - 1 Dave Bittner 2 Jake Hensley 3 Kenth Fallen 4 Scott Simmons 5 John Purse 6 Jason Carnes 7 Chad Street 8 Domingos Lammoglia
USAC Jr. Dev. Boys - 1 Nathan Padilla 2 Jordan Miranda 3 Maliek Byndloss 4 Jesse Day 5 Austin Fowble 6 Blake Paulson 7 Nick Koehler 8 Corey Sallas
USAC Jr. Dev. Girls - 1 Dani George 2 Carly Dyar 3 Brandi Milligan 4 Shay Glyn 5 Shelby Stacy 6 Samantha Hall 7 Kayla Fritz 8 Brianna Munday
Note on Sunday Photo coverage!
Webmaster, Jerry had to leave the race early to attend to a family need, which although is nothing life threatening, necessatated him leaving without being able to cover the racing on Day Two of the ABA BMX Silver Dollar Nationals.

Elite Men/AA Pro - 1 Bubba Harris 2 Donny Robinson 3 Jared Graves 4 Sam Willoughby 5 Randy Stumpfhauser 6 Cristian Becerine 7 Kyle Bennett 8 Arturs Matisons
Elite Men/AA Pro Race Recap - With 32 AA's racin', the comp was fast and furious. First Straight Pull from Arturs Matisons who motors in to Turn One, only to lose traction and hit the dirt bringing down Two Free Agent's, Cristian Becerine and Kyle Bennett who he had been battlin' for the lead. Both Free Agents go down while Bubba Harris hits the hole to take the lead with Donny Robinson and Jared Graves who give Bub a good chase but the Wiley One knows how to hold off a charge and brings home his first pro win in YEARS!
ELITE WOMEN - 1 Alise Post 2 Ashley Verhagen 3 Amanda Geving 4 Afton Schrimpf 5 Courtney Tomei 6 Kim Hayashi 7 Brittany Bates 8 Samantha Bretheim
Junior Men - 1 Connor Fields 2 Tory Nyhaug 3 Corben Sharrah 4 Bryce Hocking 5 Paul Wassenaar 6 Jared Garcia 7 Elliot McGrath 8 Nick Bennetti
Vet Pro - 1 Kenth Fallen 2 John Purse 3 Chad Street 4 Dave Bittner 5 Domingos Lammoglia 6 Paul Caldwell 7 Jake Hensley 8 Marco Dell'Isola
A Pro - 1 Kory Cook 2 Thomas Fernandez 3 Logan Collins 4 Nathan Miller 5 Alex Anthony 6 Lee Lewis 7 Jason Morris 8 Riley Stair
USAC Jr. Dev. Boys - 1 Jesse Day 2 Nathan Padilla 3 Nick Koehler 4 Jordan Miranda 5 Maliek Byndloss 6 Rickie Griffis 7 Bailey Olguin 8 Marquise Montgomery
USAC Jr. Dev. Girls - 1 Dani George 2 Shelby Stacy 3 Shay Glynn 4 Brandi Milligan 5 Brianna Munday 6 Samantha Hall 7 Kayla Fritz 8 Ashleigh Nance
Day One Photo Gallery - All photos, Jerry Landrum/BMXmania.com

Donny Robinson seems to regularly be in the right place at the right time, like Saturday, when he came from the outside to be on yet another podium finish.
Connor Fields took the Jr. Men's win and looked fast enough to run with ANYONE at the race. Connor's come back from a serious injury to shake up the BMX world.
Alise Post (Left) and Dominique Daniels have battled each other many times in the ABA Girl Pro class, but with the ABA responsible for running the U.S. UCI points races, the classes have been aligned to the UCI system and they are racing in two separate classes, with Alise racing in Elite Women and Dominique in Jr. Women. Chalk up a win on Day 1 for both of them.
| | | | | |
| --- | --- | --- | --- | --- |
| | | | | |
| How cool was it to see former Redline Factory rider, Kim Hayashi take a break from working on her medical degree to make the trip to Reno and check out the race action. Kim's won tons of titles over the year and did pretty well for not being on the bike much. | Randy Stumpfhauser kicked off his ABA #1 Pro Title Defense with an appearance in a TOUGH AA Pro/Elite Men's Final and probably (To him!) disappointing 5th place finish. "Bold Prediction Time" at BMX Mania........Randy WILL be a force to be reckoned with in 2010, cuz he's going REALLY fast right now! "Don't Call It A Farewell Tour" cuz he'll probably be in the hunt for the darn title again! | Australian, Jared Graves (Right) showed up for Reno and promptly came out and impressed. Jared avoided the chaos in Turn One in the final and racked up a 3rd, while fellow Aussie, Sam Willoughby (Left) pulled in a 4th. Jared's one of the top of the top MTB 4X riders, world championships, big sponsorships, all that jazz, but he continues to make the occasional BMX race and when he does, he does it up right! | 'Stay Strong' is in the house! Marco Dell'Isola (Right) is from England, runs 'Stay Strong' for fallen BMXer, Stephen Murray who was paralyzed in dirt jumping competition. Free Agent World Team Manager, Dale Holmes who's ridden with both of them was sendin' some LOVE! staystrongapparel.com | MJT's, Jasen Krenek, shown here modeling the ABA's cool foto vests, sez that his is actually a P"Hot"o vest, cuz he's so hot, but we're not buying that one! He does shoot a nice lookin' BMX Race Photo, tho. Click for the centerfold shot and go to MJTdesigns.com for cool graphics & fotos. |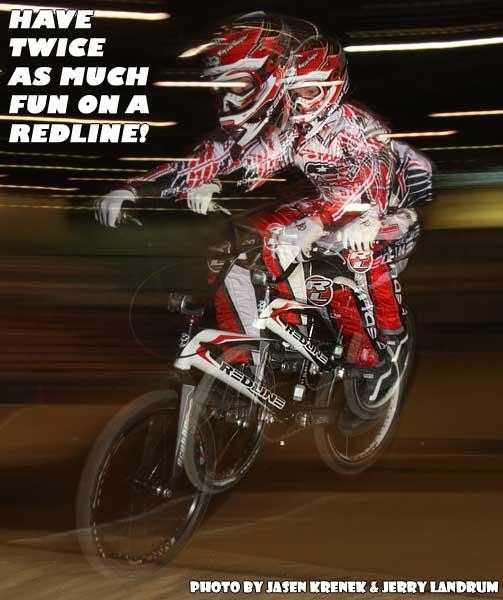 ---