BMX Mania
2007 ABA Grand National
Race Report Page
This Report Page Brought To you by.....
Friday/Race Of Champions - Saturday/ABA Grands - Sunday/ABA Grands
2007 ABA national Champions
#1 AA Pro

Danny

Caluag

#1 Girl Pro

Alise

Post

#1 Vet Pro

Jason

Carnes

#1 Pro Cruiser

Danny

Caluag

#1 Amateur

Nic

Long

#1 Girl

Dominique

Daniels

#1 Boys Cruiser

Anthony

Russell

#1 Girl Cruiser

Dominique

Daniels
2007 ABA Grands Pro Results
AA Pro (36 Riders) 1 Kyle Bennett 2 Mike Day 3 Donny Robinson 4 Cristian Becerine 5 Danny Caluag 6 Jeff Upshaw 7 Jonathan Suarez 8 Joe Szurek
Girl Pro (14 Riders) 1 Alise Post 2 Mariana Pajon 3 Stephanie Barragan 4 Brittany Lounsbury 5 Erika Short 6 Kim Hayashi 7 Afton Schrimpf 8 Kayla Gaddis
Pro Cruiser (13 Riders) 1 Paul Lange 2 Danny Caluag 3 Tyler Brown 4 Jeff Upshaw 5 Joe Sowers 6 Kenth Fallen 7 Alan Hudson 8 Nate Berkheimer
Pro Open (21 Riders) 1 Donny Robinson 2 Mike Day 3 Cristian Becerine 4 Khalen Young 5 Barry Nobles 6 Jason Richardson 7 Derek Betcher 8 Warwick Stevenson
Vet Pro (24 Riders) 1 Dale Holmes 2 Jason Carnes 3 Chad Street 4 John Whipperman 5 Greg Romero 6 Tim Dinger 7 Jason Silva 8 Zack Roebuck
A Pro (54 Riders) 1 Travis Ohrazda 2 Kris Fox 3 Phil Delizia 4 Andres Jimenez 5 Jason Bennett 6 Kevin Hill 7 Joey Backus 8 Logan Collins
| | | | | | | | | |
| --- | --- | --- | --- | --- | --- | --- | --- | --- |
| | | | | | | | | |
| AA Pro, Main #3, it's ALL on the line, folks! | The AA Title had Clayton and the ABA Number Crunchers workin' overtime! The numbers are in, 'Easy Money' gets the BIG win! | A racing was INTENSE, and with 54 riders in attendance, it was tough to wade thru the comp. | | | | | | |
| | | | | | | | | |
| Here's a bit of good news. Will Greathouse is back on the Profile Racing Factory Team. Will 'grew up' on Profile and is back after 'being away' for a couple years. Nice! | Adam Scott, a combat vet himself, was helping raise funds for injured BMXer/Iraq Combat Vet, Shane Vincent. MJT Designs and Phantom/On Trac Factory raised several thousand bucks for Shane. | John Whipperman has been looking GOOD all year in his return to BMX Racing in the Vet Pro class. The ABA Grands were no exception, 'Whip' took home a nice fourth against some SERIOUS competition. | | | | | | |
Kyle Takes Second in Main #3 & Wins the Race,
Danny finishes 5th, takes AA Pro Title
---
Kyle Wins Main #2, Danny Gets fourth,
needs a 5th for the day or better if Kyle Wins the race.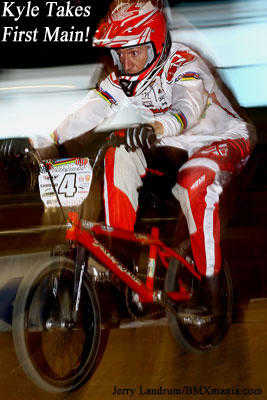 First Main, Bennett Take The Win, Caluag Gets A Sixth, NOT What He Needs To Win The Title.
| | |
| --- | --- |
| | |
| Every Photo Guy's nightmare. Kayla Gaddis gets loose and heads right at me. Score, Kayla 1 - Jerry Mania O! Sore jaw and broken lens! Dang it! :-) | |
---
Kyle Bennett advances to a AA Pro Main showdown with ABA Points Leader, Danny Caluag after a near miss in their semi-final.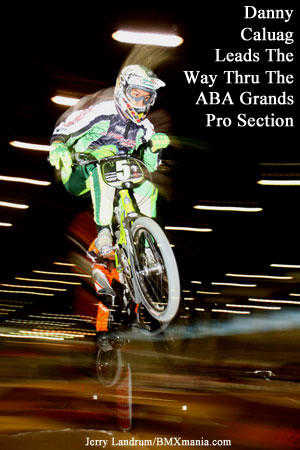 Kyle Bennett and Danny Caluag both ended up in the same Semi Final, Sunday in Tulsa, Oklahoma at the ABA Grands, and Bennett HAD to make the final to be able to win the overall AA Pro ABA title.
Lining up on the gate, Caluag had the inside lane on Kyle, and the holeshot as the gate dropped. Coming in to Turn One, Kyle had some big time momentum and tried to rail the top of the turn to make it in to the lead. Coming around Danny, Kyle's jersey and Danny's handlebar got tangled up, with Danny retaining his momentum and Kyle losing out big time.
Going down the pro section straight, Kyle had evidently come upclipped as Danny and the other three riders were FLYING thru the section. Kyle tried to get up the steam to jump the pro section, but it was a NO GO.
HOWEVER.....At the end of the section, BOTH Khalen Young and Derek Betcher came up short on the last set of pro doubles, ending up tangled in a heap in the middle. Kyle, seeing the carnage from the top of the second set of pro dubs, GOT ON THE GAS, barely making it passed the two downed riders, and picking up speed thru the rest of the track to qualify for the final in FOURTH PLACE after seeing his hopes for an ABA AA Pro Title vanish.......Reborn!
It's going to be an awesome main, tune in for more! Check back for more from BMX Mania.
Saturday - ABA Grands, Day One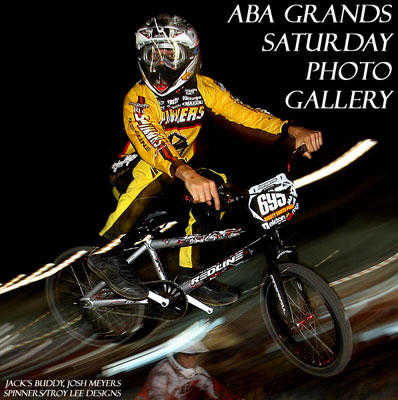 Friday - Race Of Champions Results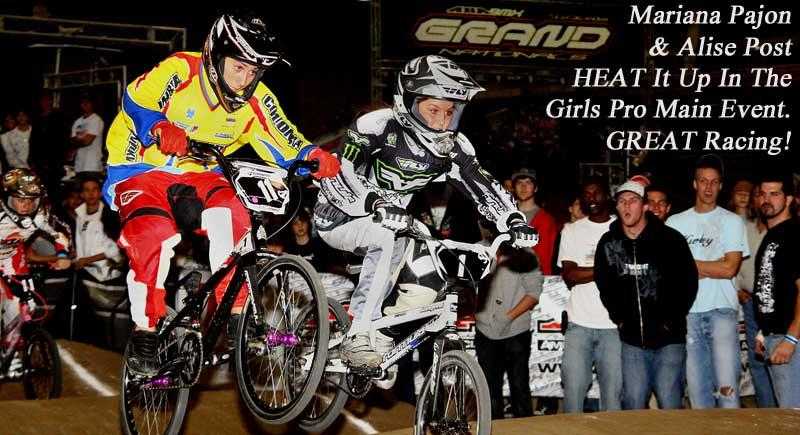 AA Pro - 1 Kyle Bennett 2 Warwick Stevenson 3 Jason Rogers 4 Joey Bradford 5 Khalen Young 6 Donny Robinson 7 Jeff Upshaw 8 Danny Caluag
Girls Pro - 1 Alise Post 2 Mariana Pajon 3 Stephanie Barragan 4 Kim Hayashi 5 Brittany Bates 6 Cassie Bushnell 7 Toni Rude 8 Brittany Lounsbury
Vet Pro - 1 Dale Holmes 2 Greg Romero 3 Chad Street 4 John Whipperman 5 Jason Silva 6 Tim Dinger 7 Domingos Lammoglia 8 Jason Carnes
A Pro - 1 Travis Ohrazda 2 Kris Fox 3 Phil Delizia 4 Andres Jimenez 5 Justin McClintock 6 Logan Collins 7 Gavin Lubbe 8 Dwight Henry
NAG 5 Challenge - 1 Denzel Stein 2 Sean Lechner 3 Josh Meyers 4 Corey Reid 5 Connor Fields 6 Deak Brown 7 Tory Nyhaug 8 Lee Lewis
Girls NAG 5 - 1 Shelbi Long 2 Taylor Wolcott 3 Brooke Crain 4 Liz Passwaters 5 Rachael Luna 6 Dominique Daniels 7 Samantha Bretheim 8 Kristen Hokit
| | | | | | | | | | |
| --- | --- | --- | --- | --- | --- | --- | --- | --- | --- |
| | | | | | | | | | |
| The ABA is GREAT with the ProMotion angle, and The Grands were no exception. Lots of nice banners and race effect, EVERYWHERE! | Vet Pro Hard Chargers, from left, Jason Silva, Tim Dinger and Vet Pro #1, Jason Carnes. | Denzel Stein took the win in the NAG 5 Challenge. Kind of like King Of The Amateurs, he was racing the BEST in the U.S. from 15 to 30! | THE CHALLENGER! Kyle Bennett is the ONLY rider who has a shot at beating points leader, Danny Caluag. | Not The Challenger! This is Danny Caluag, current ABA #1. Even if Danny doesn't make the final, Sunday, he's still got a big chance of winning. | Two of the NAG 5 Challenge standouts, Connor Fields (Left) and Denzel Stein, gettin' it out of the gate. Denzel took the overall win. | Free Agent's, Dale Holmes was on the GAS in Vet Pro, taking the win with Greg Romero bringing in a close second. | Warwick Stevenson was back after being off from some bad injuries. It didn't look like he lost ANYTHING. Chalk up a big SECOND for Podge. | GoForIt Gopher, making his annual ABA Grands appearence. He's been racing the Grands for years! | The Sun Bru Dancers put on an awesome dance show in between motos, and were getting the crowd all revved up. |
| | | | | | | | | | |
---