September 14, 15, 16, 2011
Sands Expo Center
Las Vegas, Nevada
---
What's Happenin' At The Big Bike Show In Vegas?????
Check it out. You can wander a bit up and down the aisles of the show and check out some of
the cool stuff that's goin' on with BMX companies at Interbike. Hope you like the goodies!
Welcome To The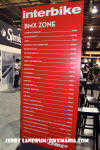 BMX ZONE!
YESS BMX

DIAMONDBACK

Yess, one of the long time fine craftsmen to build bikes in North America has gotten back in to the BMX frame race and their hot frames are easy on the eyes! Check out the pretty Yellow one at right, it gets moving fast without even leaving the gate!

Also, they was showing some sweet looking mini forks for the "Under 100 Pounds" crowds that ought to make the heart of a proud father beat harder!

Diamondback pro, Nate Berkheimer, groovin' thru the show in his home town on his DB.
REDLINE BMX
Enter the World Of Redline at Interbike.
Redline wouldn't be Redline without Sam around somewhere,.
Flight Expert, with tasty parts from Tioga, Answer, FSA makes a great ride.
Dutch Army / Redline's, Afro Bob, dialin' up a big deal at Interbike!

Redline Flight BMX bikes all lined up ready for all the dealers to come by and make out their orders for next year. Want to check out the 2012 Redline catalog? CLICK HERE!!!!!
ANSWER / SSQUARED / STRENGTH


HARO BMX

PROFILE RACING
---